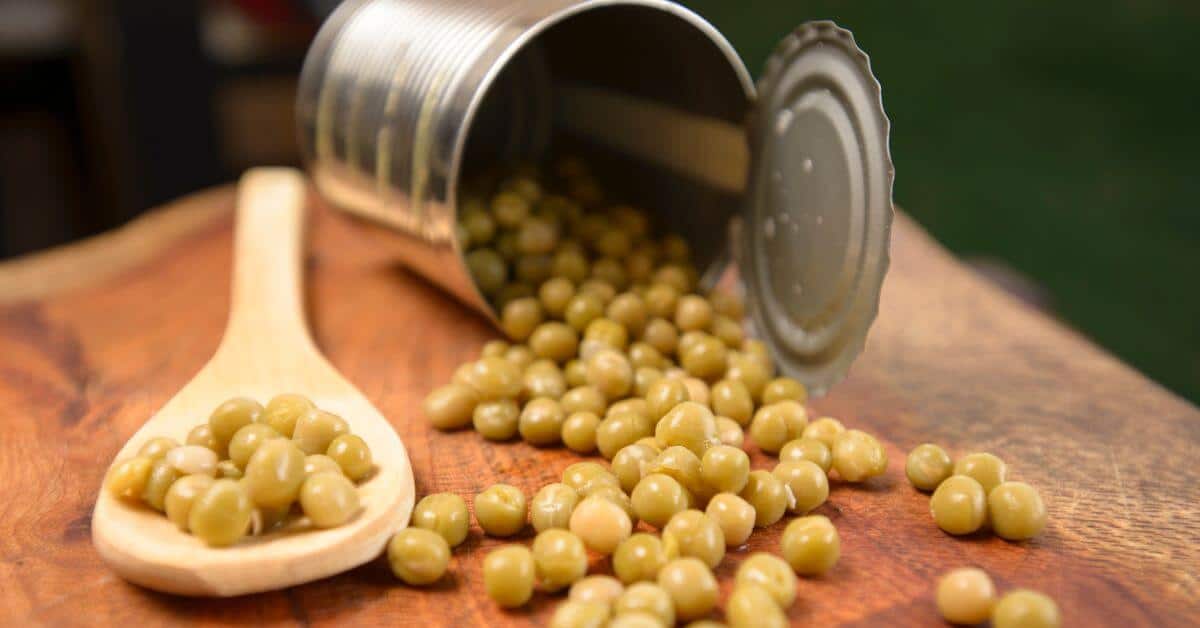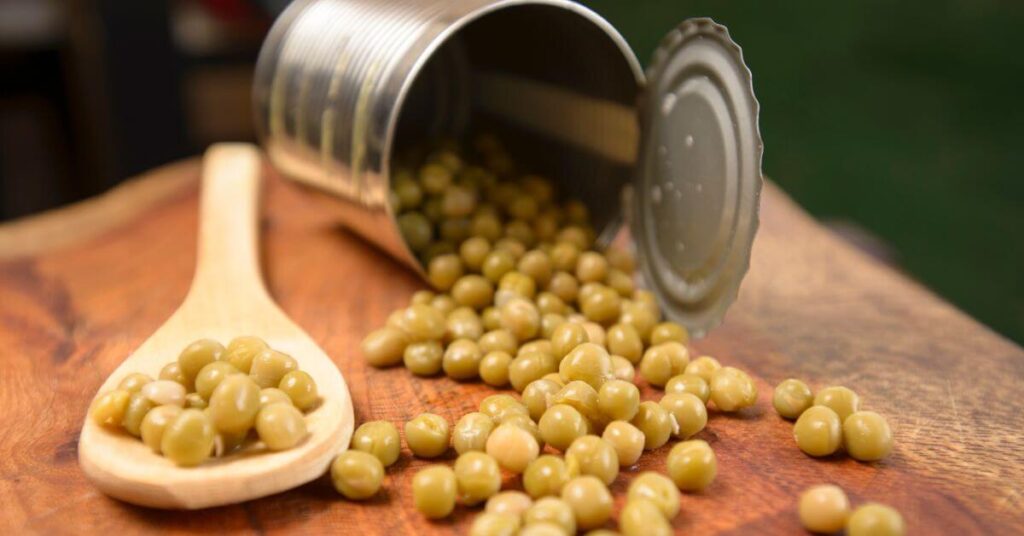 Peas are one of the old-school veggies that our parents used to serve with our weekly dinners. Probably because they are super affordable, but let's be real… often pretty bland. Read this guide to learn how to make canned peas taste better and add them to your grocery list and weekly menu!
Canned veggies are important because they are shelf-stable and super affordable. They will last for years, and you can throw a meal together in a pinch with just a few dollars. The only frustrating thing is that they are pretty soft and not very appetizing. Canned peas are a tough sell for anyone with a food texture sensitivity.
Thankfully, there are a few ways to improve canned peas so much that you don't even recognize them as canned! You still get to enjoy their financial benefits, but they taste completely different.
What are Peas
Before we get into how to make them taste better, we must understand what they are. Are peas a fruit or a vegetable? That's actually a tough question. You see, they fall under the botanical categorization of fruit since the pod comes from a flower and contains seeds.
Yup, those little green peas we eat? Those are the seeds of the Pisum sativum plant.
Even more confusing, the USDA calls them a starchy vegetable, but they are also technically in the legume family (the same family as beans). They belong to other legumes because they grow in a pod, like other beans.
So, peas are a botanical fruit, starchy vegetable, and legume. Talk about an identity crisis!
Snap peas and snow peas are cousins to green peas. In this article, I'll describe green peas and refer to them as vegetables, just like the USDA does.
How To Make Canned Peas Taste Better
Canned peas are a lot more versatile than you might think. There are a variety of different ways to cook and season canned peas to make them taste completely different each time. Browse these ideas and try a few.
Rinse Them Off
The easiest way to make canned peas taste better is to drain them and rinse them off in a colander. Rinsing off peas removes the sodium and gives you a clean slate to start from.
In fact, every recipe you make with canned peas should start with you rinsing them off.
Add Seasonings
No matter which cooking method you choose, you will need to choose your favorite spices. Go classic and use the traditional quartet of salt, pepper, garlic powder, and onion powder. This combination will never fail you.
From there, you can change up the spices. Sprinkle some sesame seeds on top for some nutty notes. Add red pepper flakes for some heat. If you want to bring out the natural sweetness of sweet peas, sprinkle some fresh basil leaves in with the peas.
Thyme is a delicious herb with peas, too but use fresh thyme, not dried herbs. Dried thyme will be too crunchy with the soft sweet peas and might distract from any recipe you make.
Use Butter in Peas
Butter is a surefire way to infuse flavor into the peas too!
Cut a few slabs of real butter and let it melt on top of your warm peas. Salted sweet cream butter will taste the best. Use unsalted butter if you didn't rinse off the peas first and want to control how much salt you eat.
Make Cheesy Peas
Almost all different types of vegetables taste better when you smother them in creamy cheese sauce, and peas are no different. Take your can of peas, drain them, and then cook them with shredded cheddar cheese and a bit of heavy whipping cream.
Honestly, any type of cheese will taste pretty good on top of peas. Try it with creamy ricotta cheese or spicy pepper jack. For an option with lower lactose, use feta made from goat's milk or goat cheese.
Puree in a Smoothie
Canned peas can boost the nutrition of your favorite smoothie. Add a small handful of canned peas to a sweet green smoothie, and you won't even be able to tell they are there.
I like to use them in smoothies with apples, cucumbers, and kiwi. Really, any green juice recipe will taste good with some peas in it.
Create Creamed Peas
Move over corn; canned peas taste just as good with a creamy sauce. This is a really simple recipe to make too! Just combine some butter, flour, half and half, and white sugar in a bowl with the canned peas. Simmer this mixture in a saucepan over low heat until it thickens. Taste it and add more salt if you want to enhance the flavors.
Add to Pasta Salad
Pasta salad is a classic side dish. I usually make mine with bowtie pasta, Italian salad dressing, cubed cheese, Italian smoked meat (pepperoni and salami), and my favorite raw veggies.
Drain and rinse your canned peas and add them to your pasta salad. They will add a softer texture and taste delicious with the al dente pasta.
Make Pea Soup
Canned peas also make a delicious (and vibrant) green soup. Puree the peas and add them to a large soup pot with some:
Onion
Garlic
Chicken broth
Lemon juice
Fresh dill
1/2 a cup of plain yogurt
The result is a thick and creamy soup that tastes amazing, both hot and cold! Cold soup is a refreshing treat on those hot, scorcher days when you can't fathom a hot meal.
Try Pea Toast
Forget about avocados that go rotten quicker than you can use them; make pea toast instead!
Smash some peas on top of a thick piece of toast, top with an over-easy egg, and add some Everything Bagel seasoning. It's a nutritious breakfast idea that is high in vitamins and fiber.
To get the best results, I suggest smashing the peas in a bowl before you spread them on the toast. This will also taste better if you use whole-grain bread. It has a more complex flavor that adds more dimensions to this green breakfast idea.
Air Fry Them
Yes, you can cook canned peas in the air fryer, making them extra crispy! These will be so crisp that you can enjoy them as a crunchy snack, kind of like a potato chip replacement.
First, drain and rinse them. Then, place a piece of foil in the bottom of your air fryer basket. Next, coat your peas with salt and pepper and some garlic powder. Then, add them to your air fryer basket and fry at 375F for about 10 minutes, shaking them halfway through cooking time.
Spice Them Up
Just because they are called sweet peas doesn't mean you can't make them spicy too! Toss your canned peas in a little bit of sriracha or hot sauce. Sprinkle some cayenne pepper on them for even more heat. Then, heat them in the microwave or saute the peas.
Get ready with some milk – these peas will light your mouth on fire!
Make Sweet Peas Sweeter
Adding some brown sugar sure won't make your peas healthier, but they will taste a lot better! Add about a tablespoon of brown sugar per can of peas and heat them up on the stove.
As the peas cook, the brown sugar will caramelize. This will add a richer and sweet flavor to the peas. To bring this up a notch, add a few tablespoons of butter to it too. These extra-sweet peas might just become your favorite way to cook peas.
Add Bacon
Bacon makes everything taste better! The best way to cook bacon is in the oven. Then, crumble and add it to a bowl of steamed canned peas. Peas and bacon go together as well as bacon and asparagus or bacon and Brussels sprouts.
The bacon adds salty and savory notes to the sweet peas. To get the most flavor, use thick-cut bacon. If you want the peas to have a strong bacon flavor, add the bacon to a skillet with the peas and cook them together.
Mix in Carrots and Potatoes
Peas and carrots are buddies, and both types of veggies are naturally sweet. Boil some chopped potatoes and add peas, carrots, and potatoes to a bowl. Sprinkle some garlic powder and lemon pepper on top. These three create an effortless side dish so easy to make that you don't even have to think about it.
Just make sure that you use canned or steamed carrots. Cut the carrots and potatoes to be about the same size as the peas. That way, they are easier to eat together.
Turn Them into an Appetizer
Add them on top of baguette slices and sprinkle with fresh herbs. Add fresh-shaved parmesan cheese, and you have a creative appetizer. This is something that will grab people's attention, and they won't know that it's actually really simple. This appetizer takes almost no effort at all.
Mix Pesto Pasta with it
Take your favorite jar of (or make some fresh) pesto and your favorite boiled pasta. Mix the pesto, pasta, and drained canned peas together. Now you have a delicious green side dish that's not only pretty but good for you too.
FAQs
Now that you know more about how to make canned peas taste better, here are some questions people often ask about canned peas.
Are canned peas healthy?
There is a lot of debate out there about whether canned vegetables are healthy. In all my research, I found that canned peas are still a fantastic source of essential nutrients.
In 1/2 a cup of canned peas, there are 3.76 grams of protein, which is the same as a tablespoon of peanut butter. There is also a lot of dietary fiber and just 59 calories per serving.
Canned peas are also a fantastic source of vitamin A and (surprisingly) calcium. Plus, anyone that struggles with anemia will be glad to hear that there is 0.81 mg of iron in each 1/2 cup serving.
How long do canned peas last?
The reason so many people prefer to stock up on canned vegetables is that they last so long. One can of green peas will last 3-5 years unopened.
Do you add anything to canned peas?
Eating peas right out of the can is perfectly safe – you don't have to add anything to it to eat them. Many people add spices or other ingredients to peas because it helps them taste so much better. Most commonly, spices and butter are added to canned peas.
Are frozen peas healthier than canned peas?
The debate about frozen veggies vs. canned veggies is a hot one.  Some people think more vitamins are retained in the vegetables when you freeze them than when you preserve them by canning them.
The process of canning peas does decrease the number of nutrients retained inside them. Flash-freezing peas result in slightly higher retention of vitamins. Even so, canned peas are still nutritious.
If you want to get more nutrition for your dollar, frozen peas might be the way to go.
How long should I cook canned peas?
Canned peas are totally safe to eat right out of the can. You don't have to cook them for a certain amount of time for them to be safe to eat.
Can you heat canned peas in the microwave?
Yes, you can heat canned peas in the microwave. If you are going to do it this way, I suggest adding a paper towel on top of the microwave-safe bowl of peas to prevent the liquid from spitting. Then, heat it in 30-second increments, stirring after each time. This way, all of the peas will heat evenly.
Can you freeze canned peas?
Yes, you can freeze canned peas, but I don't recommend it. Canned peas will last longer than frozen peas. It's better for you to buy frozen peas that were frozen right after being picked.
More Kitchen Resources
If you enjoyed learning how to make canned peas taste better, here are some more helpful kitchen resources you might enjoy next.