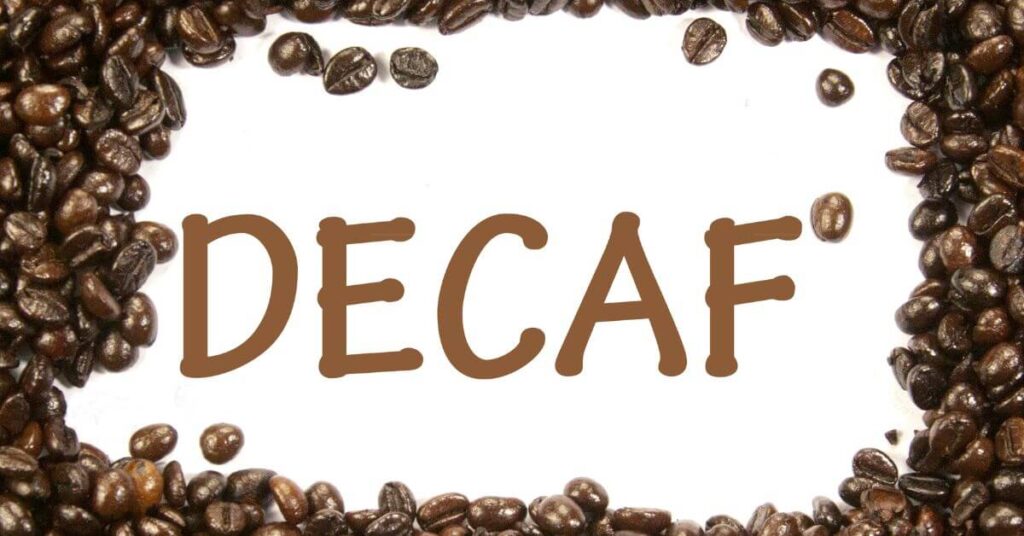 Coffee is a wonderful drink, and many people drink it on a daily basis. It is so versatile, and it's become a morning staple for the majority of people around the world. However, it is full of caffeine, and many people avoid caffeine for a variety of reasons.
Whether you're sensitive to caffeine, don't find it healthy, or have another reason for avoiding it, you might be avoiding coffee altogether. Although decaf coffee is an option, many people don't like the taste. If you still want to enjoy a tasty cup of coffee without caffeine, there are plenty of ways to do so. Here's how to make decaf coffee taste better.
How to Make Decaf Coffee Taste Better
Add Flavor
Our top suggestion for making decaf coffee taste better is to add flavor to your coffee. The best part of this tip? Flavor can be added in tons of different ways.
For instance, you can use syrup like baristas use at coffee shops. This will add loads of flavor and give you the option to have a unique flavor like hazelnut or caramel. Although using syrup is a great way to make your decaf coffee better and one that you might like to try, unfortunately, syrups can be very expensive and sometimes hard to find. They're also full of sugar, carbs, and calories and won't fit with every dietary preference.
If you want to abstain from using syrup, try using an extract to add flavor. Vanilla and almond extracts are two great options, and a little goes a long way. Just one or two drops will add some instant flavor to your decaf coffee without adding all of those unwanted sugars and calories. It's the perfect way to make your morning cup more satisfying.
Add Whipped Cream
Whipped cream is another fun way to improve the taste of decaf coffee. Whipped cream can make almost anything taste better.
You can purchase some at the store and add a dollop or two to the top of your cup. But if you would prefer to make your own at home, it's super easy. All you have to do is take heavy whipping cream, powdered sugar, and vanilla extract and whip the ingredients with a beater – either use a stand mixer or hand mixer – until you've got peaks. And voila! You have homemade whipped cream.
Though it may not be as sweet, your homemade version will probably be a little healthier than storebought, and it'll still add some delicious flavor to your decaf coffee.
Add Sprinkles
Adding sprinkles is another fun and easy way to improve the flavor of your decaf coffee. If you've added whipped cream, some sprinkles on top will improve not only the looks of your cup of coffee but the flavor as well.
Even if you don't have whip cream, you can put sprinkles into your coffee on their own and let them dissolve in the hot liquid. But you don't have to use those candy super sugary sprinkles exclusively.
Sprinkles can be thought of in a different way, too. Instead of the classic cookie decoration, think of sprinkles in terms of spices. A sprinkle of cinnamon or nutmeg, or even some Spanish paprika, will instantly elevate the flavor of your decaf coffee.
Try a Flavored Brew
If you don't want to be responsible for upping the flavor of your decaf coffee yourself, simply try a flavored brew. In the world we live in today, there's no excuse for not being able to find a version of something that you like. There are so many options for everything, and that goes for decaf coffee brews, as well.
Go to a specialty shop if you're unsure where to start. Although the prices are a little higher, the employees will likely know quite a bit about coffee brewing and be able to suggest something really tasty to you. As you get to know your palate a little bit better, you can look for cheaper options at grocery stores.
Although you won't have the same quality, perhaps, you'll still be able to get something tasty in a decaf version. Options won't be quite as vast for decaf coffee as they are for caffeinated coffee, but you'll still have something delicious to try.
Make It into a Latte
If you've got the tools, turn your decaf coffee into a latte. Lattes just require foamed milk and espresso, and decaf versions are possible.
A latte can be easily made at home if you have a frother. You can add flavor or leave it plain, but adding that foamy milk will make for a tastier cup of decaf coffee. It'll taste so good you won't even miss the caffeine.
Brew with Spices
You don't just have to sprinkle your spices onto your cup of coffee, though. You can also brew your coffee with spices. Put about a tablespoon of cinnamon or nutmeg in your coffee grounds and let the water filter through, just as you would a regular cup of coffee. You'll be left with an insanely flavorful cup that was embarrassingly easy to brew. You might not have the energy you'd have from caffeinated coffee, but you'll definitely have the flavor.
Add Cream and Sugar
Of course, if you're really desperate for some flavor, there is the old standby of cream and sugar. A cup of coffee with cream and sugar is a classic option for a reason. It never fails to taste good. The luscious cream, along with the sweet sugar, always makes for a tasty cup of coffee.
Once again, the world we live in should be taken advantage of at times because we now have options that are healthier and good for people with dietary restrictions. For example, we have tons of sweetener options that can stand in place of sugar, like honey, agave, Splenda, and Stevia. You can also substitute plant-based milk for heavy cream.
It's never been easier to eat and drink with dietary restrictions. Use that to your advantage, and enjoy your decaf coffee.
Best Decaf Coffee: HomePerch's Top Picks
Best Decaf Coffees
We know you love your coffee, and that's why we've curated a fantastic list of the best decaf coffee options for you. Indulge in the rich taste and aroma without the caffeine kick! Browse our top picks below, and discover your new favorite decaf blend.
Experience the rich, full-bodied taste of decaffeinated coffee that will leave you satisfied with every cup.
Pros
Flavorful, dark roast decaf
Natural water processing to maintain flavor
Versatile brewing methods
Cons
Occasional unground beans found in bags
May not satisfy every coffee snob
Only available in ground coffee form
Looking for a decaf coffee that doesn't skimp on taste and quality? Peet's Coffee Decaf Major Dickason's Blend may be just what you're seeking. This dark roast decaf coffee goes through a natural water processing method, which ensures that you get a satisfying, flavorful cup without caffeine. It truly stands out in the world of decaffeinated coffees and shines in different brewing methods – be it a press, drip, or espresso.
As you take a sip, you'll immediately notice the robust, full-bodied flavor that rivals even caffeinated options. The rich, complex taste of this blend pays tribute to its origins, with premium beans sourced from the world's top-growing regions. But, as superb as it may be, some coffee enthusiasts might still find it lacking compared to their preferred caffeinated options.
One issue you might encounter is that you may occasionally find unground beans in the bags. However, this minor drawback does not significantly affect the overall quality of the coffee. Also, note that the product is only available in ground coffee form, which might not be the preference for everyone.
In conclusion, if you're searching for a delicious, decaffeinated coffee that still packs a punch in flavor and depth, Peet's Coffee Decaf Major Dickason's Blend should be at the top of your list. This fantastic blend proves that going decaf doesn't mean you have to compromise on taste or quality.
If you want a great decaf coffee with a balance of taste, affordability, and sustainable practices, McCafe is the way to go!
Pros
Rich aroma and smooth body
100% Arabica beans and Orthodox Union Kosher certified
Responsibly Sourced for sustainability and quality
Cons
Decaffeination could reduce overall flavor
Might need more ground coffee for a stronger brew
Packaging may appear smaller than expected
McCafe Decaf Coffee stands out for its delicious medium roast blend with a tempting aroma, smooth body, and clean finish. You'll enjoy the satisfying taste of McCafé without leaving the comfort of your home. Made from 100% premium Arabica beans sourced from the best coffee-growing regions, this coffee is expertly roasted and packed into specially designed cans to keep it fresh.
Another aspect worth mentioning is the company's commitment to sustainability. They use 100% Responsibly Sourced coffee, which helps to preserve the environment and improve the quality of life for farmers. This adds an ethical touch to your daily coffee routine.
However, some coffee enthusiasts might find the decaf version slightly less flavorful than its caffeinated counterpart. Also, you may need to experiment with the coffee-to-water ratio to achieve your preferred intensity. Lastly, be prepared for the packaging to seem a little smaller than expected.
Despite these small drawbacks, McCafe Medium Roast Ground Coffee Decaf is ideal for those seeking a pleasant, decaffeinated coffee option. Give it a try and savor the familiar taste of McCafé while supporting environmentally responsible practices!
If you're looking for a great-tasting decaf coffee with ethical and eco-friendly sourcing, this is the one for you.
Pros
Swiss water process decaffeination
Excellent flavor with chocolaty notes and a mellow finish
Organic, Fairtrade, and shade-grown Arabica beans
Cons
Whole beans require a grinder
The price might be higher than other brands
Shipping is limited within U.S. and APO/FPO addresses
Kicking Horse Coffee's Decaf is a dark-roasted blend made with high-quality, sustainably sourced Arabica beans. The brand uses the Swiss water process for decaffeination, ensuring a smooth, rich taste without any chemical residue or taste. You'll notice the enticing aroma and flavors of roasted hazelnuts and dark chocolate in your brew, perfect for a satisfying cup of coffee at any time of the day.
As an ethically minded consumer, you'll appreciate that this coffee is certified Organic, Fairtrade, and kosher. The beans are shade-grown in Central and South America, promoting sustainable farming practices that respect both the environment and the coffee farmers. Kicking Horse is committed to providing quality products that benefit everyone involved – including you, the coffee drinker.
While the whole beans may require an extra step of grinding before brewing, the fresh taste is undoubtedly worth the effort. Be aware that this premium coffee is a bit more expensive than other brands, but the exceptional flavor and ethical sourcing make it a worthy investment. Enjoy your guilt-free cup of Kicking Horse Decaf Coffee, knowing that you've made a positive impact on both the environment and the coffee farming community.
This decaf coffee provides a flavorful and eco-conscious choice for those looking to enjoy their daily brew without the caffeine kick.
Pros
Premium quality 100% Arabica beans
Swiss Water decaffeinated
Fair Trade Certified and Organic
Cons
Pricey for the number of K-cups
Pods may arrive squished or need manual puncturing
The strong flavor may not suit everyone's taste
Decaf lovers, rejoice! The 365 by Whole Foods Market Decaf Peruvian Vienna Roast Coffee is here to deliver a delightful caffeine-free experience. Made from 100% Arabica beans, these coffee pods are Swiss Water decaffeinated, ensuring a smooth and delicious taste for your morning or afternoon coffee break.
The best part? Your purchase supports a good cause. This Organic and Fair Trade Certified coffee makes you part of small-scale farmers' journey, as it ensures they receive fair wages, better working conditions, and community improvement funds. By choosing this brand, you're not only brewing a great cup of coffee but also helping make a positive impact on the world.
However, be prepared to pay a slightly higher price for the 12 K-cups provided. And keep in mind that although the company took care of the beans and their source, there may be some issues with the pods arriving squished or needing manual puncturing. Additionally, some people might find the flavor too strong for their taste. Nonetheless, if you're seeking an ethically-responsible decaf coffee option, the 365 by Whole Foods Market Decaf Peruvian Vienna Roast is definitely worth a try.
This Happy Belly Decaf Coffee is a fantastic option for those who want a flavorful, light-roast decaf coffee without breaking the bank.
Pros
Smooth, full-bodied flavor
Affordable price
Satisfaction Guarantee
Cons
Lacks strong aroma
Might not suit all taste preferences
Decaffeinated only
After trying Happy Belly Decaf Breakfast Blend Ground Coffee, you'll notice its remarkably smooth, full-bodied flavor that sets it apart from other decaf options. There's no bitterness or sour aftertaste, and it offers a pleasant drinking experience.
This coffee is also budget-friendly and won't hurt your wallet. When compared to popular name-brand options like Dunkin' Decaf, Happy Belly offers a similar experience at a fraction of the price. Therefore, switching to this Amazon brand is not only enjoyable but also economical.
One drawback of Happy Belly Decaf Coffee, however, is that it may not provide the strong aroma that some coffee enthusiasts crave. It's a relatively mild blend, so it would appeal to those who prefer a lighter roast. It is also exclusively decaffeinated, which might not cater to those who want caffeinated options.
In conclusion, Happy Belly Decaf Breakfast Blend Ground Coffee is a great choice for anyone looking for a smooth, light roast decaf coffee that doesn't break the bank. With its full-bodied flavor and affordable price tag, it's a purchase you won't regret.
You Might Also Like: