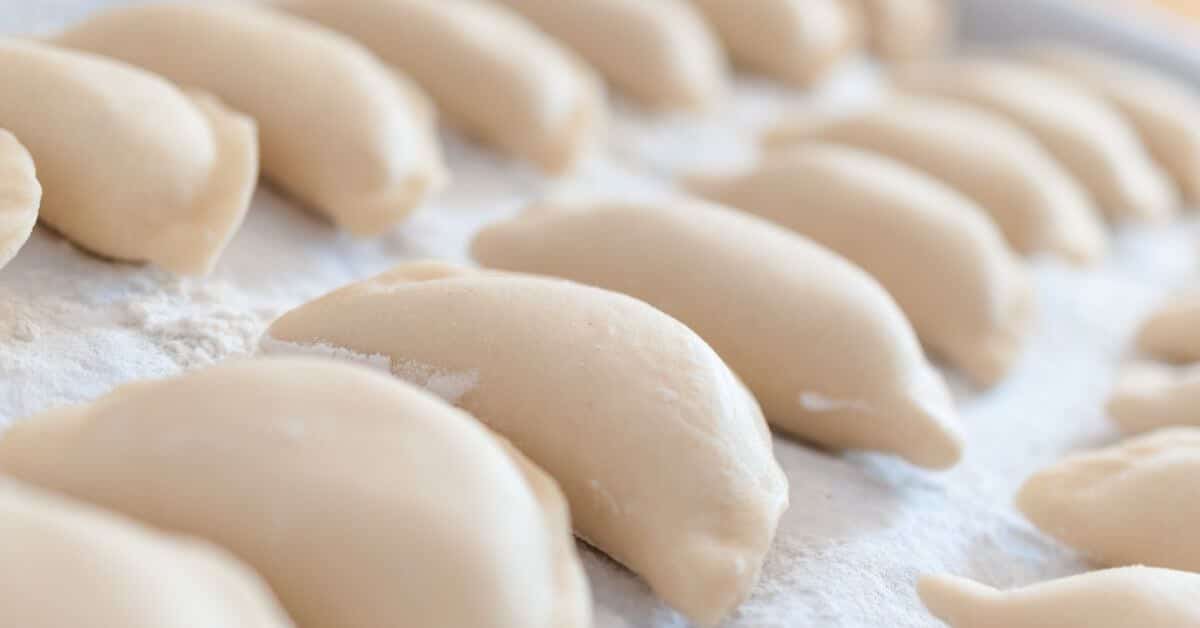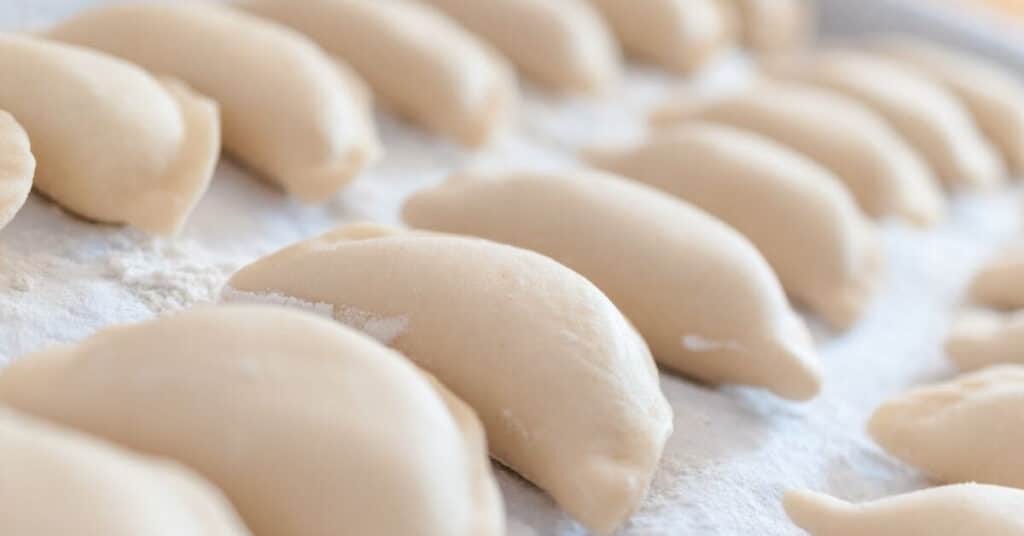 Perogies might just be the perfect comfort food, but would you believe that they can be even better!? Try these awesome ideas on how to make frozen perogies taste better!
What are Frozen Perogies?
Frozen perogies are a convenience product found in the freezer section. They are designed to make complicated comfort food easy to have at any time! This awesome product makes time-consuming perogies accessible!
Perogies are a traditional Polish dish with many different variations across European and international styles of cuisine. They are a dumpling made from a flour dough and filling. The fillings vary but the most common is potato, but variations of the filling include cheese, meat, and fruit.
How to Cook Frozen Perogies
The average frozen pierogi is pretty easy to prepare. Here are a few hints on how to do so:
On the Stove Top
In a medium saucepan, heat a drizzle of olive oil over medium-low heat. Add the desired amount of perogies and cook.
Flip occasionally and continue cooking until lightly brown, about 8 minutes per side.
In the Oven
Preheat the oven to 400°F and spray a baking sheet with non-stick cooking spray. Arrange the desired amount of perogies on the tray, and lightly spray with the cooking spray again.
Bake for 10 minutes then flip and return to the oven for another 10 minutes.
On the Grill
Preheat a grill to about 400°F.
Toss the perogies in olive oil then place on the prepared grill.
Cook for about 5 minutes on each side or until lightly golden brown.
How to Make Frozen Perogies Taste Better
Frozen perogies have so much potential. Unlock all their tasty flavors with these amazing tips!
Add Onions!
Nothing goes with potatoes like onions! Mix up your next batch of frozen perogies with this easy add-in. Onions are inexpensive and easy to find so they're a great addition to any recipe.
Use the stovetop method of preparing the frozen perogies, but before you add the perogies, toss in some diced onions. Cook the onion lightly before adding in the perogies and finishing the two together, for a savory and inviting twist on this frozen favorite!
Butter Makes Better!
Butter is an amazing add-in to amplify the richness of frozen perogies. All of the instructions above call for olive oil but that can be swapped for butter. Beware that butter has more fat and cholesterol than oil, but it can be a big flavor booster!
Get Saucy!
Topping your perogies with a delicious sauce is a must! There are so many great options for sauces that there is sure to be something that appeals to your palette. A little sauce goes a long way in bringing out the amazing flavors of perogies.
Consider using an alfredo sauce on your perogies for a cheesy treat. Pesto makes an interesting twist for perogies and traditional sauce can be tasty, too. Whatever you choose, start with just a little sauce, and see how you like it before a full dousing!
Beautify with Bacon!
Bacon is delicious with just about everything, and perogies are no exception! Adding bacon to your frozen perogies may be just the thing they need to reach new heights of deliciousness! Bacon is easy to find and prepare so it's perfect for pairing with frozen food.
Grill some bacon in a skillet, remove it once fully cooked but leave the grease in the pan. Add the frozen perogies to the bacon grease and cook as directed. While the perogies cook cut up the bacon and in the last minute of the cook toss the bacon back into the pan to warm up.
Serve up Sweetness!
It might sound crazy to suggest that frozen perogies and sweet things go together, but it can work! Try a simple potato pierogi with something sweet like fruit or jam for an interesting flavor combination. It might surprise you how much you like it!
Drizzle some honey on potato perogies for a simply sweet and savory bite. Marmalade and blackberry jam are also great mates for potato perogies. Who knew potatoes could be dessert, too!?
Seasoning is Everything!
Sprinkling a little seasoning on the perogies goes a long way! To simply raise the flavor of your frozen perogies try spices and seasonings. They're commonly already on hand and are easy to use.
Salt and pepper are a must, but open your mind to bigger spice ideas like oregano, rosemary, and marjoram. Try a hot spice blend that features chili and paprika. Whatever you choose it is sure to elevate the flavor of these little bites.
Perfectly Pair Them!
Consider the meal at large. One thing that instantly elevates frozen perogies is making the right pairings. Serving frozen perogies with the right accompaniments can change the whole plate for the better.
Perogies are beautiful when served with rich meat like steak or pork chops. They also go beautifully with seasoned vegetables like green beans. Make a plate with protein, vegetables, and perogies for the perfect meal!
F.A.Q.
Are Frozen Perogies Fully Cooked?
Yes, frozen perogies are fully cooked. The manufacturer cooks, cools, and flash freezes the perogies to seal in the freshness. This means all you have to do is make them hot and crispy!
Final Thoughts
The flavor of perogies is so inviting and comforting, and frozen perogies make the dish more accessible. Take advantage of the awesome ease of the frozen product but with a blast of flavor thanks to these tricks! Get creative and bring your appetite, because you will not be able to stop eating these tasty once-frozen bites!
Additional Kitchen Resources
Unfreeze your kitchen potential with the awesome culinary insight in these articles: