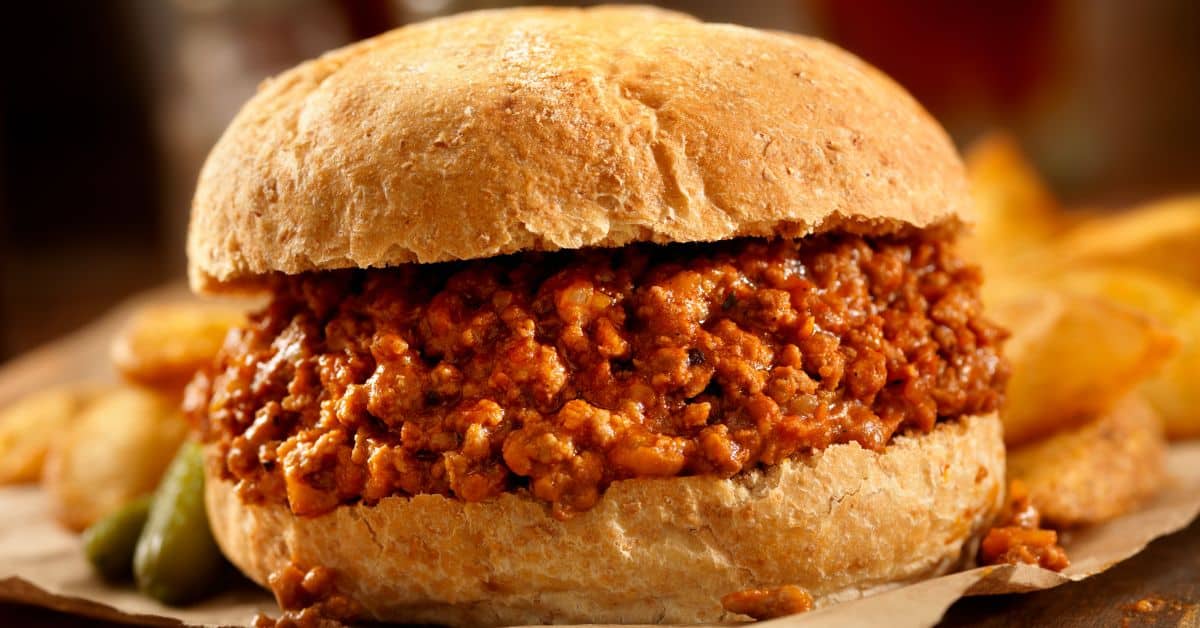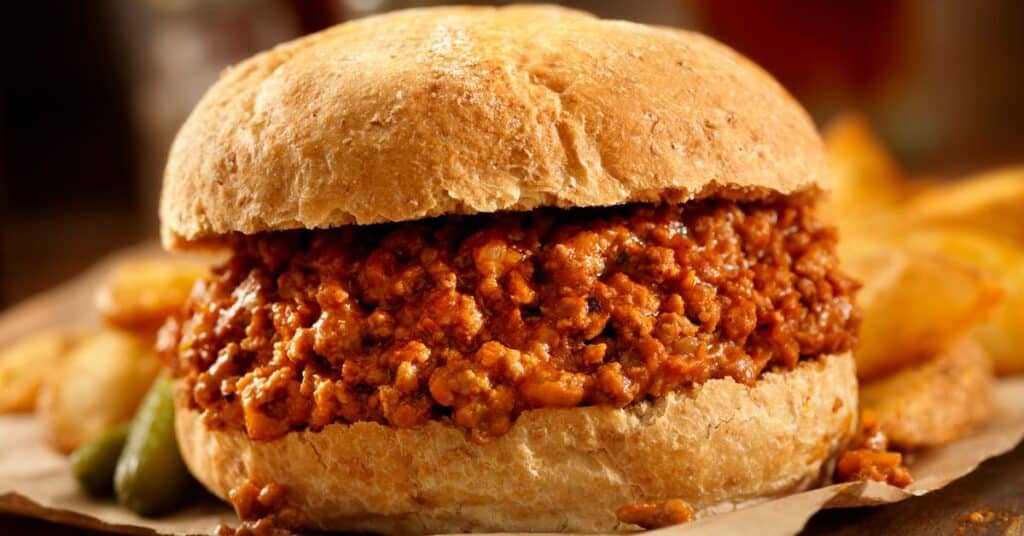 If you've had anything premade from a can, you know that the results can really be hit or miss — and a can of Manwich is no different. This sloppy joe sauce is meant to make dinner prep quick and convenient, but it can turn out to be pretty lackluster in taste.
However, there are ways that you can both enjoy the effortlessness of whipping up a Manwich AND have it taste like a homemade recipe. Follow these tips, and you'll have the most delicious Manwich you've ever had! Keep reading to learn how to make Manwich taste better.
What is a Manwich?
Manwich is a canned sloppy joe sauce produced by ConAgra Foods and Hunt's that was introduced in 1969. It's essentially a seasoned tomato sauce that you add to cooked ground beef to make sloppy joes or other quick and easy ground meat meals.
How to Cook a Manwich
Cooking Manwich is as simple as pouring it into a skillet with cooked ground meat. But other cooking methods work well, depending on what kind of dish you're making.
On the Stove
Before we get into the more uncommon methods, let's talk about the original way to make a Manwich: on the stove.
Add ground meat to a skillet or frying pan on medium-high heat. Cook for 5-7 minutes until browned, breaking up the meat as it cooks.
Next, drain the meat and pour in the Manwich sauce, mixing it with the meat until combined. Reduce the heat to a simmer once the sauce comes to a boil, and cook until the sauce reaches the desired consistency. Serve and enjoy!
In a Slow Cooker
Cooking your Manwich sauce in a slow cooker works great if you're looking to make your meal ahead of time and want to enrich the flavor with other ingredients.
First, brown your ground meat of choice in a skillet on top of the stove and drain. Then transfer your meat to a slow cooker, adding the Manwich sauce and any other recipe ingredients. Set the slow cooker to low for 3 to 4 hours or on high for 2 hours.
In the Oven
The last method for cooking your Manwich is in the oven, but this is more of a last step after cooking the sauce on the stove.
To make sloppy joes, line seasoned buns in a casserole dish. Then cover with cooked sauce and meat, sprinkling on any other desired toppings, and bake until the cheese is melted.
How to Make Manwich Taste Better
Take a basic and boring Manwich sauce and turn it into something effortless and delectable with these simple tips!
Use Two Types of Meat
Who said that you had to exclusively use ground beef with your Manwich sauce? Adding equal parts ground beef and ground sausage is great way to amp up the flavor and spice without making it too sausagey.
Add Veggies
Veggies like onions, bell peppers, jalepeños, and chopped celery will add more flavor, texture, and sustenance to your Manwich. It'll also add a boost of nutrition to your meal.
Thicken the Sauce
Manwich sauce tends to be pretty watered down. Adding cornstarch or making a roux with flour will be just what you need to create a thicker sauce for a more satisfying texture.
Spice It Up
Spices like paprika, cumin, chili powder, red pepper flakes, adobo, cinnamon, and brown sugar are excellent for enhancing the flavor of Manwich sauce.
You can also experiment with seasonings like BBQ sauce, siracha, maple syrup, Worcestershire sauce, A1 steak sauce, red wine vinegar, mustard, and liquid smoke to really make it taste your own!
Add Toppings
The right topping will take your sloppy joes recipe from mediocre to absolutely scrumptious. Toppings like cheddar cheese, coleslaw, bacon, pickles, jalapenos, banana peppers, fried or caramelized onions, and sour cream will add their own layer of flavor and texture that you won't want to miss!
Add Some Crunch
If you are prone to adding potato chips to your deli sandwiches, this is a sign that you've got to try it on a sloppy joe! It'll add a wonderful crunch with every bite, taking your sammy to the next level.
Try a Different Bun
Plain hamburger buns are so "been there, done that." Change things up a bit and use a toasted bun, brioche bun, or ciabatta roll for an entirely new sloppy joe sandwich experience.
Make it a Dip
Eating your sloppy joe meat as a dip is a fun and inventive way of enjoying your Manwich. Not only that, it's the perfect dish to serve for a crowd!
Eat it Over Rice
Place your sloppy joe mixture over rice for a classier dish that tastes just as good as eating classic sloppy joes. Rice has the perfect neutral taste to really make the natural flavors pop!
Pair with a Yummy Side
Your Manwich meal will taste even better when accompanied by a couple of delicious sides. Potato chips, corn chips, coleslaw, French fries, green salad, fruit salad, or pasta salad are just a few that are known to pair well with this loose meat sandwich.
FAQs
What is the difference between sloppy joes and Manwich?
Manwich is a brand of sloppy joe sauce commonly found at the grocery store, while sloppy joes are the actual dish that is made that often uses the Manwich sauce.
What does Manwich taste like?
Manwich sauce has a base tomato flavor that is both a little spicy and a little sweet, but the flavor can vary depending on which version of the sauce you choose.
Do you have to add meat to Manwich?
You'll want to add meat if your Manwich can only contain the sauce. However, some versions already contain ground meat, so adding more meat isn't necessary. Check the information on your label to find out if you have the meatless version or not.
Final Thoughts
Whether you're looking to add a tasty topping, some spicy sauce, or switch up the type of meat you cook with, there's always a fun, easy, and practical way to make your sloppy joes taste better than ever.
So, enjoy your Manwich night! I'm sure the whole family will love what you've come up with. Happy cooking!
You Might Also Like: