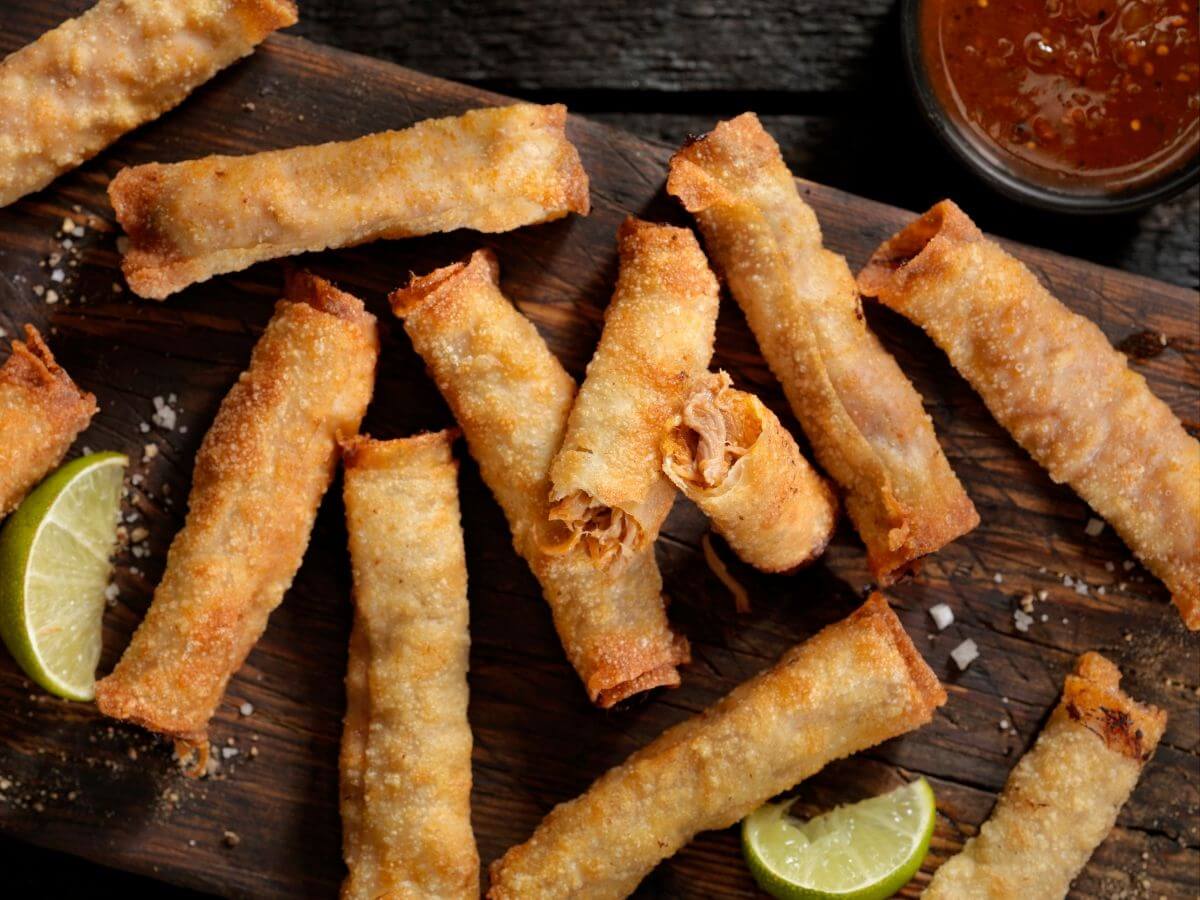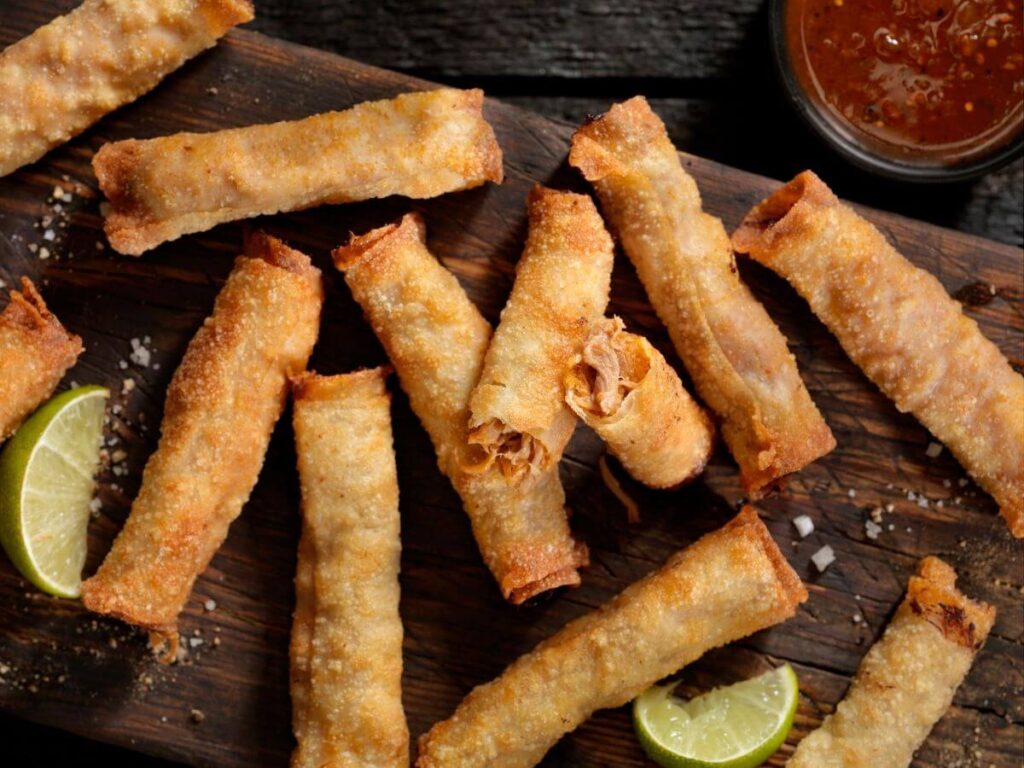 Have you ever thought of cooking frozen taquitos in the air fryer? If you have not thought of it…you should! These two amazing things, when put together, will make your snack time full of crunch and flavors. Keep reading to learn how to air fry frozen taquitos.
What are Taquitos?
Taquitos are small rolled-up tortillas filled with beef, chicken, or cheese that are deep-fried, baked, or air fried. These cylindrical-shaped snacks are pure bliss.
What is the Difference Between Taquitos and Flautas?
Taquitos and flautas are similar, but taquitos are made with flour tortillas and flautas are made with corn tortillas.
Is Air Frying Frozen Taquitos a Good Idea?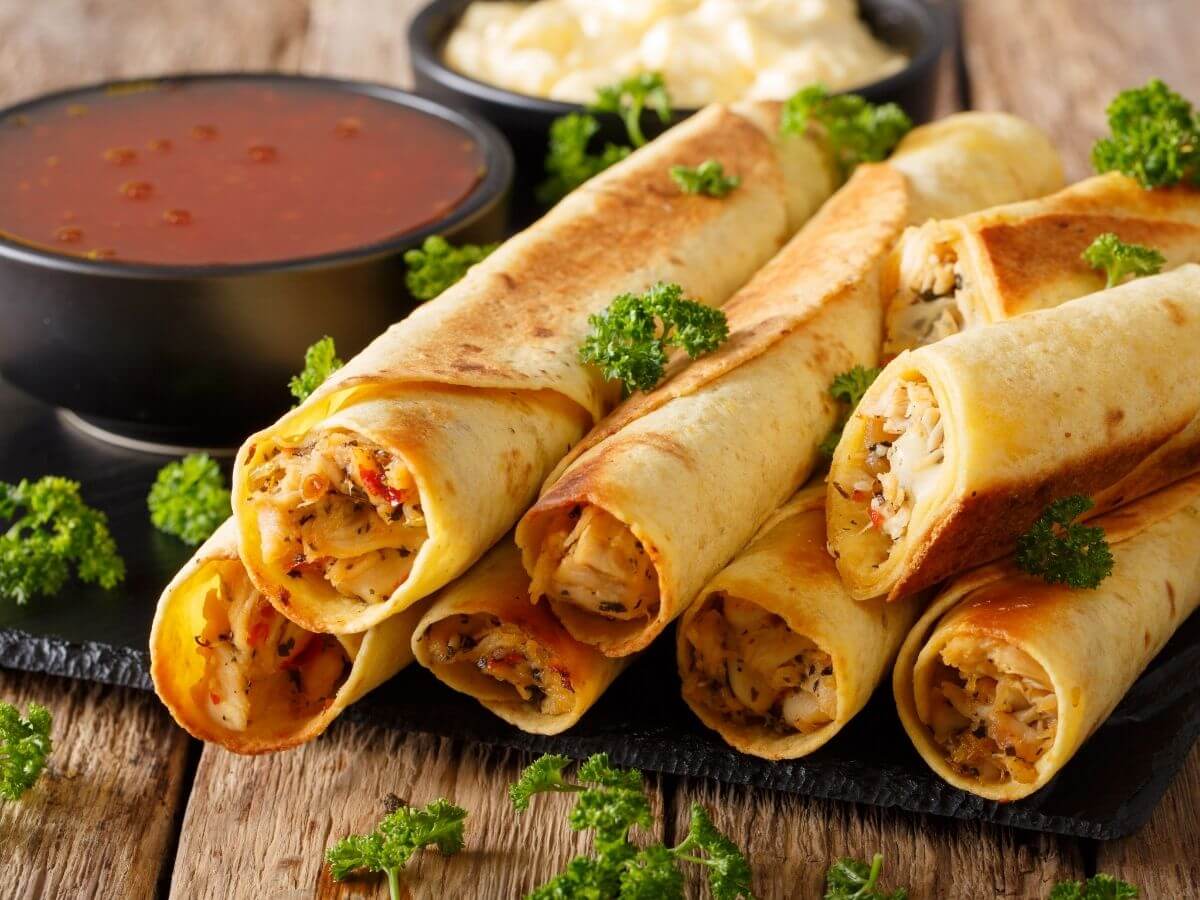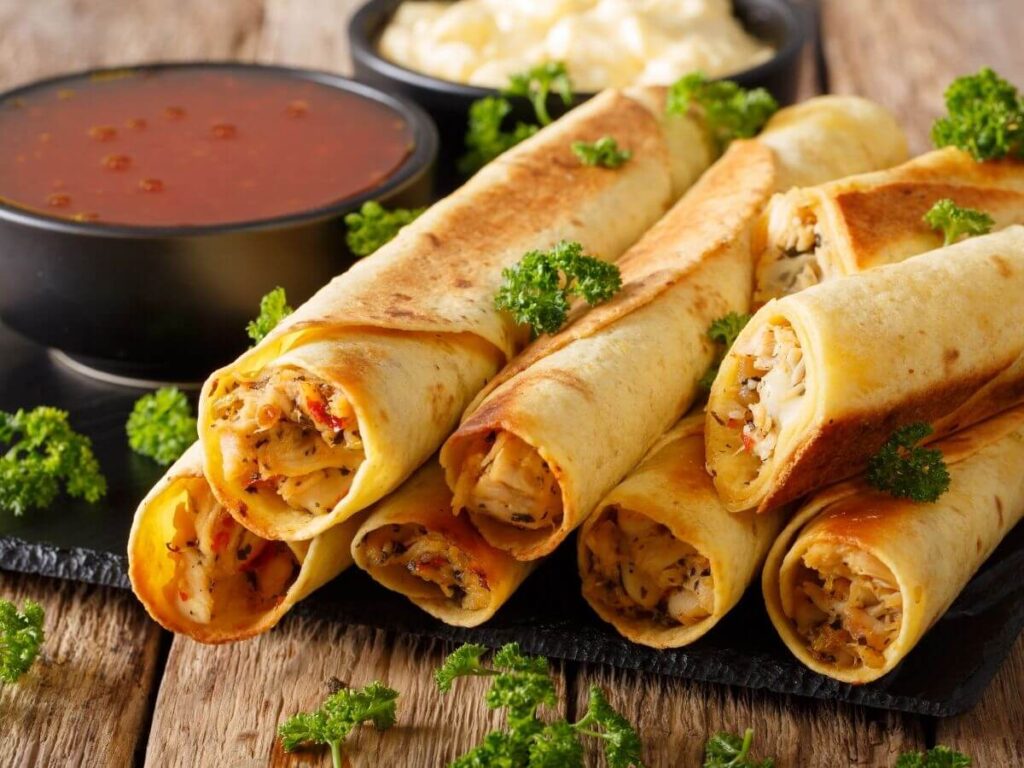 It is a great idea! Everything cooks up much quicker in an air fryer than in the oven and turns out to be crispier than in the microwave. Air-frying frozen taquitos is definitely a good idea because you get a much crispier snack with less oil, and it cooks in just minutes.
How are Frozen Taquitos Prepared?
Most taquito brands cook their taquitos before they are packed to preserve the ingredients and flavors. Though frozen taquitos are fully cooked before packaging, it is necessary to heat them properly before consuming them. Don't forget to read the package instructions.
How to Air Fry Frozen Taquitos
Preheat the air fryer to 350 degrees F.
Place the frozen taquitos in the air fryer basket.
Set the timer for 8 minutes; after 5 minutes, check that the taquitos are cooking evenly. You can also flip them at the 5-minute mark for the best results.
Add a few more minutes to the cooking time if needed until your taquitos are perfectly crispy.
Once done, take the taquitos out and dig in with your favorite dips.
Should You Preheat the Air Fryer?
You need to preheat your air fryer so the food cooks evenly and properly. Preheating will allow the insides of the taquitos to cook and the outsides not to burn.
Reasons Why You'll Love Air Fried Taquitos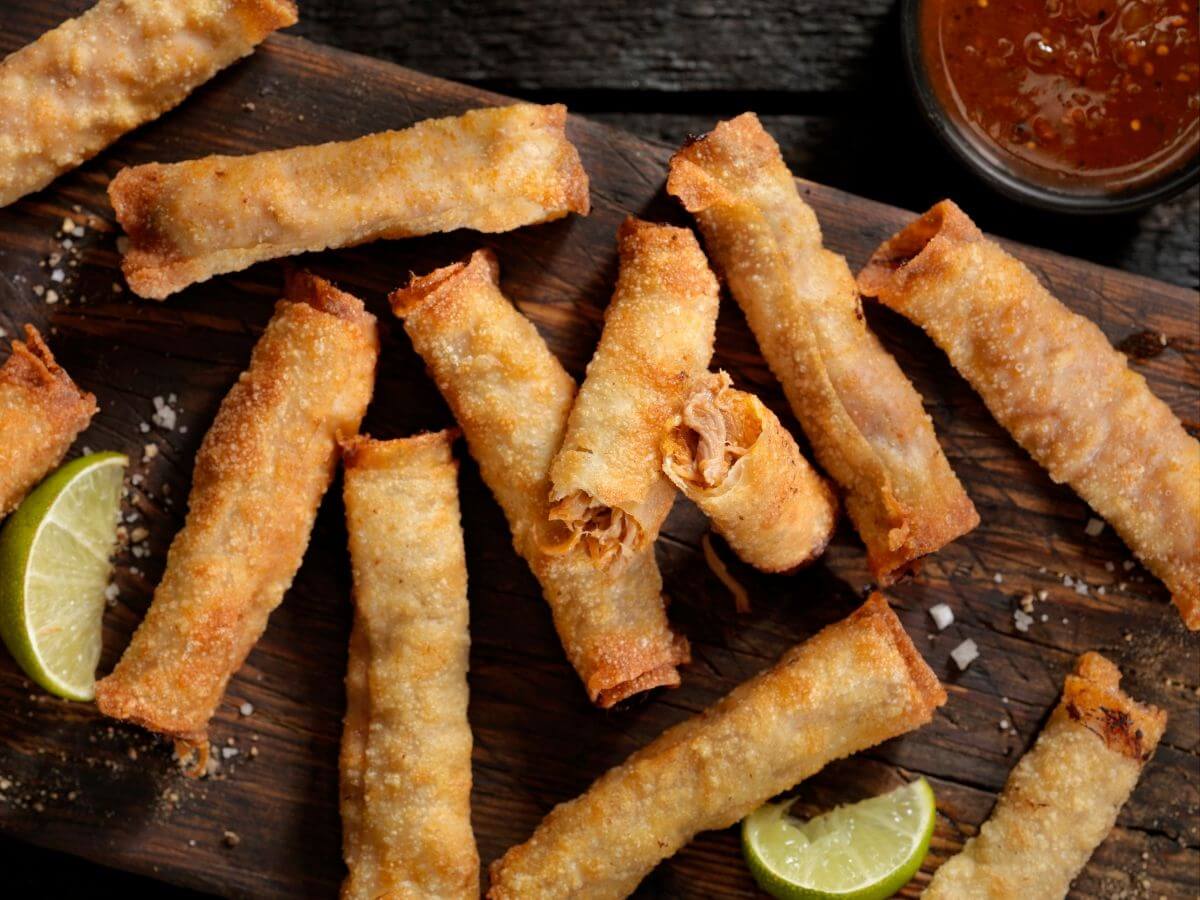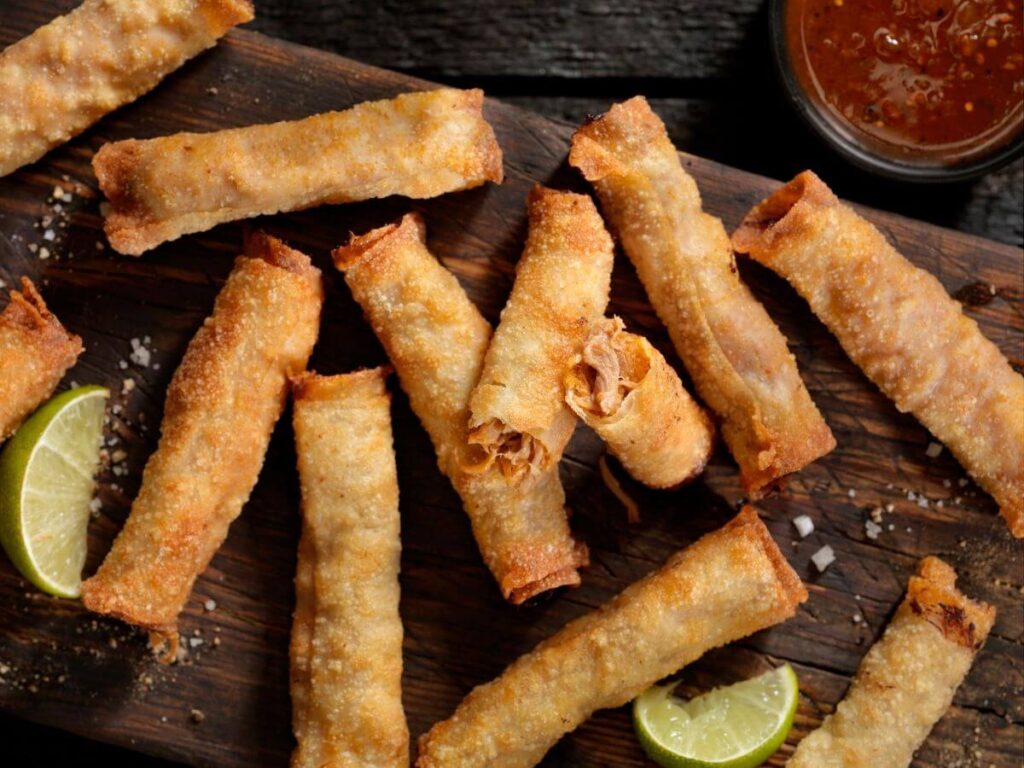 It is the easiest and fastest way to cook crispy frozen taquitos in minutes.
The air fryer preserves the flavor of the taquitos better than pan-fried or microwaved.
It is a yummy and inexpensive alternative to ordering or dining out.
Tips for the Best Results
Do not add all of the frozen taquitos to the air fryer at once. Place a few taquitos at one time, depending on the size of your air fryer. Leave a little space between them.
If your air fryer is nonstick, avoid using a cooking spray as it makes the taquitos soggy.
Try taquitos with your favorite dips!
FAQs
Which Dipping Sauce Goes with Taquitos?
There are a variety of dipping sauces that perfectly complement taquitos. Here are a few popular choices;
Sour cream: A timeless option that adds a subtle tang and creamy texture.
Guacamole: A flavorful dip made from ripe avocados perfect for pairing with crispy taquitos.
Salsa: A zesty tomato-based sauce that can vary in spiciness, offering a refreshing contrast to the fried taquitos.
Queso: A warm and gooey cheese dip that beautifully enhances taquitos' crunchiness and savory flavors.
What to Serve with Taquitos
Rice: Opt for cilantro lime rice or Spanish rice as an accompanying side dish adding heartiness to the plate.
Refried Beans: Delightful and savory refried beans perfectly complement the spiciness of taquitos.
Salad: Freshen up your meal with a vibrant salad featuring zesty dressing to balance out the richness of the taquitos.
How to KeepTaquitos from Unrolling
To ensure your taquitos stay together while cooking, follow these tips:
Overlap the edges: When rolling, make sure the tortilla edges overlap each other. This creates a seal and prevents unrolling.
Use toothpicks: Secure them with a toothpick. Make sure to remove it before serving.
Chill before frying: Pop the rolled taquitos in the fridge for 15 to 20 minutes to help them maintain their shape.
What are Apple Pie Taquitos?
Apple Pie Taquitos are a delightful twist on traditional taquitos. They are stuffed with a warm and spiced apple mixture, rolled up, coated in butter and cinnamon sugar, then baked to perfection. The end result is a crispy and sweet treat that reminds you of indulging in an apple pie. These taquitos are fantastic as a dessert or as a snack option. You can even serve them with some caramel or whipped cream for dipping!
You Might Also Like: