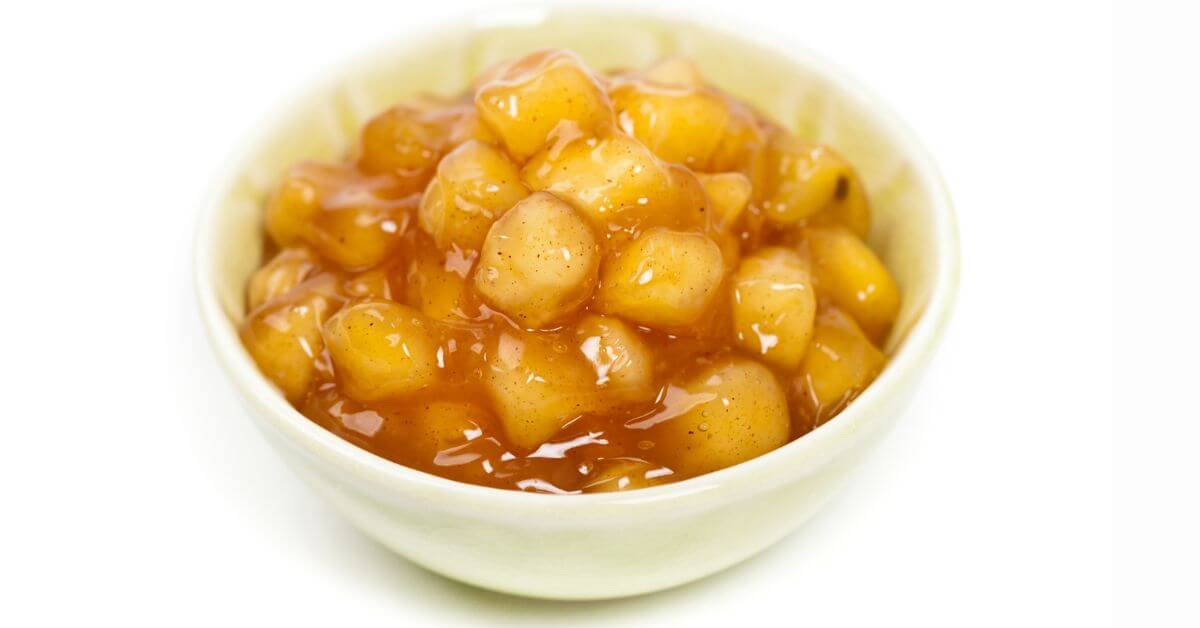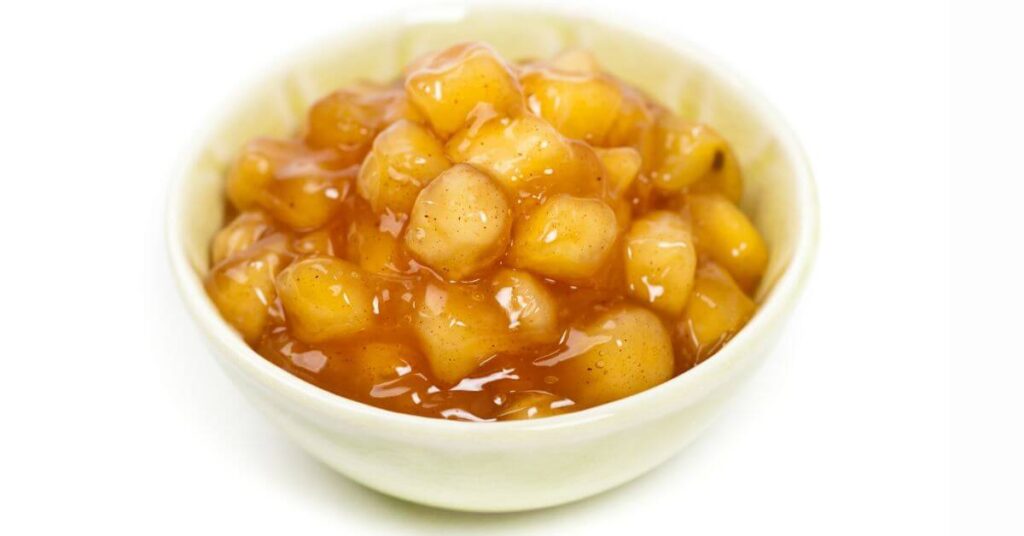 Did you know that you can make your favorite apple pie dessert with canned filling? These tips will show you how to make canned apple pie filling taste better. You'll even discover how to make it taste homemade!
Who has time to core, chop, and peel a ton of apples for homemade apple pie? If you do, then please share your secrets. The joy of canned apple pie filling is that it saves you a ton of energy and time.
You might have noticed that even though it's super convenient, it doesn't always taste as delicious as homemade apple pie. It's close, but not exactly the same. Thankfully, you can do a few different things to improve canned apple pie filling and make it taste pretty close to homemade. These tips won't take much extra time either.
What is Canned Apple Pie Filling
Canned apple pie filling includes everything you need to make an apple pie (except for the crust). When you open a can, you'll see sliced apples in a thick, sugary sauce. It is usually spiced with cinnamon and nutmeg.
Depending on the brand you buy, it should be perfectly balanced so that when you pour it into a pie crust and bake it, the pie comes out just like homemade.
But this isn't always the case. Sometimes it feels like the apple pie is missing something. So keep reading, and I'll share a few things you can do to improve any type of canned apple pie filling.
How to Use Canned Apple Pie Filling
Before we look at how to make apple pie filling taste better, let's look at some of my favorite ways to use apple pie filling. There are way more ideas than this, but these are the most popular uses for apple pie filling.
In a Pie
Obviously, the most popular way to use it is to bake an apple pie. You can either make a decorative crust, a crumb topping or just place a pie crust on top with some slits.
In Muffins
This is one of my favorite easy dessert recipes to bake. You literally add the apple pie filling to a boxed cake mix with two eggs and a cup of sour cream. Place the batter in some muffin tins and bake it. These apple pie muffins never disappoint!
On Top of Ice Cream
Warm up the apple pie filling, and then add a few spoonfuls on top of your favorite flavor of ice cream. It's like apple pie a la mode but reversed.
On Top of Crepes or Waffles
Spoon a little bit of apple pie filling on top of pancakes, crepes, or waffles. It's a delicious way to elevate a simple breakfast dish. Then add a dollop of whipped cream. Your breakfast is ready!
How to Make Canned Apple Pie Filling Better
What do you do when your canned apple pie filling is too runny? What about when it is too bland? A few hacks and baking tricks you can try will take your apple pie filling to an entirely new level of amazing. Try a few of these ideas and see which ones you like best.
Sprinkle in Salt
Salt is a natural flavor enhancer. If you think your apple pie filling is slightly bland, add a pinch of salt. This will bring out the earthy sweetness in the apples.
Add More Sugar
Another simple way to make it taste better is to add more sugar. Try to sprinkle and mix in some granulated white sugar. This is another simple and effortless way to sweeten apple pie filling.
But how do you add sugar to the apple pie filling? Some bakers prefer to add sugar with a bit of water and then simmer that mixture on the stove until it becomes syrup. Since the canned apple pie filling already contains syrup, I don't think you have to do this step.
However, if your apple pie filling is too watery, you might want to create a syrup out of granulated sugar and water!
Here's how to sweeten canned apple pie filling with sugar:
First, add the canned apple pie filling to a mixing bowl.
Then, add one tablespoon of granulated sugar to the bowl and mix it together.
Taste the filling. Is it sweet enough? If not, add another tablespoon.
Use it in your favorite recipe once you think it is sweet enough.
Try Apple Butter
Apple butter is made by slowly cooking apples with sugar until they break down and caramelize. It's basically a thicker and sweeter apple sauce.
This is a really easy way to thicken canned apple pie filling while improving the flavor simultaneously!
Add one tablespoon of apple butter to the filling. Taste it and add apple butter in one-teaspoon increments until it tastes how you want it.
Thicken with Sweetened Condensed Milk
Sweetened condensed milk will also thicken and sweeten your apple pie filling. Mix one small can with the filling and stir it completely. If you are lactose-intolerant, skip this option.
Vanilla Extract
Your apple pie filling might just need some more flavor. In that case, add a teaspoon of real vanilla extract. Adding vanilla extract when you bake always gives a richer and deeper flavor profile.
Use More Spices
Almost all canned apple pie fillings contain some cinnamon and nutmeg. These are the most basic apple pie spices. If your filling isn't flavorful enough, sprinkle more cinnamon and nutmeg into it. Or, add some pre-made apple pie spice.
You can also mix in a dash of ground ginger for a bit of spice! It's a wonderful way to balance out filling that is a touch too sweet.
Adding cardamom gives it a Scandinavian twist. Grind fresh seeds at home for the boldest flavors.
Toss in More Apples
Adding a few more apples is another baking trick you can try. They will bake with the pie and soften, so don't worry about adding raw apple slices.
Slice some Granny Smith apples – they are tart and taste amazing with the sweet canned apple pie filling.
Fresh apples work so well in apple pie filling because they are naturally high in pectin. Pectin is a natural thickening agent that people use in jams and jellies. A few more apple slices will easily thicken your filling.
Remember to use a tart variety. The more tart the apple is, the more pectin it contains.
Thicken with Starches or Flour
If you don't want to chop up apples, just add some starch or flour. This is a really simple way to make canned apple pie filling taste better.
Mix a bit of cornstarch with sugar to prevent it from giving your filling a chalky flavor. Flour, tapioca, and white flour can also be used to thicken apple pie filling.
Clear Jel is made from cornstarch. People use it to thicken jellies, but it also works to thicken apple pie filling. Keep in mind that Clear Jel will thicken as the pie cools down. So don't be shocked if the pie is still a little wiggly when it first comes out of the oven.
Top with Cubes of Butter
Butter makes everything better, doesn't it? I think so! After you pour the apple pie filling into your pie crust, add a few small cubes of butter on top before you add the top pie crust. This is an effortless way to improve canned apple pie filling.
Always use salted butter because the salt in the butter will improve all the other flavors in the pie at the same time.
Mix in Other Types of Fruit
Go beyond simple apple pie and add a variety of different types of fruit to it. They will add texture complexity and more natural sweetness and easily thicken the pie filling, all at the same time.
Mix in a combination of raspberries, blackberries, and blueberries. Then, you'll have a mixed berry apple pie. It will be colorful and tasty.
Or, add some chopped strawberries to the pie filling. Strawberry apple pie is a wonderful summertime pie.
Pears have a similar taste and texture to apples, so add a few pear slices to your filling. They are a bit sweeter than apples, so you might want to take out a bit of the apple pie filling before you add the pears.
Add Chopped Nuts
Add some chopped pecans or walnuts to the filling if you like various textures in your apple pie.
Toast the nuts first and then add them to the apple pie filling. Toasting them will bring out a sweeter flavor to the nuts, and the smokiness from toasting them will highlight the earthy flavors in the apples.
Try Dark Liquor
Sprinkle about two tablespoons of dark liquor for a grown-up apple pie filling. This won't make the apple pie alcoholic because the alcohol bakes out, leaving behind the woodsy, earthy undertones.
The best types of liquors to add to apple pie are either:
Bourbon
Whiskey
Applejack
Any apple-flavored spirit will probably work really well too. If you aren't sure, just add a little bit at first.
FAQs
How do you spice up store-bought apple pie?
The best way to spice up a pre-made pie is to add things on top of it. Sprinkle more cinnamon and nutmeg on top. Add some whipped cream or ice cream on top. You could also drizzle the pie crust with a bit of honey to make it taste a bit sweeter.
Can you add fresh fruit to canned pie filling?
Yes, you can definitely add fresh fruit to canned pie filling! The fresh fruit will cook along with the pie filling, so you don't have to worry about different textures. The thinner you cut the apples, the quicker they will cook, so make them nice and thin.
Is canned pie filling good?
Canned apple pie filling can taste delicious, but there are many ways to improve it. You might need to add more spices, some more fruit, or thicken it up. It all depends on what you like most about homemade apple pie.
Why did my apple pie turn out watery?
There are a bunch of reasons that could be the causes of your thin apple pie.
First, did you create enough vents in the top crust for the steam to escape? As the pie filling bakes, it needs steam, thickening the filling. Add more slits or make the crust lattice-style to give it room to vent.
Another cause could be a lack of thickening agents. This might be the fault of the canned apple pie filling. Mix in some cornstarch and sugar.
Finally, remember not to take the apple pie out of the oven too quickly. You'll know the apple pie is ready to come out of the oven when the internal temperature reads 195°F or 90°C.
How long can you keep canned apple pie filling?
The unopened canned apple pie filling will stay fresh on your pantry shelf for an astounding three years. You should use opened apple pie filling a week after you open the can.
Final Thoughts
If you buy canned apple pie filling and become disappointed at how bland or thin it is, don't throw it out! There are some simple ways to save it.
I hope you enjoyed learning how to make canned apple pie filling taste better. You might just discover a new favorite apple pie recipe in the process.
More Cooking Resources
If you enjoyed learning how to make canned apple pie filling taste better, here are some more baking resources you will enjoy next.