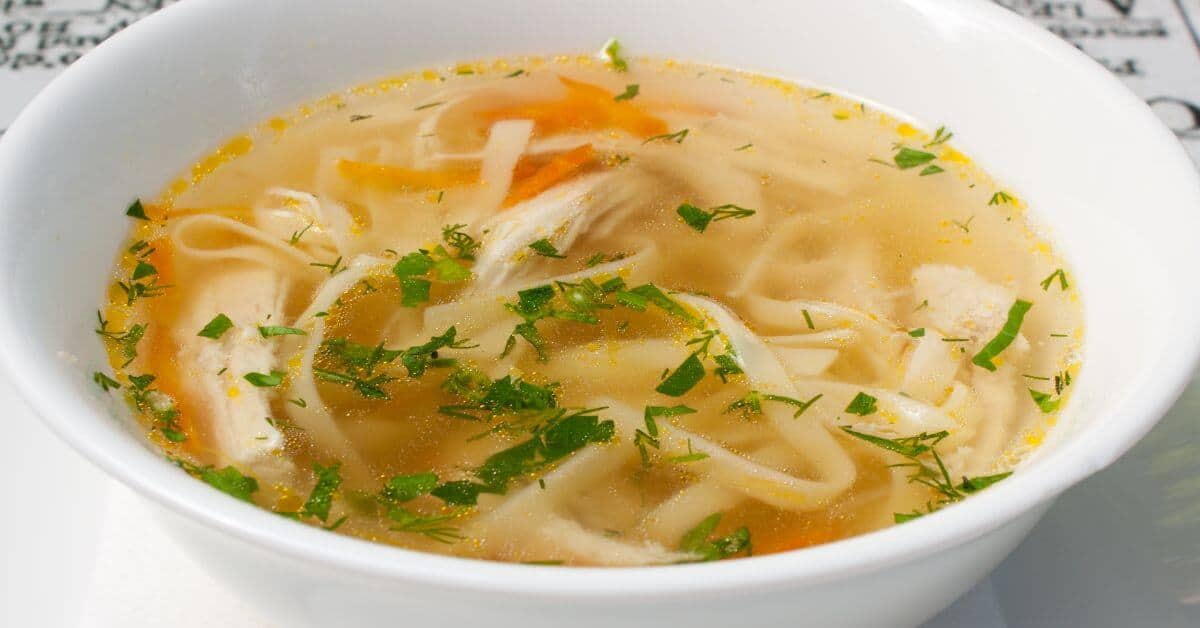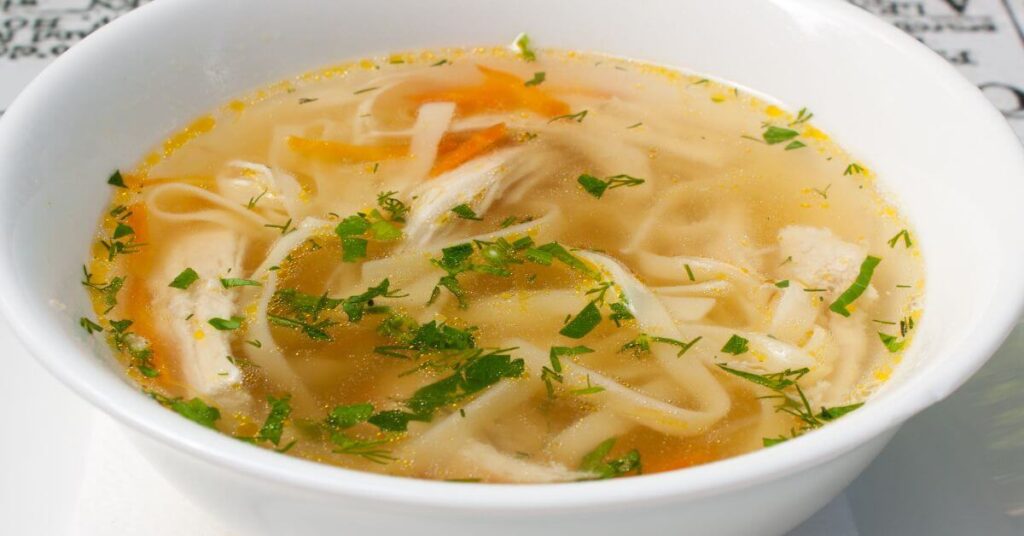 Even though there is nothing quite like homemade soup, there are ways to learn how to make canned chicken noodle soup better. In fact, with just a few changes, you can turn a can of soup into something that tastes just like a homecooked meal!
When you weren't feeling good as a kid, there was nothing like homemade chicken noodle soup! When you aren't feeling well as an adult, it's easier to just rely on canned chicken noodle soup for that same comfort. Unfortunately, canned soup just doesn't compare to homemade.
You can do a few easy things to canned soup to make it taste a bit more like homemade. Pick and choose which ones – or do all of them! Canned soup can be a really simple base that you build on to create a comforting and epic pot of nourishing soup.
What is in canned chicken noodle soup?
When you read the ingredients label of canned chicken noodle soup, you should be able to understand almost all of the ingredients. It's made with the following ingredients (but it might vary a bit by brand or variety):
Chicken Broth – This is made with just water and chicken stock.
Noodles – These are made from wheat flour and egg.
Chicken – The chicken pieces are seasoned with salt and soy.
Spices – The soup is seasoned with MSG, onion powder, yeast extract, spice extracts, beta carotene, and dehydrated garlic.
Corn Starch – This thickens the soup to make it a condensed soup.
How to make canned chicken noodle soup better
Canned chicken noodle soup is pretty basic, so there is a lot of room for you to improve it. Check out the list of ideas below and use one of them – or all of them! These are all really easy things you can do to make canned chicken noodle soup better. You might even improve it so much that it tastes like homemade soup.
Add more meat
When you open a can of chicken soup, you'll notice the pieces of chicken are itty bitty. One of the easiest ways to improve this soup is to mix in some real chicken pieces. If you are short on time, just open a can of chicken, drain it, and add it to the soup! No cooking is necessary. Heat up the soup like normal.
For a more homemade taste, shred some rotisserie chicken from the store and add that to the soup. Again, no cooking is required. This is also a great way to use leftover cooked chicken that might be in your refrigerator. Even deli chicken will taste good in this soup.
More noodles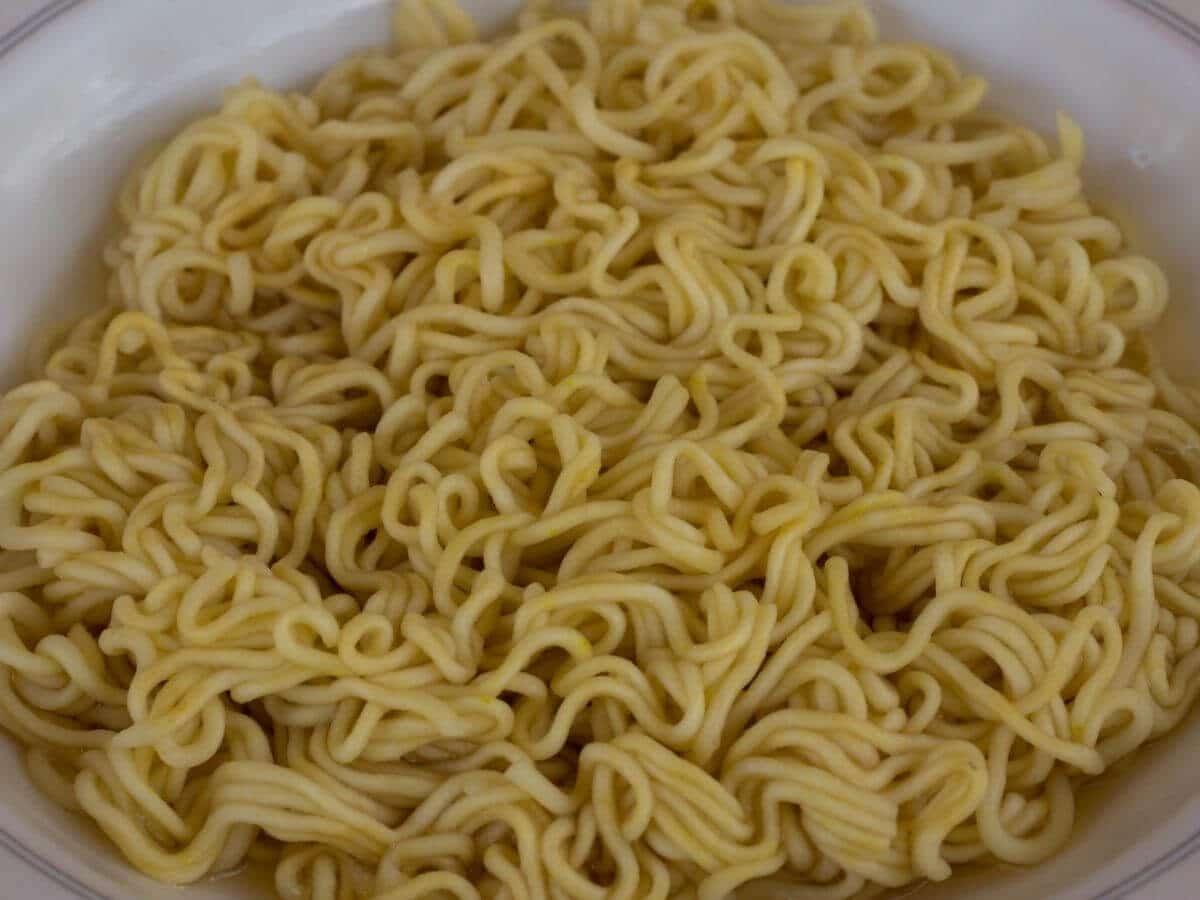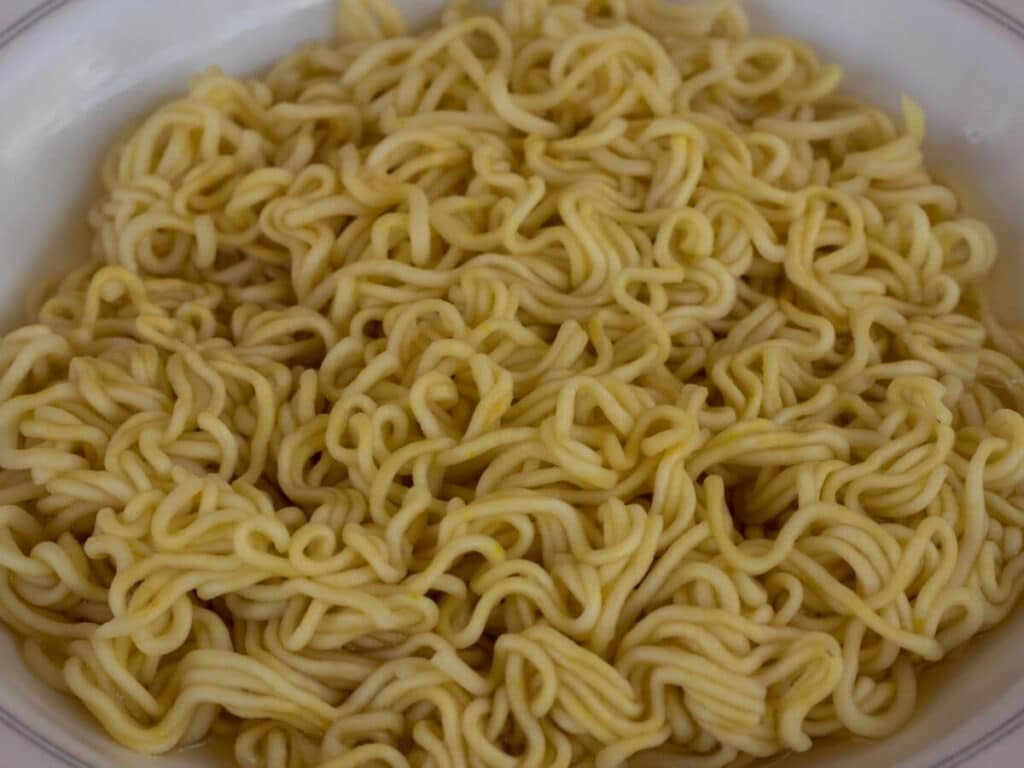 The noodles in canned soup are pretty sad too. Boil some ramen noodles and add them to the soup. It's an easy way to make it taste more homemade. The ramen noodles will look the closest to the long skinny noodles in Campbell's soup cans.
Look at the can of soup and add noodles that look most like the noodles in the soup. Progresso has egg noodles in it, so boil and add more egg noodles to it.
Season it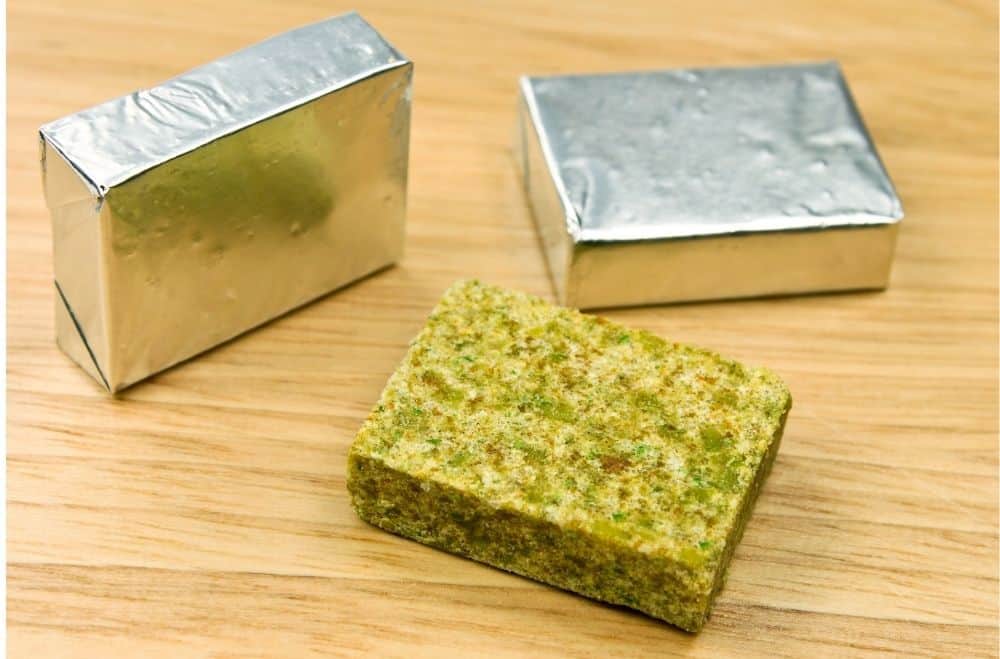 Most cans of chicken noodle soup will benefit from more spices or seasoning. One of the easiest ways to add more flavor to canned chicken soup is to add a packet of ramen noodle soup flavoring.
If that's not your thing, add a few teaspoons of poultry seasoning to the soup. You could even sprinkle some Worcestershire sauce into the soup or add a bit of Boullion concentrate to the broth.
Make it spicier
Adding a bit of heat is a simple way time improve this basic soup. Cayenne pepper will add that heat while also matching the rest of the flavors perfectly.
More fat
Add some types of cooking fat to make the soup richer and fuller. You can do this by adding a little drizzle of extra virgin olive oil to the soup. Or, melt a tablespoon of butter and stir it into the soup.
Garnish
Presentation is half of making soup better – we eat with our eyes! Garnish your soup with some real bacon bits, fresh green onions, and fresh parsley. Remember, the fresher the ingredients, the better the soup will taste. Use fresh herbs and cook the bacon instead of using dried bacon bits.
More veggies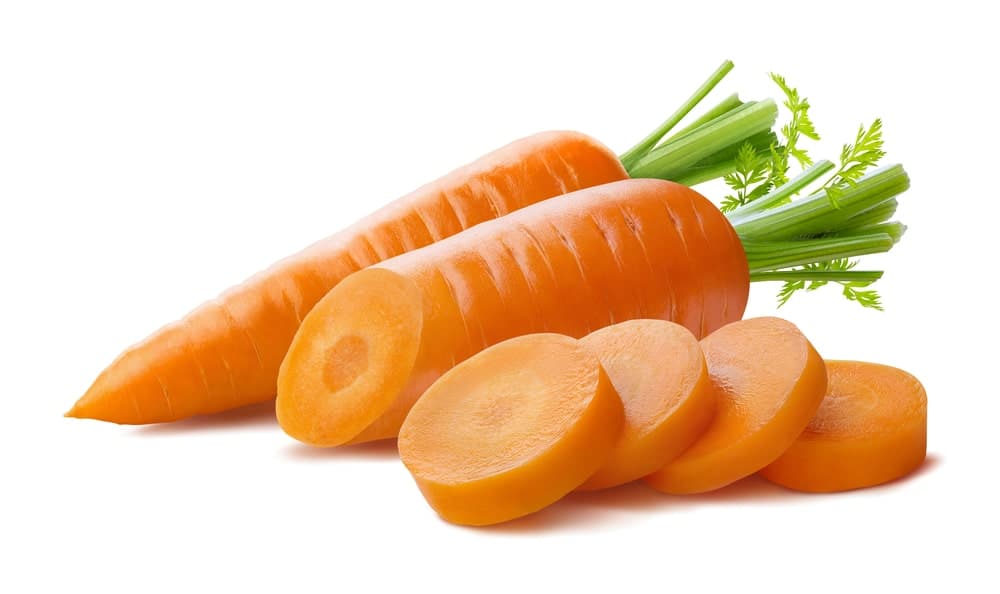 Some cans of chicken soup don't include any veggies at all, which is a huge shame. The simple act of adding some vegetables to your soup will take it from boring to amazing! Fresh vegetables are always the best choice, but frozen vegetables are just as nutritious and will save you a lot of time.
Carrots and peas are the natural choices that you'll find in a lot of chicken soup recipes. Chop up some celery and add it to the soup too. In this case, frozen carrots and peas are easy to find in the grocery store, and then you just have to open the bag and add them to the soup.
If you want to enhance the flavor of the veggies, saute them in butter and garlic before you add them to the soup.
Croutons or small crackers
Adding contrasting textures is a simple way to make anything taste better. It makes the dish more interesting and gives your mouth a new experience. For your chicken soup, the best way to add more textures is to top it with some seasoned croutons.
Just grab some salad croutons and sprinkle them on top of your bowl of soup. Or make your own with seasoned toasted bread.
You could even sprinkle some oyster crackers on top of your chicken noodle soup.
Make southwest chicken noodle soup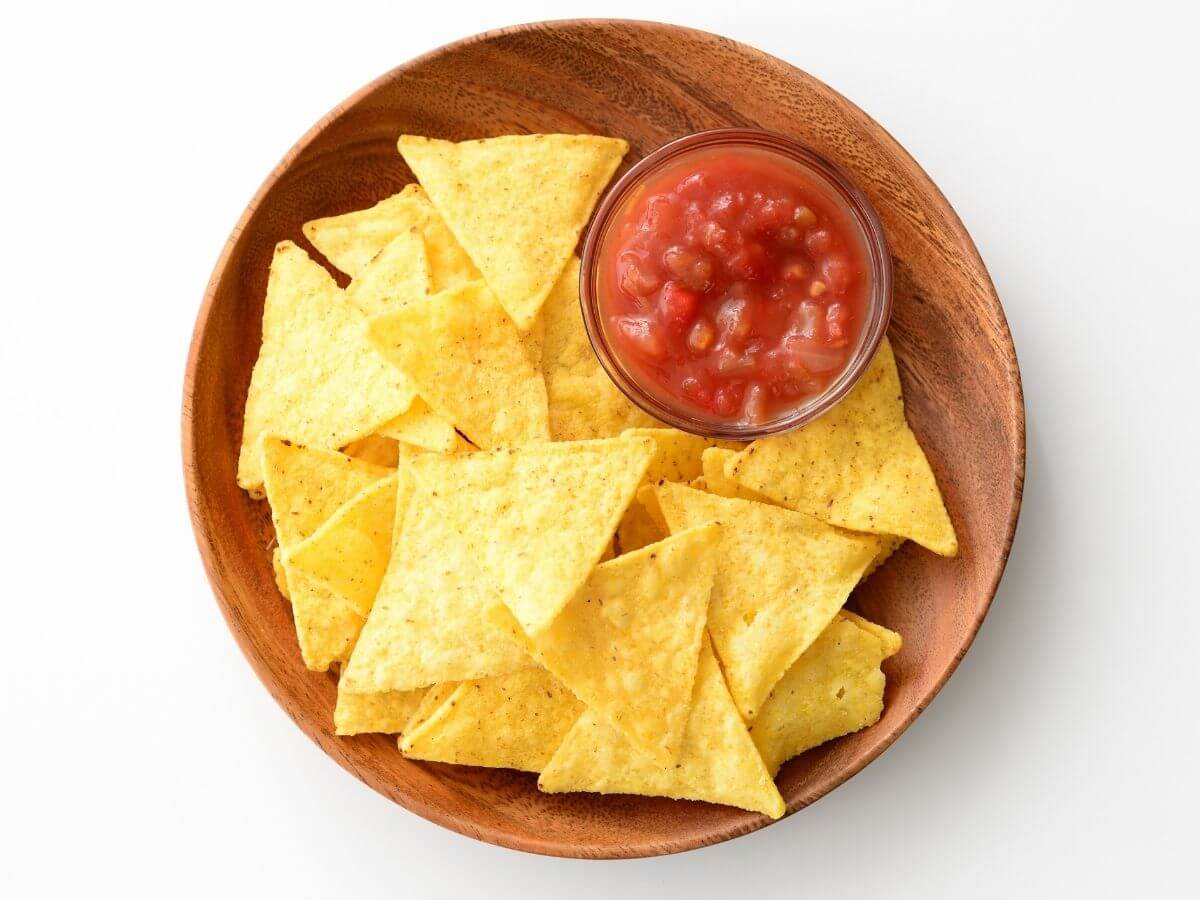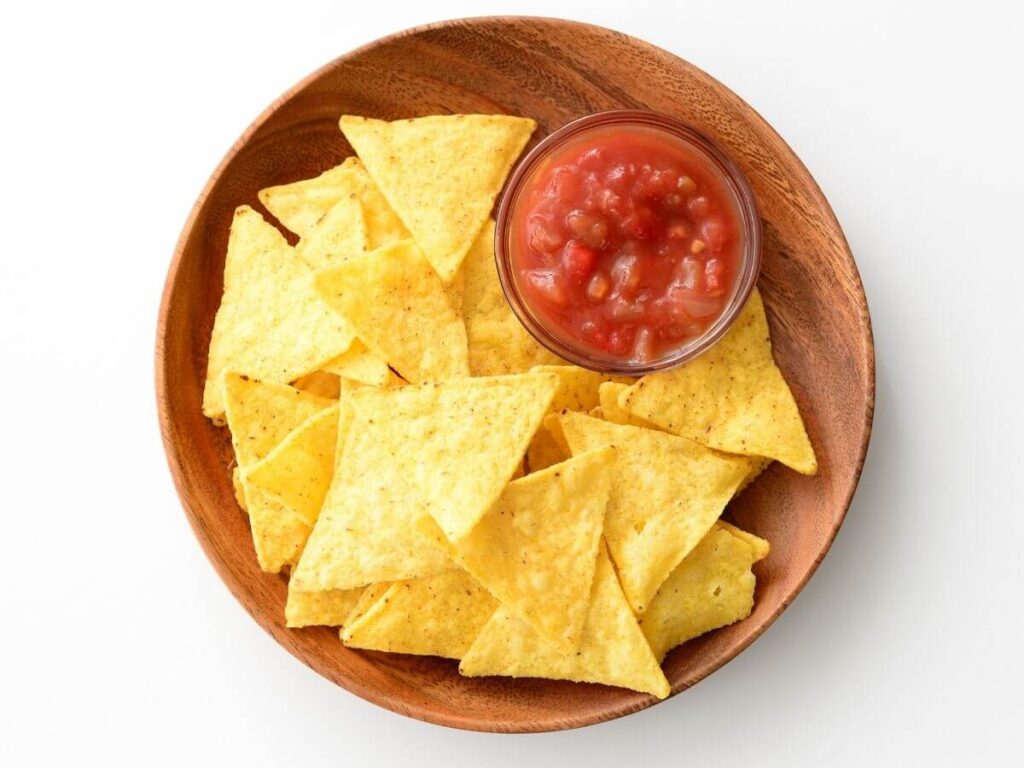 Think outside the can and completely change how the chicken noodle soup tastes. Instead of traditional chicken soup, turn it into southwest chicken noodle soup with just a few more ingredients.
All you need is some frozen corn, tortilla chips, avocados, and cayenne pepper. For even more spice, add some jalapeno peppers. You could also skip the tortilla chips and use tortilla strips – this becomes an easier version of chicken tortilla soup!
Add a surprising flavor
Another way to change the flavors and make them surprising is to add some lime juice or curry to the canned soup. Think about your favorite types of chicken soup and add some spices to mimic those flavors. This is a fun way to create your own dishes – you might just find a new favorite!
Whenever you add flavors for the first time, add a little bit at a time and taste it. If you are worried that it won't taste good together, pour a small bowl and add spices to that serving. That way, you won't have to throw out the entire pot of soup if you don't like how the spices taste with the broth.
Increase acidity
Adding cooking acid to the soup is another really easy way to elevate the dish from mediocre to memorable. Acidic ingredients include dry wine, vinegar, or lemon juice.
The best way to add acid to chicken soup is to saute the vegetables first and then deglaze the skillet with some dry white wine. Then, add this sauce to the chicken soup.
The acid brightens the soup and brings out the earthier flavors of the vegetables and poultry. You don't need much to really make it taste incredible.
FAQs
Now that you know more about how to make canned chicken noodle soup taste better, here are some questions people often ask about this canned soup.
Is canned chicken noodle soup healthy?
This is tough to answer since there are so many different types of canned chicken noodle soup, and each has a different amount of salt, nutrients, and ingredients. Eat This Not That compares popular brands of soup and gives you information about their ingredients.
For a quick example, I'll share the nutrition of Campbell's condensed chicken noodle soup.
In one cup, there is:
90 Calories
2.5 grams of Fat
0.5 grams of Saturated Fat
790 mg of Sodium
10 grams of Carbs
1 gram of Fiber
3 grams of Sugar
6 grams of Protein
How long does canned chicken noodle soup last?
Unopened, your can of chicken noodle soup will last on the shelf for about 3-5 years. The best-by-date on the can of soup is an excellent way to tell how long your soup will last in your pantry.
After you open it, refrigerate leftovers in an airtight food storage container for 3-5 days.
What is the best kind of liquid to add to canned chicken noodle soup?
If you add more ingredients to your canned chicken noodle soup and need more liquid, just add some chicken broth or some water with chicken bouillon. Basically, you want to add more clear liquid seasoned with spices similar to those that are already in the soup.
Do not add competing broths or cream-based liquids. Beef broth won't taste very good in chicken soup. The same thing goes for coconut cream.
What can you serve with canned chicken noodle soup?
Canned chicken noodle soup is a wonderful thing to eat for lunch. Serve it with some pigs in a blanket, or make some hearty mac and cheese with your soup. Of course, you can't beat enjoying an air-fried chicken with your chicken soup. Then, for dessert, make some cinnamon rolls. Talk about delicious!
Chicken soup is also the perfect starter for a soup and sandwich lunch. Make a club sandwich or grill a chicken and an avocado panini at home. Toasted sandwiches are delicious with soup because you can dip them into the brothy and savory bowl of soup.
When are aromatics in soup?
Aromatics are what you add to a soup or recipe to improve the flavor. It usually describes a combination of onion, garlic, and pepper. They are called aromatics because as they saute, they release incredible aromas, which enhance how strong and bold a recipe tastes.
Which kinds of green vegetables taste good in canned chicken noodle soup?
Adding green veggies to canned chicken noodle soup is a wonderful way to make it taste better. I love to add baby spinach, kale, chard, or collard greens. Baby spinach will wilt and cook the fastest, so it is the easiest to use in chicken soup.
Peas are popular in chicken noodle soup, and so is celery. Most people don't add broccoli but don't let that stop you. Try it and see what you think; you might just like it!
Can I puree vegetables and add them to canned chicken noodle soup?
Yes, adding pureed veggies is a wonderful way to make your chicken soup thicker and richer. Steam some cauliflower and then process it in a blender or food processor. Then, stir it into your chicken noodle soup.
Whenever you are trying to decide which kind of vegetable to puree and add to your canned chicken noodle soup, choose mild veggies. Cauliflower, spinach, and carrots are all fantastic choices.
Can you add milk or cream to canned chicken noodle soup?
No, do not add any type of cream to a broth-based soup like canned chicken noodle soup. It will not taste good and could actually make it unappetizing.
Can you freeze canned chicken noodle soup?
Yes, you can freeze canned chicken noodle soup. However, the soup will last longer in an unopened can than it will in the freezer. And the noodles will change texture when they are frozen and then reheated.
If you want to freeze canned chicken noodle soup, just place it in a heavy-duty freezer-safe food storage bag and lay it flat in the freezer. It will stay fresh for up to six months.
More kitchen resources
If you enjoyed learning how to make canned chicken noodle soup better, here are some more helpful kitchen resources you might enjoy next.