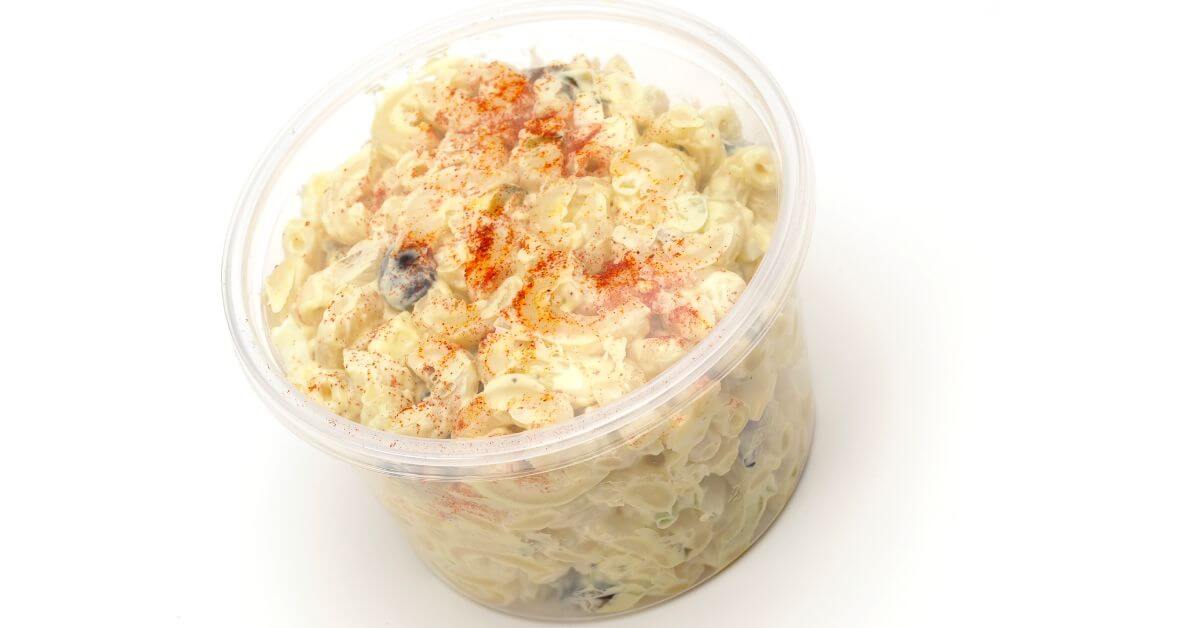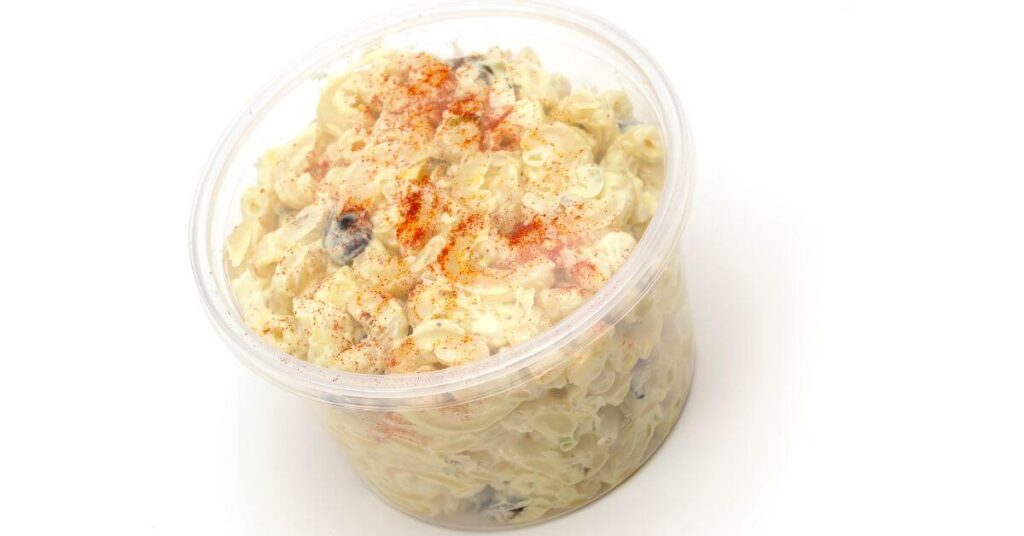 Store bought macaroni salad is a great option for anyone looking to show up at the party and please the host, but why not blow them away instead!? Learn how to make store bought macaroni salad taste better than ever before with these awesome ideas!
It's two hours to the big party and you just remembered you said you'd bring a dish! You run out for store bought macaroni salad, but you don't want anyone to know you didn't make it yourself. Don't panic, we have all been there and these tips are here to help! Impress your friends and family with an awesome macaroni salad that no one will guess was store bought!
What is Store Bought Macaroni Salad?
It is a cold salad that is sure to please at parties and events. Store bought macaroni salad is generally found near the store's deli. Every store makes its own version of this side dish staple, but some things are always the same.
The base is always pasta (usually macaroni). The pasta is coated in a sauce that is generally made of either mayonnaise or salad dressing. Some mix in mustard seed and other sides and many include onions or scallions.
Macaroni salad is a summertime favorite because it goes perfectly with barbecued foods. This cold salad has just the right notes to pair with rich sauces and hearty meats. You simply cannot throw a summertime soiree without this side dish!
Types of Store Bought Macaroni Salad
Groceries stores across North America carry premade macaroni salad. Many versions exist but some varieties are fairly universal.
Many stores carry an "original" or "homestyle" variety that is just a simple macaroni salad. Some stores will take it a step further by offering cheesy renditions of the classic with extra creamy cheese. There are often variations that include cooked bacon, as well.
How to Make Store Bought Macaroni Salad Better
Store bought macaroni salad is sure to help you out at the potluck, but use these ideas to take it to a whole new level of flavor!
Ham it up!
Macaroni salad is often served alongside rich barbecued meats because the cream salad meshes with the meat so well. Why not skip a step and bring the meat right to the macaroni salad!? Tossing some meat into your macaroni is the perfect protein-packed way to make it taste better!
Ham and bacon were made for macaroni! Both types of meat are rich in salty and smoky flavors that go so well with creamy macaroni salad. Throw so fully cooked ham, bacon, or both into your store bought macaroni salad and prepare for pleased guests!
Opt for Onions!
The creamy dressing on the macaroni for this cold salad is so tangy and creamy that it works perfectly with onions. Tossing some extra onion into your macaroni can make it so much more memorable. Opt for fully cooked sweet onions to bring a sweet and savory punch to this cookout classic.
Pepper on the Paprika!
This hint may sound too simple, but simple can make all the difference. Paprika is a finely ground pepper with wonderful sweet and smoky notes. Being a dried spice it packs a lot of flavor into a small portion, so all you need of this special ingredient is a touch. Sprinkle a little smoky Hungarian paprika onto your store bought salad and absolutely no one will believe that you did not make it!
Add in the Eggs!
Eggs can add a lot of richness to a dish and that is what makes them so perfect for jazzing up a store bought macaroni salad. Eggs are easy to find and pretty universally liked, so they are a safe choice when serving this salad to a crowd.
Slice up a few hard-boiled eggs and throw them into the macaroni. Mix them in gently and season with a little salt and pepper. Whether you tell people you bought it or not they will be impressed at the effort you put in and the big flavor it adds!
Turn up the Heat!
If you like to live on the spicy, why not add a little heat to your store-bought macaroni salad!? The supermarket versions of this dish do tend to hold back on the heat, so if you are a heat seeker you might need to kick it up! Grab your favorite hot sauce and get ready!
There are a few ways to spice up store bought macaroni, including dumping on the hot sauce. You can also stir in some chili flakes or even fresh pepper. A little ground chili powder also goes a long way. Don't hold back the flavor of this store-bought macaroni salad, unleash the heat!
F.A.Q.
Is Store Bought Macaroni Salad Vegan?
Generally speaking, no. Almost every store bought macaroni salad uses a dressing made from mayo or tangy salad dressing. This disqualifies it from being vegan; however, many basic varieties of store bought macaroni salad are vegetarian-friendly.
When it comes to dietary limitations, always err on the side of caution. Read every label carefully and look out for your red-flag ingredients.
Final Thoughts
Store bought macaroni can be the perfect thing to dress up for a party or gathering. Grab a tub next time you're in the store and try out some of these tasty tricks! Armed with new culinary knowledge you can turn manufactured into magnificent! Have fun and leave room for seconds because you won't be able to get enough of this upgraded store bought macaroni salad!
Additional Kitchen Resources
Trying new things in the kitchen keeps life, and mealtimes, interesting! Learning more kitchen tricks with these helpful articles:
How to Cook a Precooked Ham in a Slow Cooker