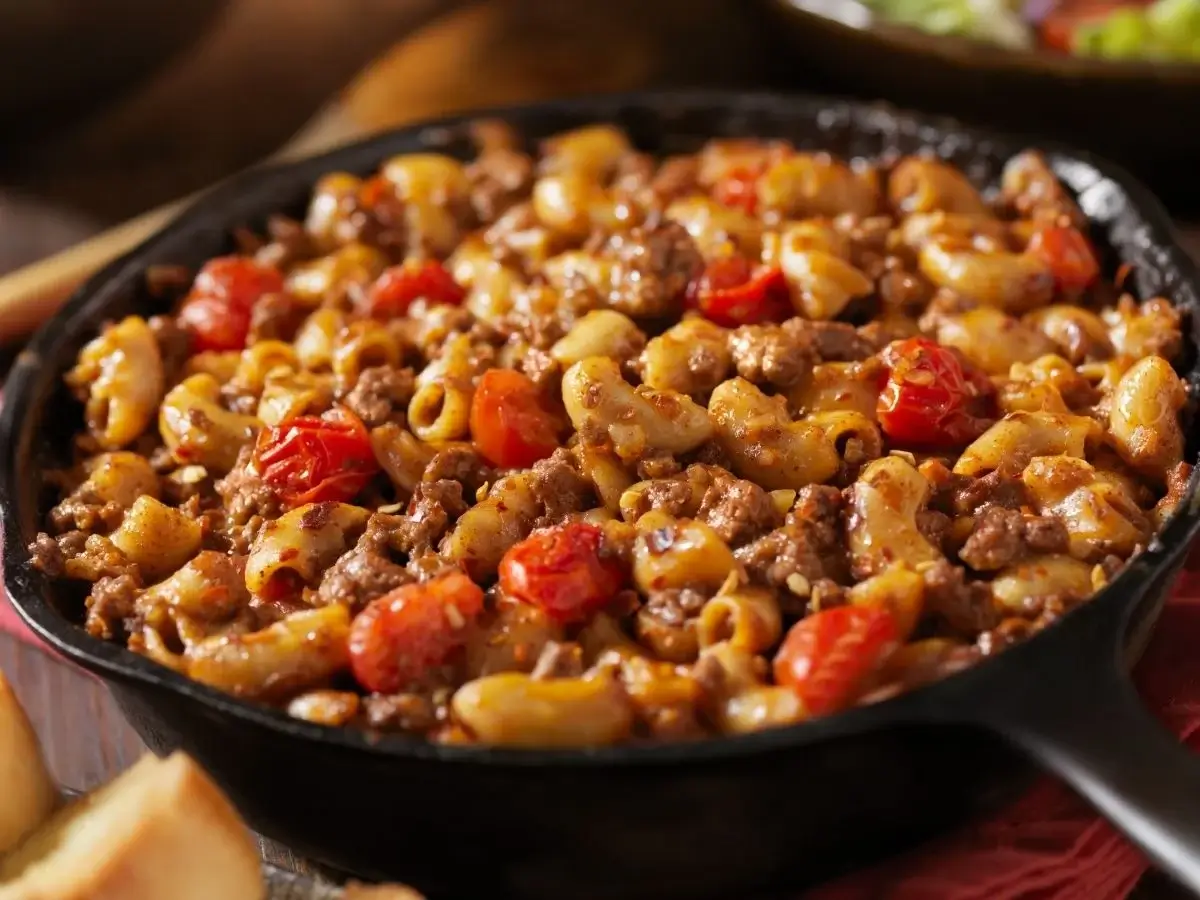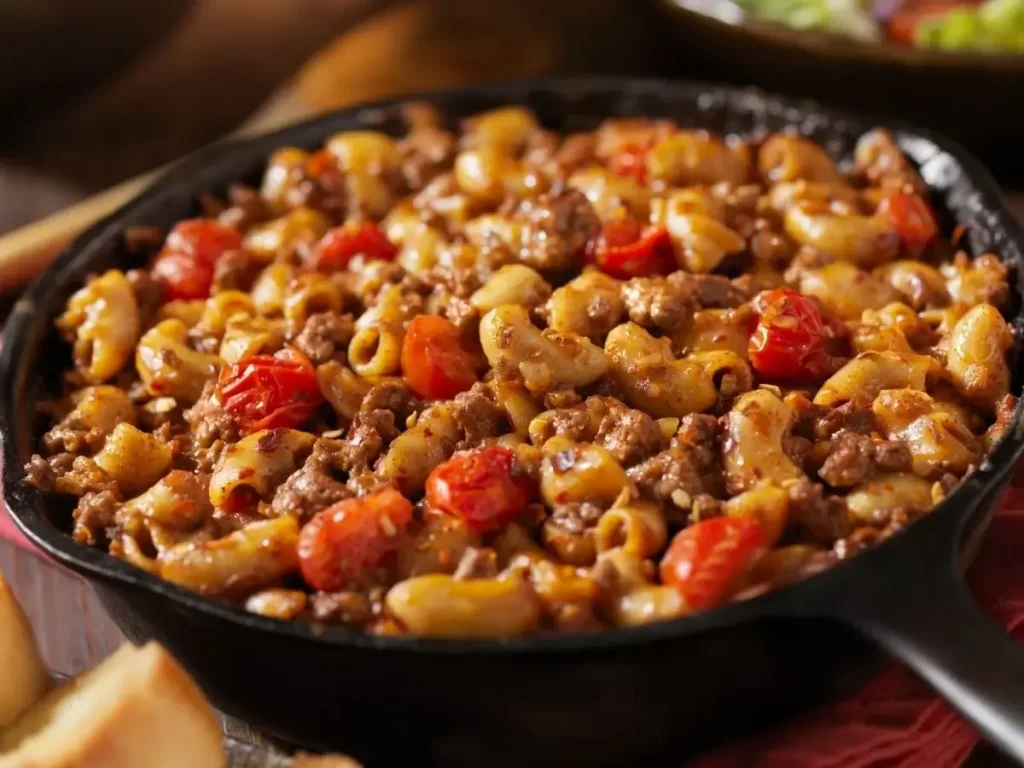 Those who prefer quick and convenient food will know about Hamburger Helper. This humble dish is loaded with pasta drenched in a cheesy and creamy sauce.
You can easily make a Hamburger Helper from scratch. However, using a box makes things much easier. But it comes with a price. Most people complain that the boxed Hamburger Helper is quite bland or the flavors are not up to the mark. But no problem! You can always improve the flavors if you know a few tricks.
So, if you are wondering how to make Hamburger Helper better? We have a few simple ideas for you to try!
What is a Hamburger Helper?
In simple words, a hamburger helper is a pasta dish made from ground beef, pasta, and a creamy thick, cheesy sauce. The dish is built upon the flavors of a hamburger but is more creamy. Hamburger Helper is a simple, one-pot dish that is very quick and convenient to make.
Although you can make it from scratch at home, the true popularity of this dish lies in the pre-made quick meal boxes that surfaced quite some time ago. It was first introduced in 1971, and after that, different companies and brands launched their versions of Hamburger Helper. Things always get easy and quick when you get everything in a box.
How to make Hamburger Helper from scratch
Making a hamburger helper is as easy as making any other one-pot pasta dish. It takes no more than 30 minutes to cook it to perfection. All you have to do is work on three main ingredients, i.e., ground meat, pasta, and sauce.
All you have to do is cook the meat first and set it aside. Next, you have to set the base for the sauce by sauteeing onions and garlic. Sautee all-purpose flour and pour broth to create a thick consistency sauce. Add tomatoes and pasta. Let the pasta cook in this broth until it is done. Now top it up with cream, cheese, and cooked meat. Let everything combine and serve. Voila! Isn't it easy?
How to make Hamburger Helper taste better
Hamburger Helper relies on the flavors of the meat and a few seasonings. But most people go for the pre-made version, which is far easier than the traditional one. However, the flavors might not be to your liking, and there is always room for improvement. So, you can add more ingredients or change a few to make Hamburger Helper taste even better. Here are a few simple ideas for you to try:
Meat: since hamburger is made using ground beef, it is a good bet that Hamburger Helper uses the same meat. However, you can always try different ingredients. For instance, you can use chicken or turkey meat to add a different flavor to this dish. Moreover, you can also use ground pork or combine pork and beef. You can even use seafood like tuna or shrimp. The choice is yours!
Vegetables: a few vegetables in your Hamburger Helper will only add more color, flavor, and healthy nutrients to it. So, you can try chopped carrots, broccoli, zucchini, bell peppers, corn, mushrooms, etc.
Broth: beef broth is what adds so much richness and flavor to this dish. However, you can also add chicken broth or vegetable broth if you feel like giving a light note to this dish.
Cheese: cheddar cheese seems like the best choice for this dish. However, you can use mozzarella cheese, parmesan cheese, or Monterey Jack as well. You can also combine two kinds of cheese and use them in this dish for extra richness and cheesiness.
Spices and herbs: spices and herbs are the best way to improve the flavors of any dish. Add cumin, cayenne, paprika, or Italian herbs to the hamburger helper to make it taste better.
Hamburger Helper – the recipe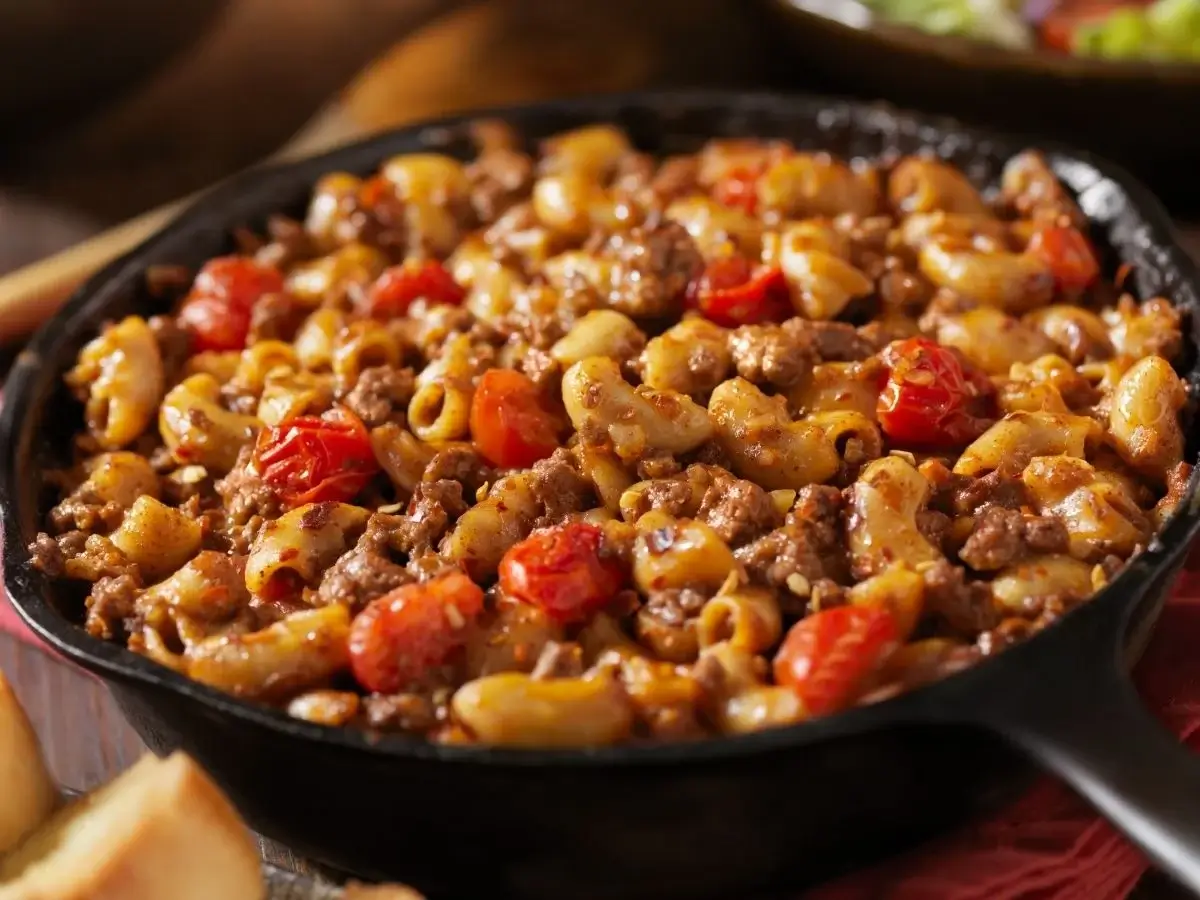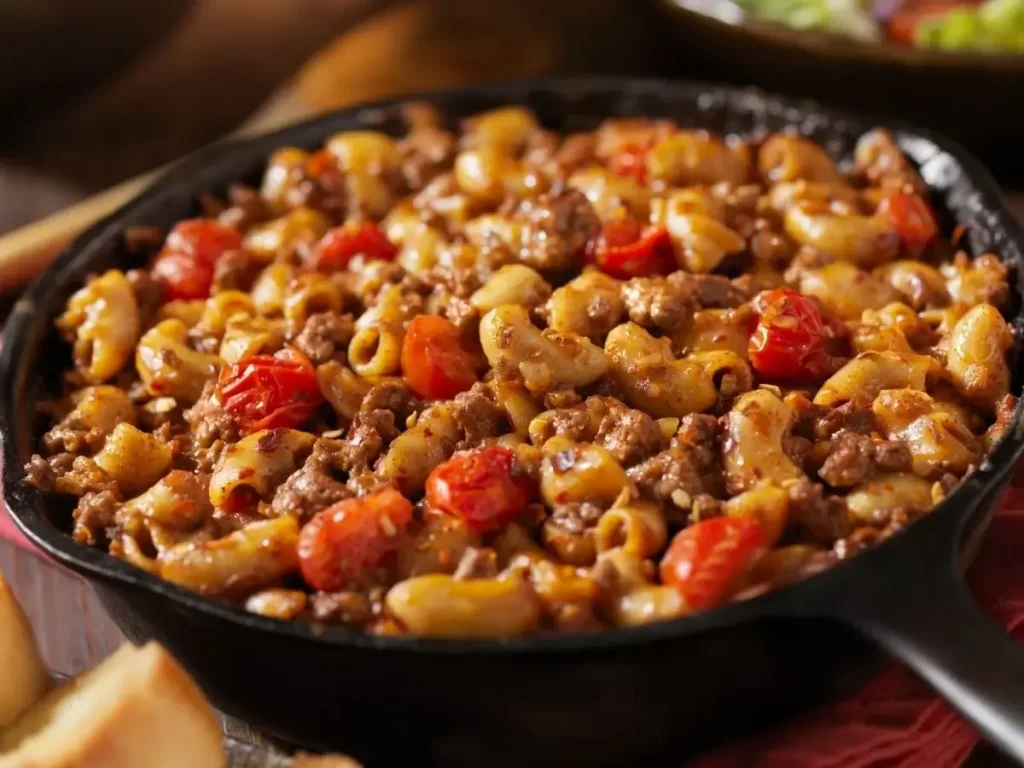 Preparation time: 5 minutes
Cooking time: 30 minutes
Total time: 35 minutes
Servings: 4
Ingredients
2 cups pasta
1 lb. Lean beef mince
2 tbsp olive oil, divided
2 garlic cloves, minced
1 medium white onion, chopped
2 tbsp all-purpose flour
2 cups beef broth
1 cup tomato sauce
¼ tsp dried oregano
1/ 4 tsp dried rosemary
¼ tsp dried thyme
1/2 teaspoon paprika
½ cup half-and-half
2 cups cheddar cheese, shredded
Black pepper, to taste
Salt, to taste
Instructions
In a pot, heat a tablespoon of olive oil. Once it heats up, add ground beef and cook using a wooden spoon for about 10 to 15 minutes or until it turns brown and all the liquid evaporates. Once done, take it out of the pan onto a plate.
In the same pan, add olive oil and chopped onions. Cook for about 3 minutes until they are tender.
Add minced garlic and cook for another minute.
Take the pan off the heat and add all-purpose flour. Sautee for a minute. Now, slowly pour beef broth while constantly stirring until everything is unified.
Place the pan back on the heat and add tomato sauce.
Add paprika, thyme, rosemary, oregano, black pepper, and salt. Mix well.
Add uncooked pasta and mix well. Cover the pot with a lid and let it cook at medium to low flame for about 15 minutes or until the pasta is cooked through.
Add half-and-half shredded cheese and top with cooked ground beef. Mix well and let it simmer for a minute or two.
Serve immediately.
What to Do with Leftover Hamburger Helper
Try creating a casserole by combining the leftover Hamburger Helper with vegetables and cheese, baking it until it becomes warm and bubbly.
You can also use the remaining Hamburger Helper as a tasty filling for pocket bread or tortilla sandwiches.
Mix the leftovers with broth and vegetables to create a hearty soup.
Turn your leftover Hamburger Helper into a dip, mix in some cream cheese, and pair it with crackers or chips.
For a tasty breakfast option, try heating up the leftovers in a skillet alongside scrambled eggs and cheese.
You Might Also Like: