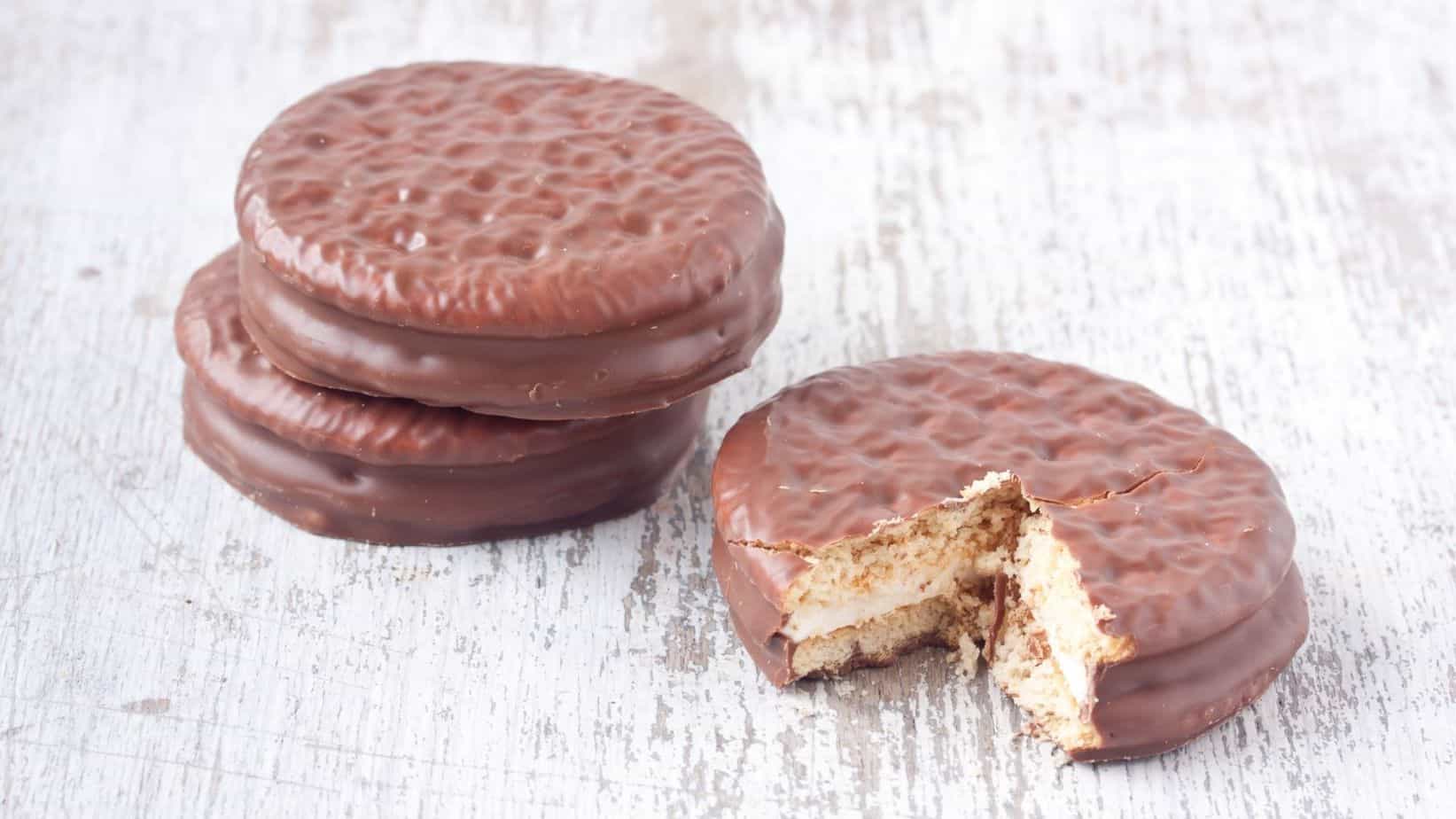 If you were a kid in the 1960s and 1970s, you may have memories of your mom packing a Scooter Pie in your lunch box as a treat. Scooter Pies are more than a sweet treat and a catchy name; for many kids, Scooter Pies were the highlight of their day.
Keep reading to find out what exactly Scooter Pies are, why you may not be able to find them, and other snacks you can find that are very similar to Scooter Pies like Moon Pies!
Scooter Pies vs. Moon Pies
Scooter Pies are a version of the original Moon Pie, two round graham cookies with a marshmallow filling in the center and dipped in a chocolate candy coating.
Moon Pies have been made at the Chattanooga Bakery in Tennessee since 1917 and continue to be made by the same manufacturer today. The Moon Pie brand gained popularity during the Great Depression because they were an affordable and filling snack
Moon Pies are available in mini and double-decker versions and come in chocolate, vanilla, banana, strawberry, and salted caramel.
There are many moon pie enthusiasts in the South, and during Mardi Gras in New Orleans, you can find orange and coconut flavored Moon Pies.
Scooter Pies are a version of Moon Pies popular in Northern states and rumored to get its name from a NY Yankees shortstop. Phil "The Scooter" Rizzuto was a popular player in the 1940s and 1950s and later became known for this personality when he became a radio and television sports announcer.
What is the Difference?
It is unclear what the difference is between Moon Pies and Scooter Pies outside of the name. The main difference between Scooter Pies and Moon Pies most likely came down to the ingredients. Many people in the country's Northern region claim that Scooter Pies taste better than Moon Pies.
Scooter Pies were not the only snack to borrow the concept of a marshmallow creme-filled cookie from Moon Pies. Little Debbie also makes a version of Moon Pies called marshmallow pies. Other manufacturers have made similar versions of the snack, speaking to its longevity and popularity.
Where to Find Scooter Pies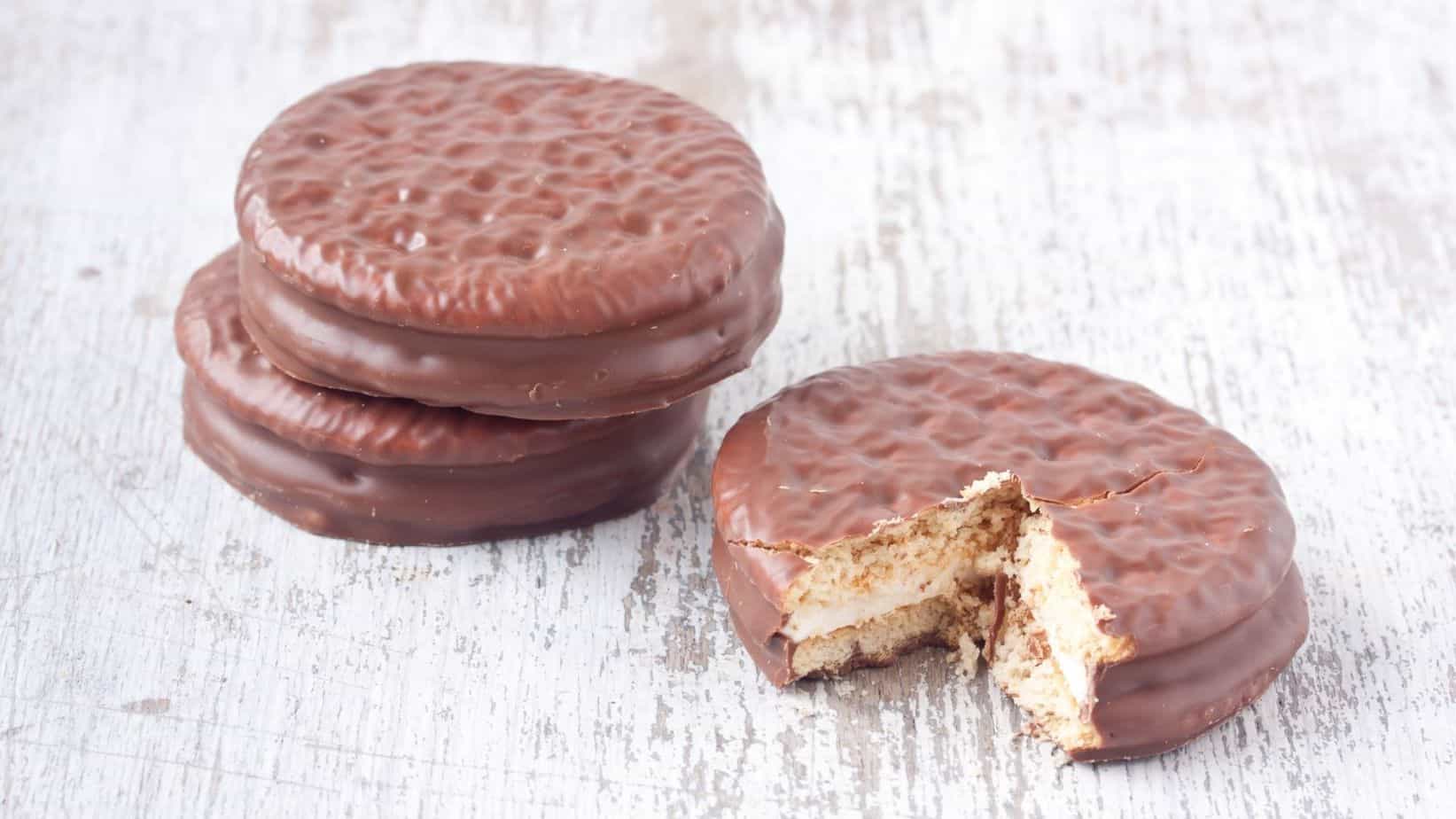 You might be curious about why Scooter Pies were so popular and where you can buy them. Scooter Pies have been discontinued, but Moon Pies have never changed their manufacturer and are still widely available today.
Where to Find Moon Pies
Chattanooga Bakery in Tennessee continues to make Moon Pies today. They are available at several retailers across the United States, such as Walmart, Costco, and Amazon. Visit Chattanooga Bakery's website for a list of retailers selling Moon Pies. You can also order a box of Moon Pies online from Amazon and have them shipped to your house.
Little Debbie Marshmallow Pies
Little Debbie also continues to make their version of Moon Pies, marshmallow pies, as well as a number of their other signature cake treats and more, which you can also find at numerous retailers around the country and order online from Amazon.
Wagon Wheels
In Canada, Australia, and the U.K., there is a version of Moon Pies that are called Wagon Wheels, which are still widely available across those countries today. The concept of Wagon Wheels is identical to Moon Pies and, therefore, Scooter Pies, although the ingredients do differ. For example, Wagon Wheels traditionally used two biscuits instead of a graham cracker to sandwich the marshmallow filling.
Although the Scooter Pie is nearly impossible to find, you can still get a taste by trying Moon Pies. Scooter Pies are a nostalgic snack for adults who were kids in the 1960s and 1970s, and although Moon Pies or Little Debbies marshmallow pies may not feel the same, they can quickly bring back that nostalgic feeling and give the newer generations an idea of what this tasty treat was like.
You Might Also Like: