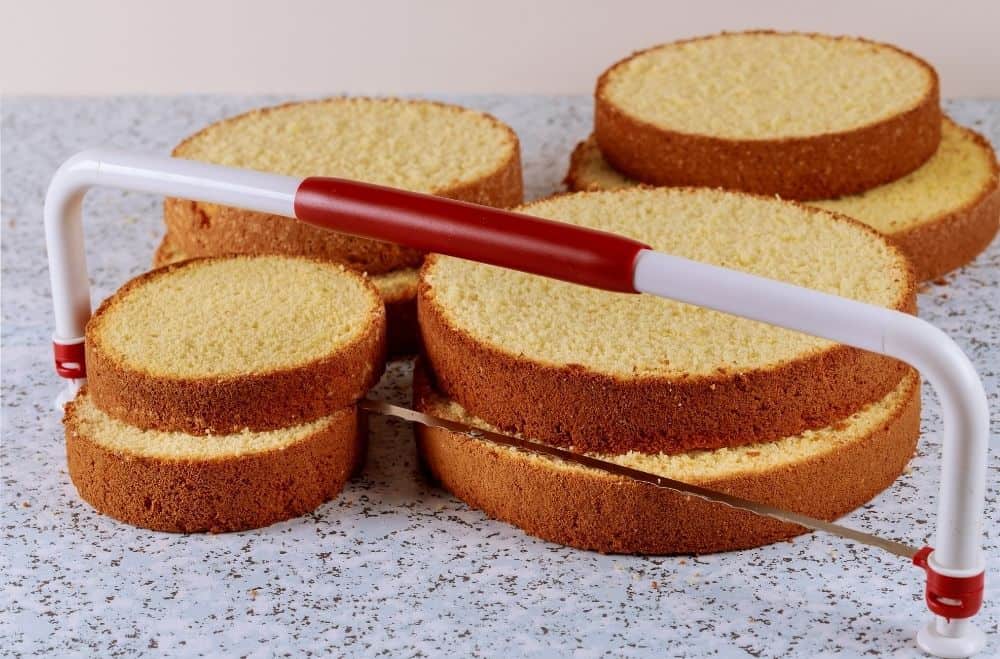 Whether you've just started baking cakes or are a seasoned cake decorator, cake levelers can take any cake to the next level. It won't make your baked cake taste better, but the very first thing that draws all of us to that cake is how it looks. So, now that you've perfected your cake's flavor, why not take the time to make it look just as good?
A cake leveler will help you do just that, making it even and level, which is the perfect canvas for frosting and cake decorating. To help you decide which one is right for you, we've put together a list of the top cake levelers. But first, you need to know how to use one.
How to Properly Use Cake Levelers
Leveling becomes moot if you're making a single-layer cake, but more than that and this baking tool becomes essential for giving your at-home cake a professional tiered cake look. No cake will be level right out of the oven; it'll more than likely have a slight crown on the top. It's this cake dome that will cause you issues when stacking layers, and it'll become more problematic with each cake layer that you add.
It's possible to remove the crown with a serrated knife, but it'll require a lot of patience and a very steady hand. If you're off even a little, it could be the difference between a nice-looking tall cake and one that won't even stand up straight.
A cake leveler will make this part of the process a lot less stressful, and it's easy to use. It can even be used with a cake turntable to further simplify the process.
Once your cake has cooled, stand the leveler on the counter with the blade beside the cake. That'll give you a good idea as to where the blade should be set. Once you've set the blade of the cake leveler to where it needs to be, cut into the cake using a sawing motion while making sure that the legs of the leveler are resting on the counter. Don't rush things; cut nice and slow until the blade of the leveler has gone completely through the cake. Now, you're ready to stack!
Top Three Cake Levelers
1. Wilton Cake Leveler
The Wilton Cake Leveler is simple and easy to use yet highly effective.
This cake leveler will handle any cake that's 10 inches or smaller. Plus, with 10 adjustable blade settings, it'll cut those cakes to any thickness you want, whether you're slicing off the top to level it out or slicing it into sections for multiple layers.
Made of lightweight steel, the Wilton Cake Leveler's thin wire blade easily cuts through your cake without being obtrusive or hard to handle. The ergonomic plastic handle is comfortable, and your hand won't tire easily, even if you cut cakes all day.
2. PME 18-inch Stainless-steel Cake Leveler
The PME 18-inch Stainless Steel Cake Leveler is made for large cakes yet is easy to handle. Where other cake levelers often use thin wire as the cutting mechanism, the PME uses a high-quality stainless-steel serrated blade to cut through large cakes with ease.
It takes a little extra patience to use this leveler, but it'll cut through even the densest cakes with very little issue as long as you use a sawing motion.
Because it's made from stainless steel, this cake leveler is highly durable and corrosion-resistant. Plus, with a quick wipe of a warm, damp cloth, it'll be clean and ready to use on your next project.
3. Bonviee Adjustable Cake Leveler
Designed for professional use, the Bonviee Adjustable Cake Leveler is the "Cadillac" of home cake levelers. This is the best leveler for those serious about their baking.
The easy-to-adjust triple stainless-steel, sharp, serrated blades will have you cutting and leveling your cakes like a pro in no time. The stand features measuring scales that allow you to set the blades according to your cake so that you can make clean cuts of any thickness.
Both the soft plastic handle and feet have an anti-slip design that makes it easy to hold onto and stable on the counter, reducing the chance that the tool will slip and cause uneven cuts.
The body of this leveler is constructed from high-quality stainless steel and aluminum alloy, ensuring durability and longevity. This could be the last cake leveler you'll ever buy.
What to Look For in Cake Levelers
Here's what you should keep in mind when searching for the right cake leveler to create impressive results and cut multiple cakes without fail.
Blade Durability
We consider the blade's durability to be the most important quality in a cake leveler. While wire blades work fine, a blade that's more like a serrated knife will cut thick cakes easier while lasting much longer. Serrated blades are the choice of most professional cake builders for good reason.
Frame Construction
You don't want to cheap out on frame construction. While some levelers made of plastic may seem appealing because of their lower cost, they'll start to warp and bend over time, leaving you with a less-than-desirable result. Instead, look for a cake leveler made from more sturdy stainless steel or aluminum that'll give you the same lightweight construction as a plastic one while offering more durability.
Ease of Use
Make sure whichever cake leveler you choose is easy to use. A larger leveler with adjustable blade settings and sturdy feet will go a long way toward cutting your cake with ease and producing the professional-looking cake you desire.
You Might Also Like: