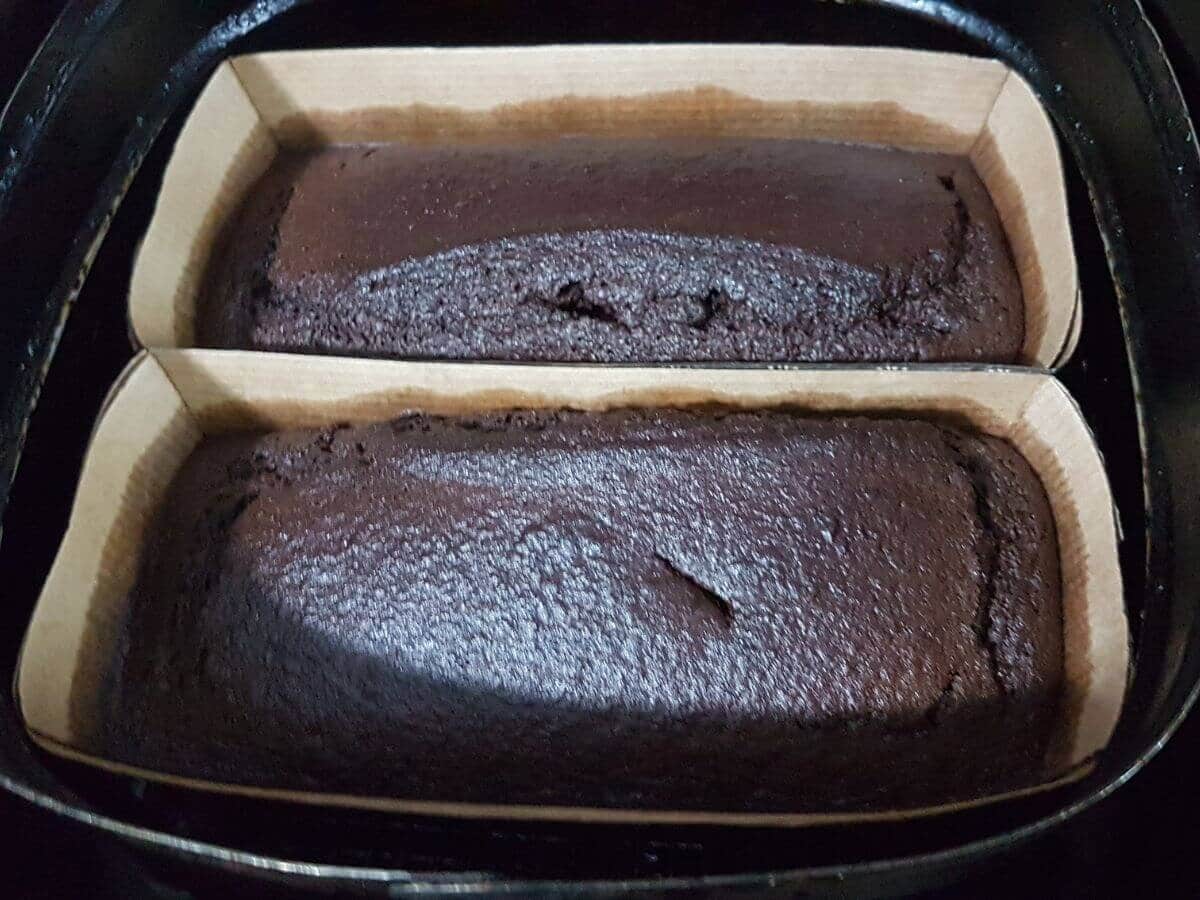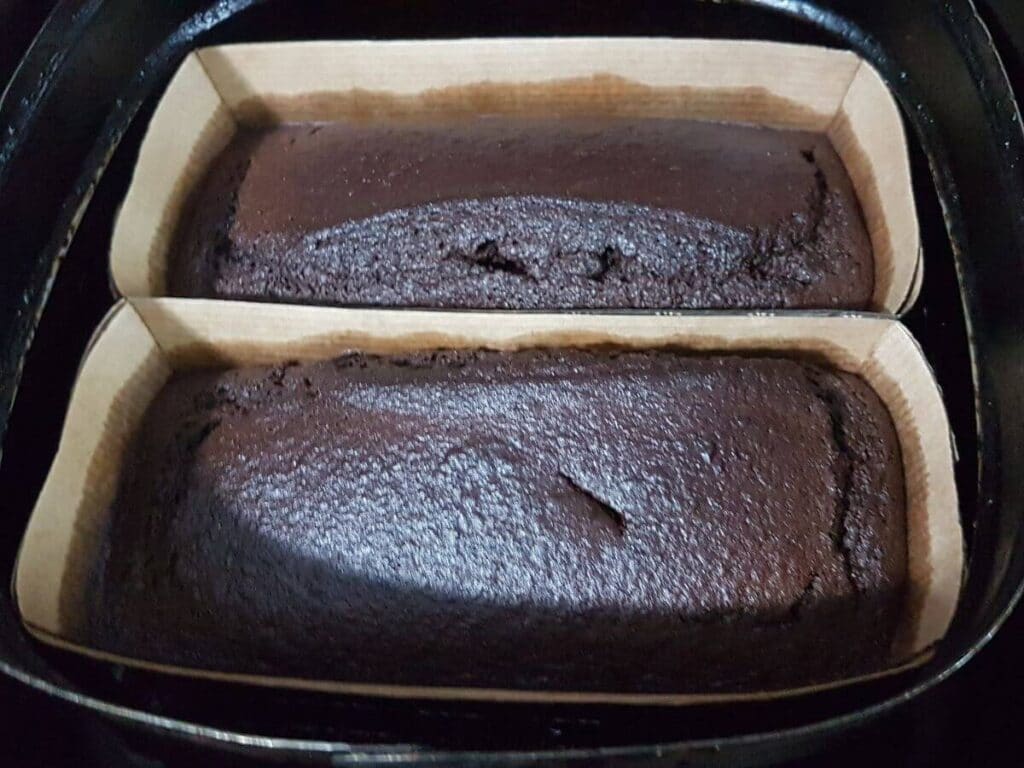 Forget about using a hot oven. When you discover how to bake a cake in the air fryer, you'll never go back to overheating your kitchen again.
Making a cake that melts in your mouth is easier than ever before. So many people think that the air fryer is just for french fries and hamburgers. But did you know you can use it for desserts and baking too?
It might not be as simple as following a baking recipe for the oven and doing the exact same steps – but it's very close. In this guide, I'll answer all your questions and give you some of my best tips. By the end of it, you'll know exactly how to bake a cake in the air fryer that turns out perfectly every single time.
How an Air Fryer Works
Before I get to the how-to, it's important to understand how an air fryer works – and how it's different from an oven.
An air fryer actually works the same way as a convection oven does. There is a heating mechanism at the top of the appliance. When you turn it on, hot air rushes down and surrounds your food. It circulates really quickly, which is what makes the food as crispy as deep-fried food.
Air Fryer vs. Convection Oven
If they both work by circulating hot air around the food, can you use a recipe for a convection oven in your air fryer?
The cooking times for both things should be very similar. But, since an air fryer is smaller, the food is closer to the hot air. That's why the cake will bake a little faster in an air fryer than in a convection oven.
How to Covert a Convection Oven Cake Recipe into an Air Fryer Recipe
If you are trying to translate a convection oven cake recipe to an air fryer one, air fry it for about 5 minutes less than the recipe states. Check the cake; if it isn't completely done yet, keep heating it for another 2-3 minutes until it is fully baked.
Benefits of Baking a Cake in the Air Fryer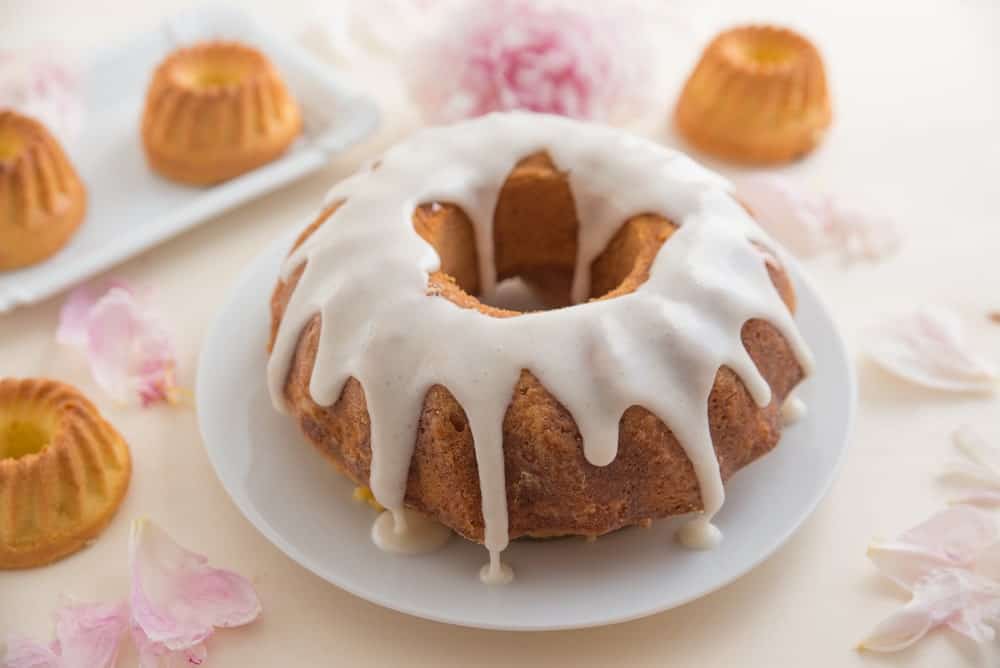 My favorite thing about baking with an air fryer is not having to use my oven. When I bake with my oven, it heats up the entire kitchen. The air fryer doesn't do that. Plus, I don't have to worry about forgetting about the cake and burning it. An air fryer shuts off automatically after the timer goes off.
Baking in the air fryer will give you consistent results every single time. After you learn how quickly your air fryer bakes, you can set it for that exact time, and you don't have to watch the cake like you would an oven.
Baking a cake in the air fryer also frees up my oven for larger things like sheet panner dinners. I can bake dessert and roast dinner in the oven simultaneously.
How to Bake a Cake in the Air Fryer
Baking a cake in an air fryer is just like baking it in an oven or convection oven. There are just a few minor differences. Here's how to bake the best cake in your air fryer:
Prepare the cake pan. Either grease and flour it or place parchment paper inside of it.
Mix together the cake ingredients.
Pour half of the batter into your prepared pan.
Bake at 300F for about 20 minutes until you insert a toothpick and it comes out clean.
Remove the cake from the air fryer and let it cool completely before removing it from the pan.
Frost your cake and enjoy!
Best Pans to Use in an Air Fryer
The best cake pan for an air fryer depends on how big your air fryer is. For example, if you have an XL 5.5-liter air fryer, it will easily hold up to an 8-inch round pan. If your air fryer is smaller, you might only be able to use a 6-inch- or 7-inch cake pan.
Before filling the cake pan with batter, place it in your air fryer and make sure it fits. There should be room around the edges of the pan and above it. The pan should not fit so snugly inside the air fryer basket that you have trouble pulling it out.
Of course, you can also buy an air fryer accessory kit. It comes with everything you need when you bake in your air fryer, including a cake pan, cupcake pan, parchment paper, and so much more!
Best Types of Cakes to Make in An Air Fryer
When you learn how quickly your air fryer will bake a cake, you can make any cake you want in it. Try it with all sorts of boxed cake mixes – from double fudge chocolate cake to yellow cake or even angel food. It can do it all!
But you don't have to use a boxed cake mix. Use your air fryer for baking your favorite homemade cake recipe too. Plus, when you buy the accessory kit, you can also use your air fryer for baking cupcakes.
How to Convert the Time for a Cake Baked in the Oven to Air Fryer Time
Cook at a lower temperature in the air fryer than you would in the oven. 20 minutes at 300F seems to be the winning combination.
Not all air fryers are made the exact same, so always refer to your cooking manual. You might need to adjust the time. Generally, you should bake a cake at about 20°F to 25°F lower than a recipe for a conventional oven.
How to Prevent Cake from Sticking to the Pan
The best way to make sure your cake doesn't stick to the pan is to place a circle of parchment paper on the bottom of the cake pan and spray the sides of the pan with non-stick cooking spray.
Best Frosting Recipes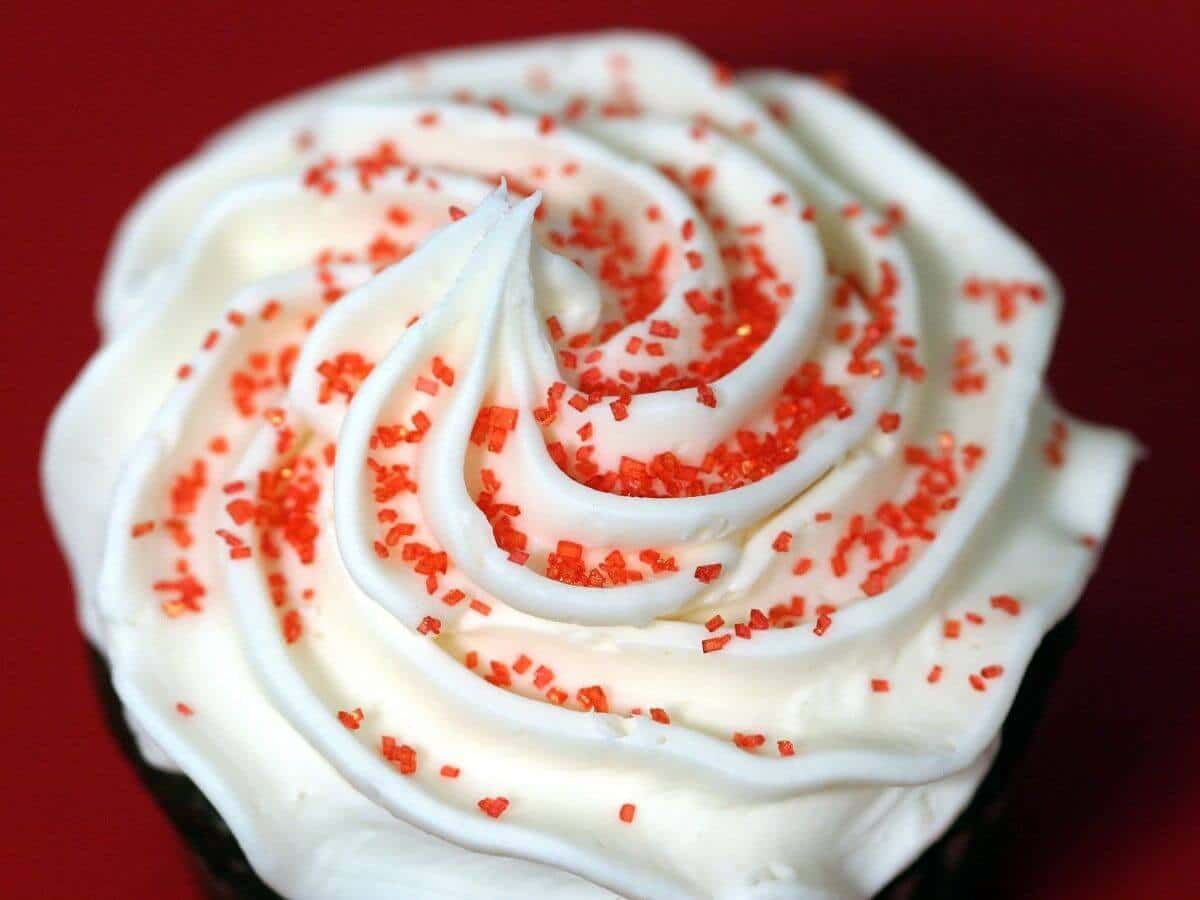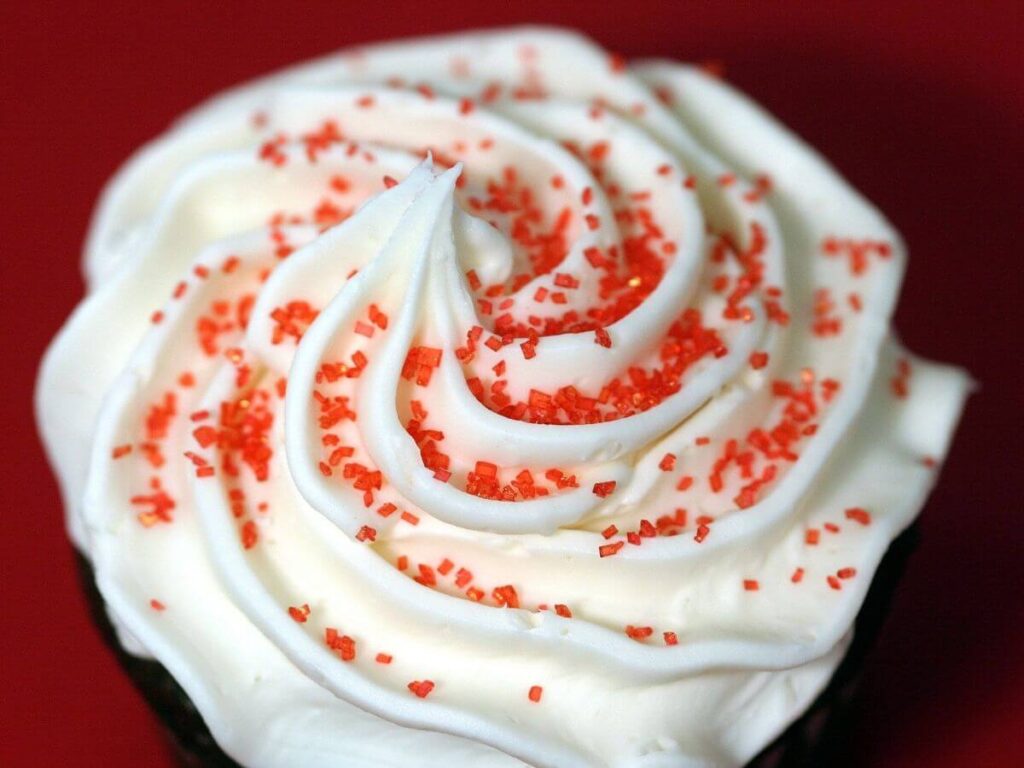 Homemade buttercream frosting is basically a combination of butter, powdered sugar, and vanilla. It's pretty simple. Even easier than that is just using canned frosting.
If you want it to have a deeper flavor, add some salt and vanilla. Add some fruit if you want the canned frosting to have an entirely different flavor. There are many ways to change canned frosting without being a pastry chef.
Best Cake Recipes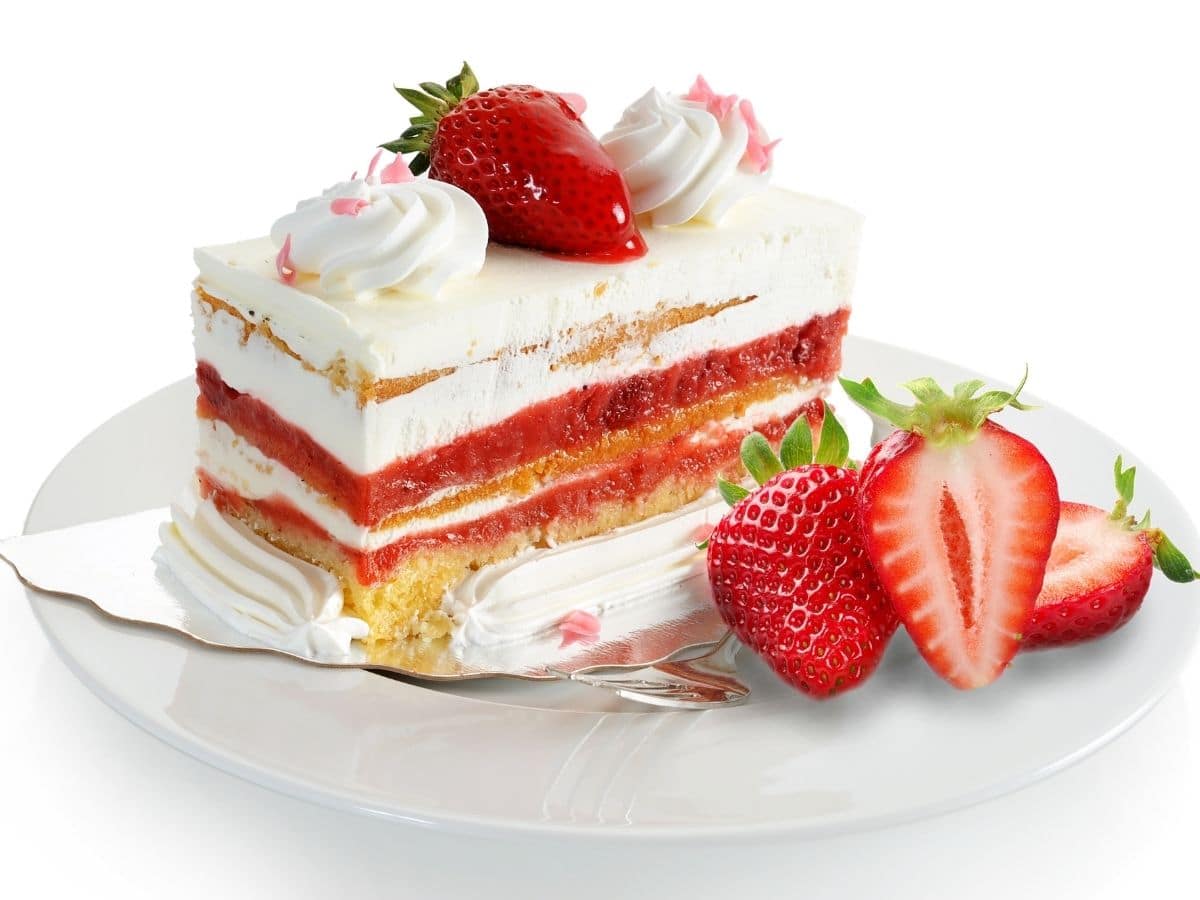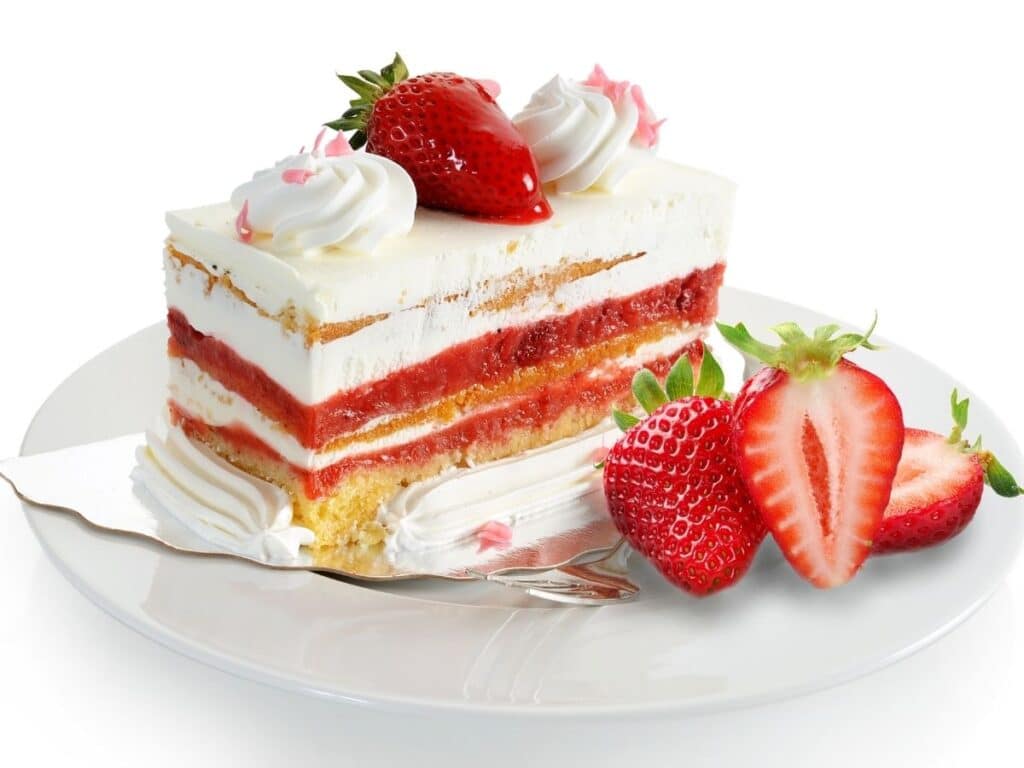 I love cakes, and I love creating easier ways to bake them! My favorite way to make an unforgettable dessert is by adding strawberry filling between cake layers. It's basically like a strawberry shortcake but prettier.
You can also turn chocolate cake mix into a red velvet cake. The flavors are very similar, and no one can tell the difference. Then, just top it with cream cheese frosting!
For serious cake lovers, I created a guide that explains how to make a box cake taste like a wedding cake. You can also do this with an air fryer – the tips are very similar. It just involves changing the recipe and adding a few ingredients to the boxed mix.
What to Do With Leftover Batter
Since you are only going to fill the cake pan half-full when you bake a cake in the air fryer, you will probably have batter left over.
My favorite way to use leftover batter is to make a second cake. Let your first cake cool, and then refill the cake pan with the other half of the batter. If you have a cupcake pan that fits inside your air fryer, you can make cupcakes with the leftover batter.
FAQs
Can I use any flavor of cake mix in the air fryer?
Yes! Be creative and use any type of cake mix that you like or make your own. You might have to adjust the baking time for different types of cake, but any flavor will taste delicious if you bake it in the air fryer.
How do I make my boxed cake mix taste better?
You can do just a few simple things to elevate a boxed cake mix. First, try adding just a drop or two of vanilla and a dash of salt. These two ingredients will enhance the flavors already in the cake mix.
If your cake mix calls for milk, replace it with buttermilk to give it a deeper and richer flavor. You can always make your own buttermilk from milk and vinegar if you don't have any at home.
How do I know when the cake is done baking in the air fryer?
The best way to tell if your cake is completely baked in the air fryer is to use the tried and true toothpick method. You can use a fork, bamboo skewer, or even a chopstick if you don't have a toothpick.
Insert the toothpick, fork, or skewer into the middle of the cake. Remove it and determine if it is completely baked by these signs:
If the toothpick comes out clean – the cake is completely done
If the toothpick brings crumbs, it is almost ready, and you should keep baking it for another 5 minutes and check again.
If the toothpick has wet batter on it, the cake is not done at all and needs at least 10 more minutes.
Should I use cake strips in my air fryer?
Have you ever used a cake strip when you baked a cake before? They are amazing! It's a piece of cloth you soak in water and wrap around your pan.
The idea behind a cake strip is that it helps the cake bake evenly so that the outsides don't bake faster than the middle. It also prevents the cake from doming and cracking in the middle.
To use a cake strip, soak it in water and then wring it out completely. Wrap it all the way around the outside of your cake pan. Bake like normal and watch the magic happen.
How do you preheat an air fryer?
It is very important to preheat your air fryer, just like you preheat an oven. To do this, turn your air fryer on and let it heat up for about three minutes. Now it is ready for you to place the cake pan inside the air fryer basket and bake your cake.
How do I prevent the top of my cake from burning?
The best way to prevent the top of your cake from burning is to cover the top of the cake with aluminum foil during the last five minutes of baking.
My cake turned out too dry – what do I do?
You can do a few things to prevent your cake mix from drying out in the air fryer. Adjusting the recipe on the back of the box might help. Try adding one extra egg and a little extra butter to the recipe the next time you make it if you still think it turned out too dry.
Baking is part art and part science, so you may need to experiment until you get your perfect results. But the effort will all be worth it when your teeth sink into that slice of moist cake!
More Air Fryer Guides
If you enjoyed learning how to bake a cake in the air fryer, then here are some more incredible things you can make in the air fryer next.