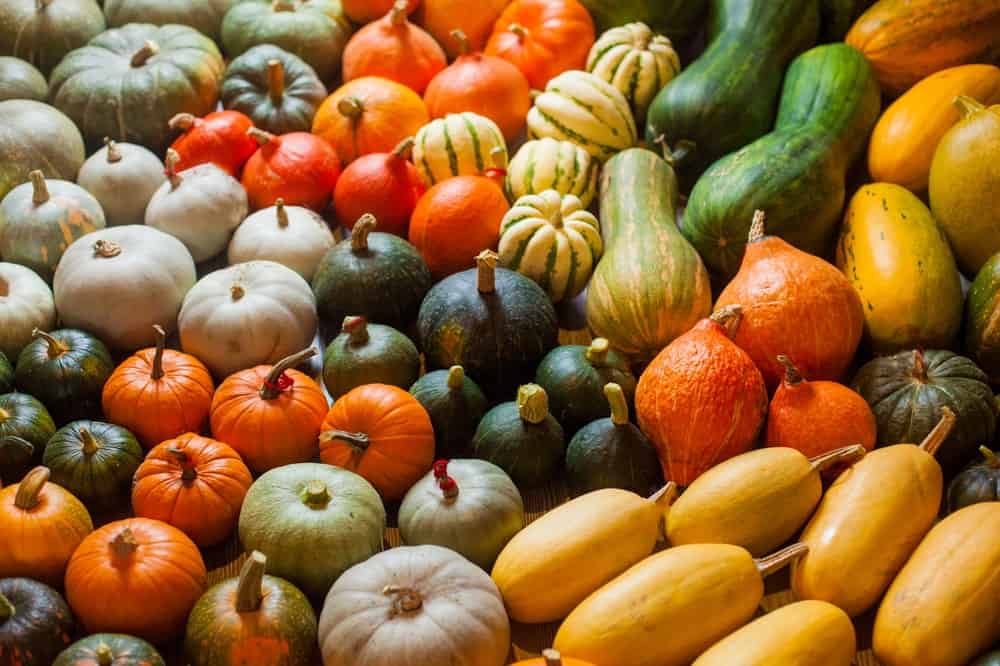 Did you know that over 18 types of squash exist in an array of sizes, shapes, and colors? It's true; if you keep reading, you can learn about the 18 most popular types!
With only 82 calories per one-cup serving, butternut squash provides 457% of the RDI (Recommended Daily Intake) of vitamin A and 52% of the RDI of vitamin C. Also, scrumptious and versatile, squash is a major component of culinary cultures worldwide.
You can sauté, fry, or steam squash. You can stuff squash or make squash casserole. All over the world, there are wonderful recipes for squash. Many squashes; you can even eat raw. They taste nutty and mild and are quite delicious. Squash is appetizing to look at, too; that is a part of their allure.
Commonly round or oval-shaped, squash can be orange, yellow, green, white, or brown. Often, they are used to decorate a table for a Thanksgiving meal.
Members of the Cucurbita genus, squash, are fruits, though most people think of them as vegetables. While there are actually over 100 types of squash, these 18 are probably the most popular.
Types of Squash
Summer vs. Winter Squash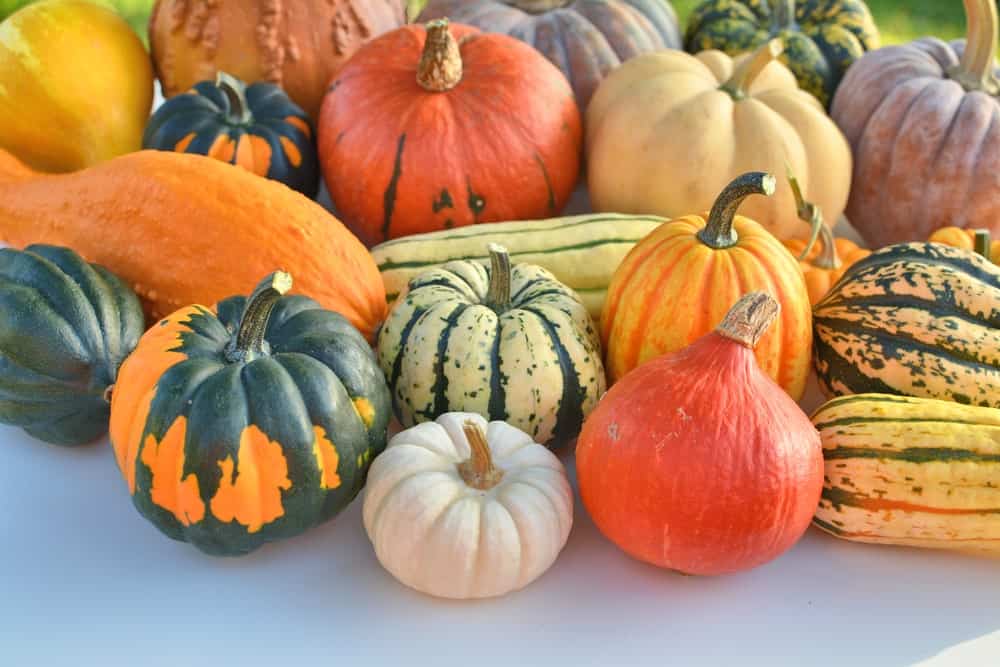 Summer squash's fruit is ripe in the summer months. They are called tender squash because of their tender skin and their flesh is moist. They must be harvested all summer as they ripen. Summer squash can be eaten in any number of ways, including raw. Nearly all summer squash is of the species Cucurbita pepo.
Winter squash's fruit cannot be picked until summer is over. Their harvest lasts through fall or even early winter. With firm flesh and extremely hard skin, this squash stores well and stays fresh, still edible into winter. Winter squash is not eaten raw but is great for baking pies and other cooking. Winter squash is of many species of Cucurbita genus.
Zucchini Squash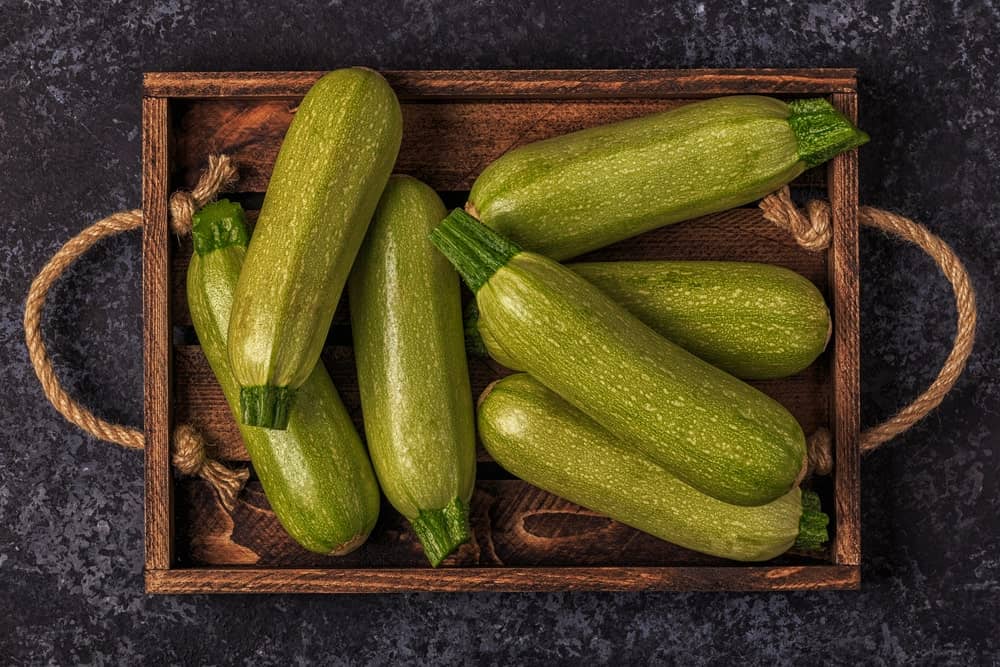 Growing Zucchini squash, or Zucchini, is a breeze. It grows quickly and may bear fruit several times throughout the harvest season.
Just plant it after the last frost, as it does not tolerate winter temperatures. Wait until it is at least 60°F. Plant Zucchini in bunches. The best growth is achieved with composted, well-drained soil and full sun. Harvest at about 6".
Store summer squash unwashed in an unsealed plastic bag in the fridge for up to one week. Do not prepare Zucchini until right before you use or freeze it.
Round Zucchini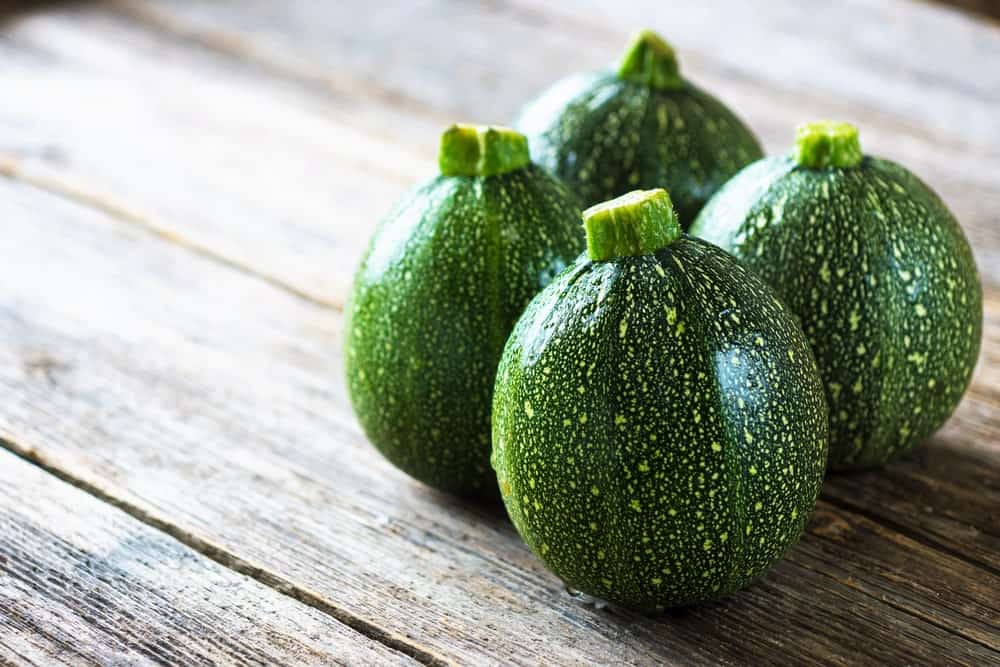 Round Zucchini is also a breeze to grow and simple to maintain. Plant round Zucchini at or above 70°F. It needs well-drained soil with a pH of 6.0-6.7. Round Zucchini needs plenty of food and water, but do not overwater, as you may kill your plant.
Acorn Squash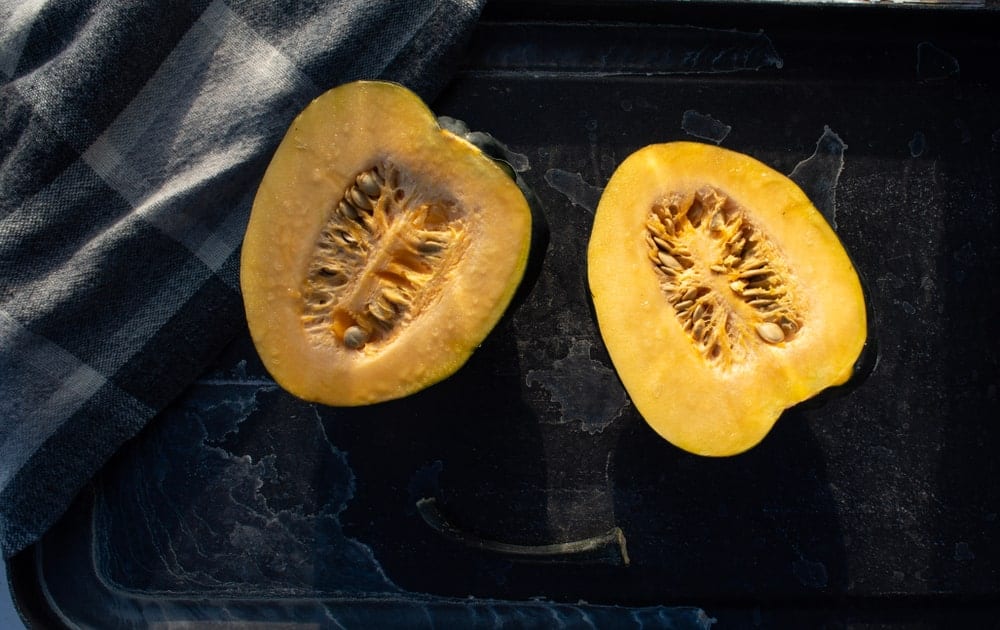 Acorn squash may take a tiny bit more work, but they are worth it.
They grow in a vining pattern and thus take up much space, so grow them only in large gardens. Do not plant them until after the last frost. Wait until it is 70-90°F. Acorn squash needs fertile soil with abundant nutrients. It should be treated with fertilizer and compost and well-drained with a pH of 5.5-6.8. Too-moist soil will kill Acorn squash.
Store in a cool, dry location, 50-55°F, but no colder. It will last up to one month.
Buttercup Squash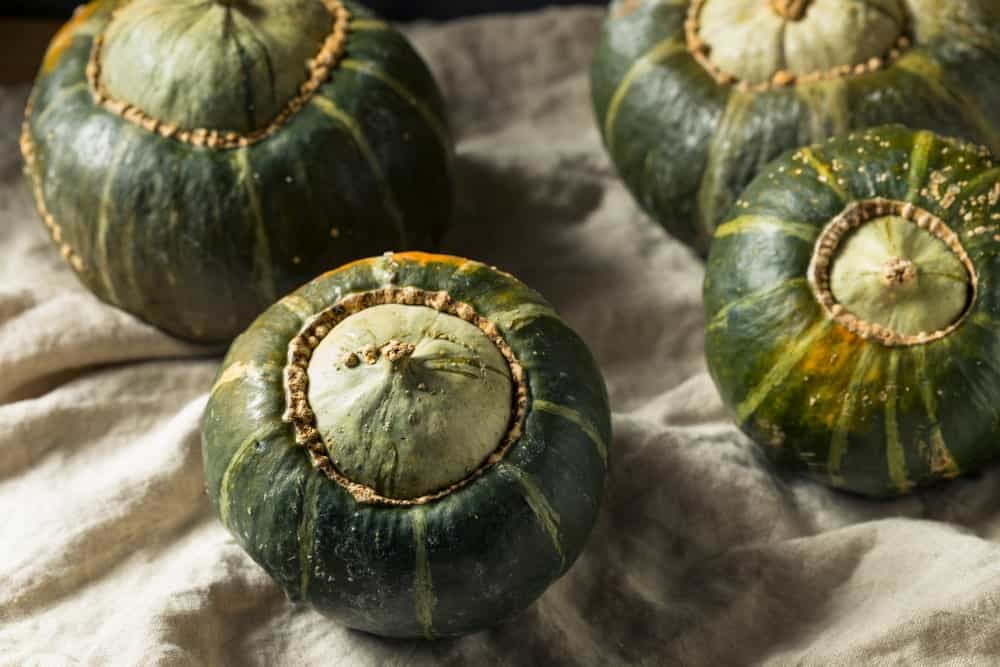 Buttercup squash takes around the same amount of care as an Acorn squash.
It is a vining squash growing up to 2' long. Requiring fertile, well-drained soil for optimal growth, a Buttercup squash needs full sun. The seeds need to be sowed at notably warm temperatures into the soil with a Ph of 6.0-6.8.
Store in a cool, dry location, 50-55°F, but no colder. It will last up to six months.
Butternut Squash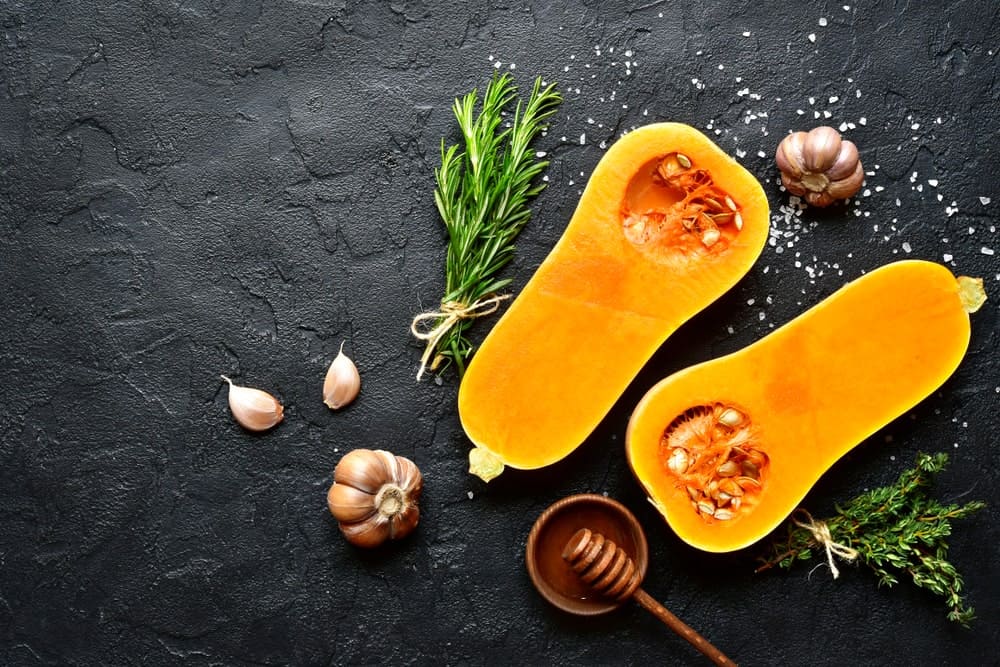 Butternut squash is a relatively simple plant to grow, suitable for even very small gardens and containers.
Needing much sunlight for optimal growth, well-drained, fertile soil is a must. Manure and compost ensure proper nutrition for Butternut squash. Sow the seeds only after the temperatures are warm.
Store in a cool, dry location, 50-55°F, but no colder. It can last up to three months.
Crookneck Squash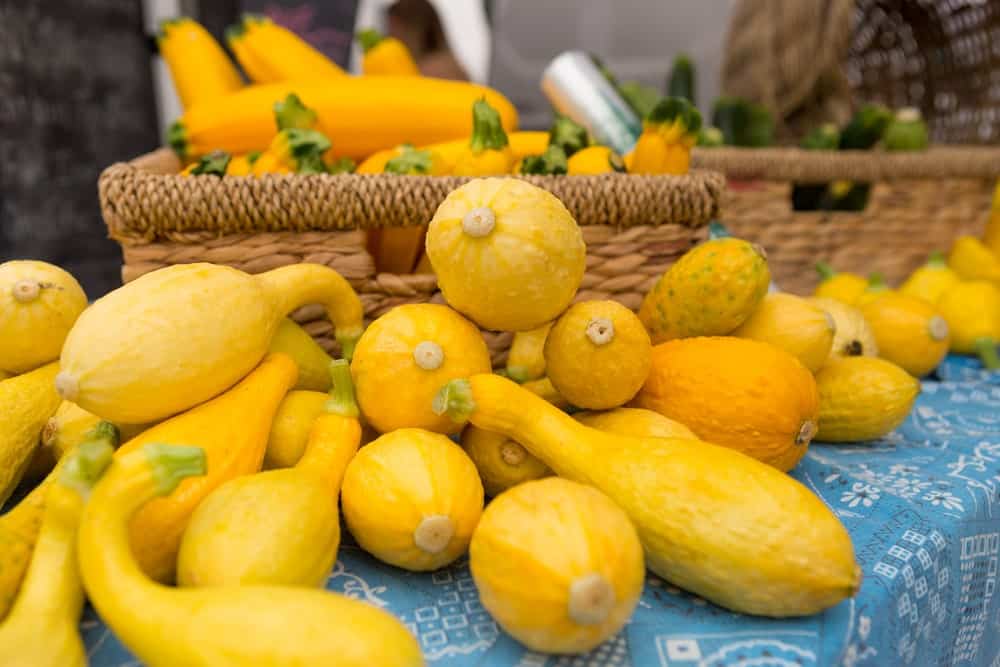 Crookneck squash is known by some growers to be the easiest and most productive squash to grow.
Able to be grown in tiny gardens and containers, Crookneck squash grows quickly, and you will be able to reap what you have sown all season, provided you keep up with the harvest. For optimal growth, crookneck squash needs fertile, well-drained soil with 5.8-6.8 pH. To thrive, 6-8 hours of full sun is ideal.
Pattypan Squash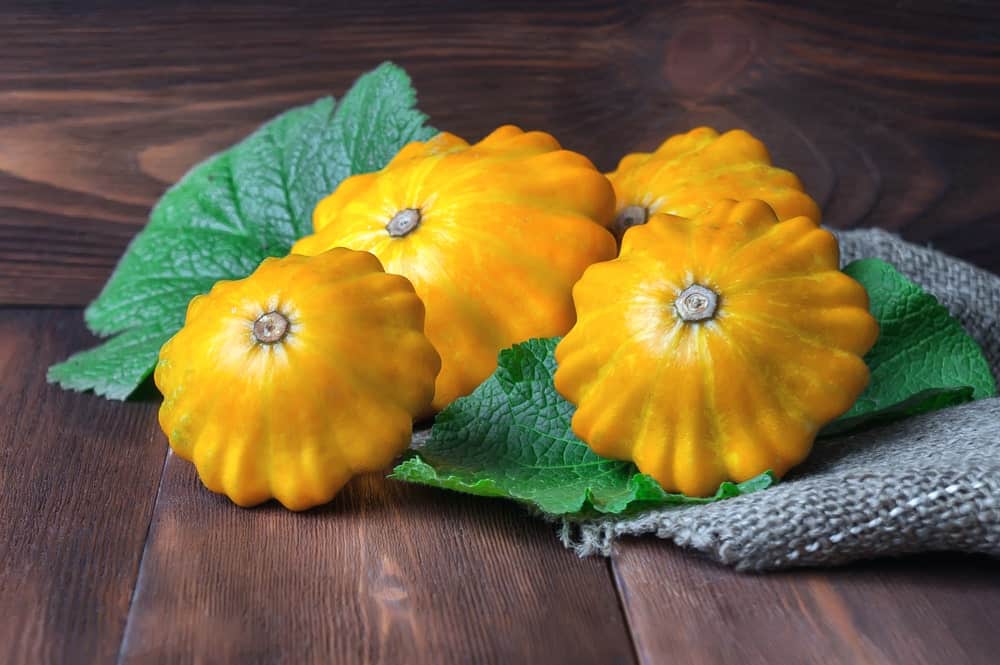 Pattypan squash, or Scallop squash, is quite easy to grow, though it is considered a gourmet squash. The seeds sprout fast, and that is how the vines grow.
Plant Pattypan squash after the danger of frost is over. The plant spreads wide, spanning up to around 4' with a height of no more than about 2'. It begins to produce fruits roughly 45-55 days past when you sowed your seed, and it produces fruit for many weeks, provided you keep harvesting. Pattypan squash needs full sun and well-drained, fertile soil. This squash can thrive in partial shade; however, lots of sun is vital.
Cousa Squash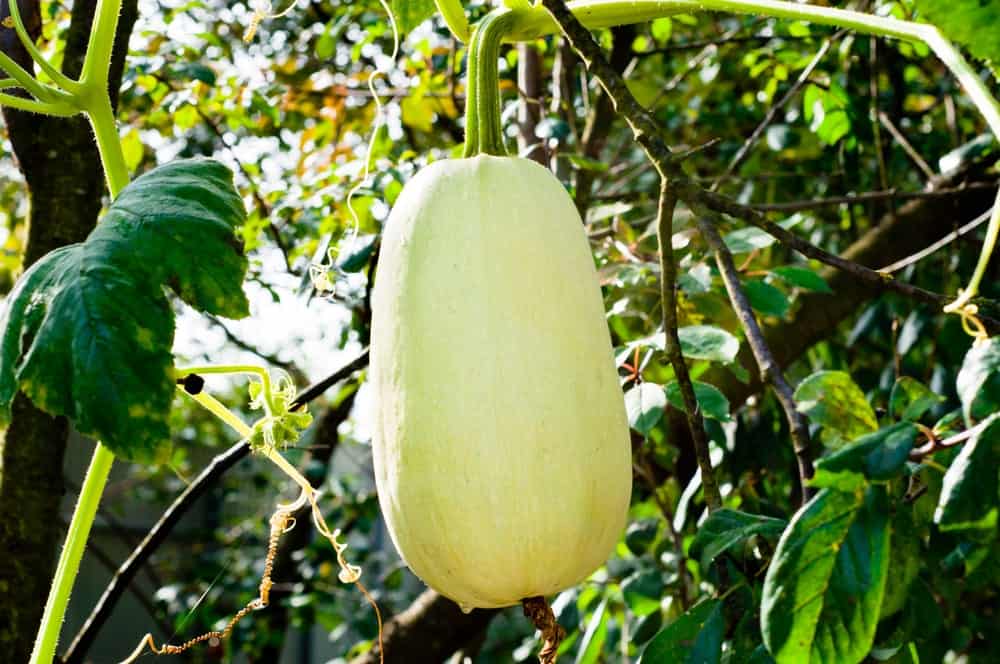 Cousa squash is very similar to Zucchini, thus easy to grow.
Like other squash, Cousa squash uses up that rich, fertile, well-drained soil. It needs full sun. Cousa squash needs to be harvested in youth before they reach ripeness. Plant them after the last frost in bunches.
Tatume Squash
Tatume squash is native to Central and South America. This heirloom squash is easy to grow.
It does not fare well in tiny gardens or containers because of its vining habit. Plant when it is above 65°F. Give Tatume squash a minimum of 6-8 hours of sun exposure per day. Make sure the soil is fertile, rich, and well-drained.
Tromboncino Squash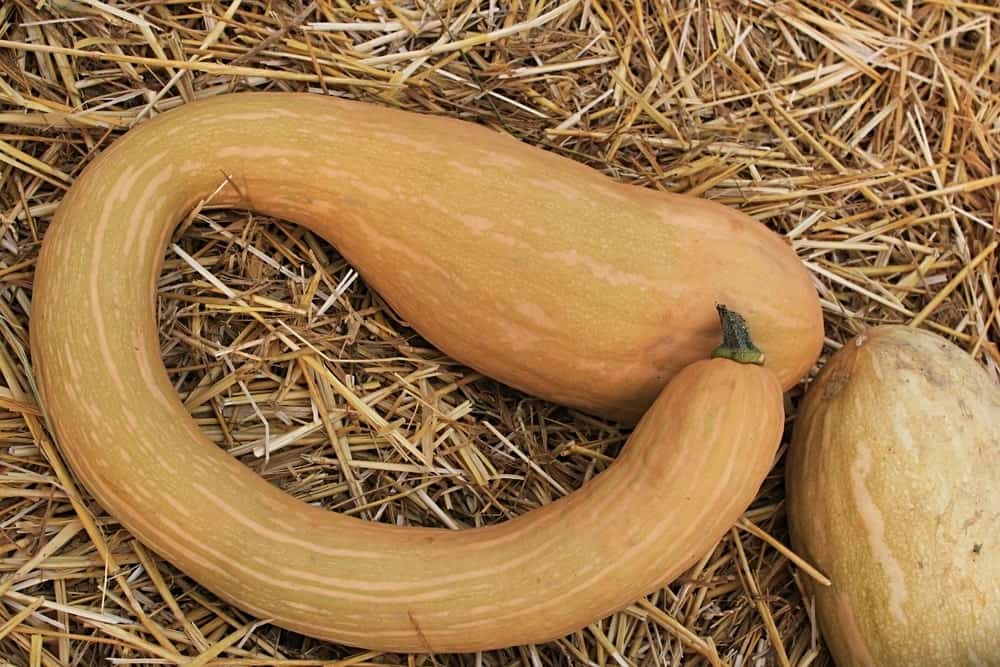 Tromboncino squash, while a summer squash, is used oftentimes as winter squash. Easy to grow and the best of both worlds.
Wait until the last frost has gone to plant; wait until it is at least 70°F. Soil should be composted, rich, and fertile. Tromboncino squash needs full sun to thrive.
Delicata Squash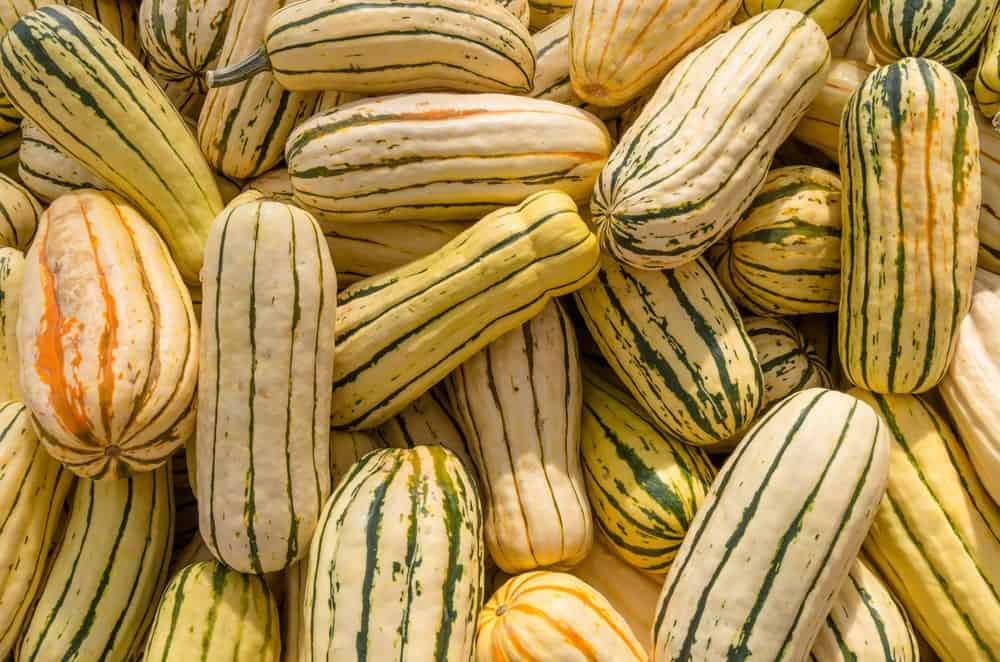 Delicata squash tastes quite like a sweet potato. A small winter squash, it is cream-colored with dark-green lines running lengthwise. Its light-orange flesh is deliciously rich and creamy.
Plant only in warm, composted, and extremely fertile soil, as this is known as a heavy-feeding plant. This plant spans around 2' and thrives when it gets full sun. The growing season for Delicata squash is relatively short.
Its skin is softer than other varieties of winter squash, which means that it is cannot be stored for several months like many winter squashes.
Dumpling Squash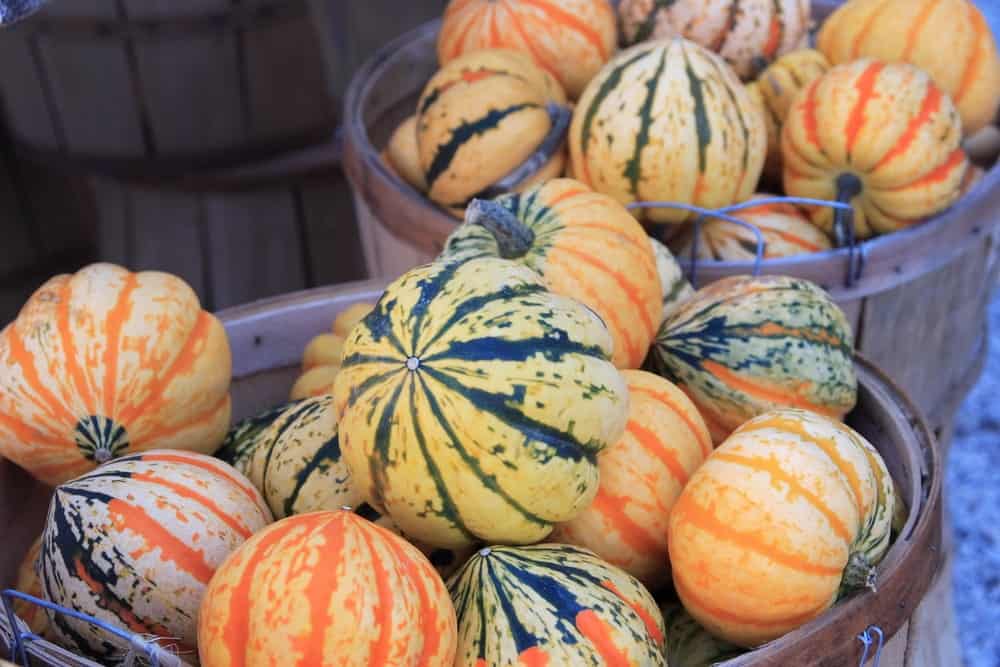 Dumpling squash, or Sweet Dumpling squash, is cream-colored and pale with orange or green-colored lines running lengthwise and orange or yellow flesh. It is a winter squash that grows quickly.
Sweet Dumpling squashes are creeping and grow long with a vining growth habit. Plant this squash in a large, spacious garden, and provide it with full sun and moist, fertile, and well-drained soil. Sow the seeds when the temperature of the soil is quite warm.
Store in a cool, dry location, 50-55°F, but no colder. It will last up to three months.
Hubbard Squash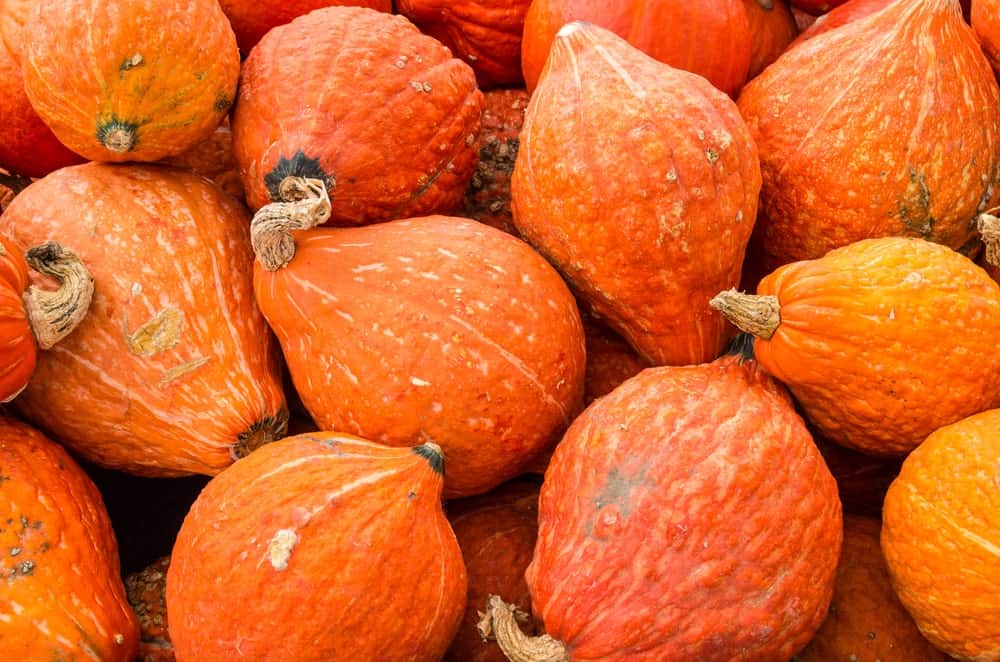 Hubbard squash is humongous. It can weigh as much as 50 lbs. Its skin has a color spanning anywhere from blues to greens, and it is both rough and tough. Its flesh is bright orange. The texture is dense and starchy.
No different than other squash, Hubbard squash needs warm temperatures to thrive. Plant your seeds at or above 65°F, but only after treating them with compost. It is going to need rich, fertile, moist soil that is well-drained.
Because Hubbard squash has that rugged outer shell, it may be stored for up to six months.
Kabocha Squash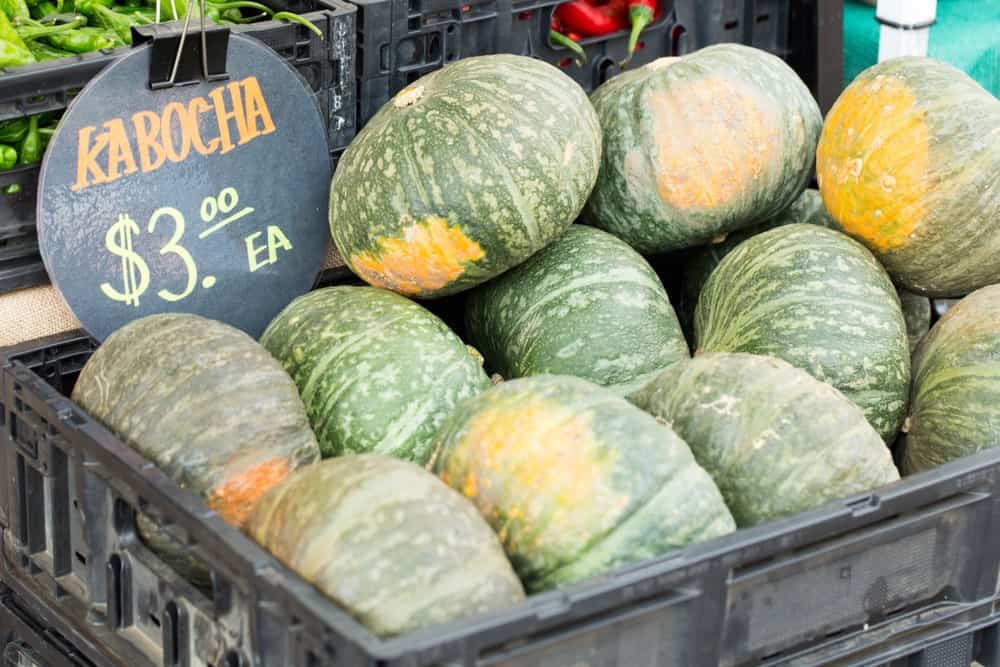 Kabocha squash is a dark-green winter squash with light-green or yellow stripes running lengthwise. A hybrid, Kabocha squash has a vining growth habit.
It needs warm temperatures to thrive. A soil temperature of 70-95°F is needed to plant. The soil needs to be rich, fertile and well-drained. Kabocha squash needs full sun.
Store in a cool, dark, dry location, 50-55°F, but no colder. It will last up to a month.
Spaghetti Squash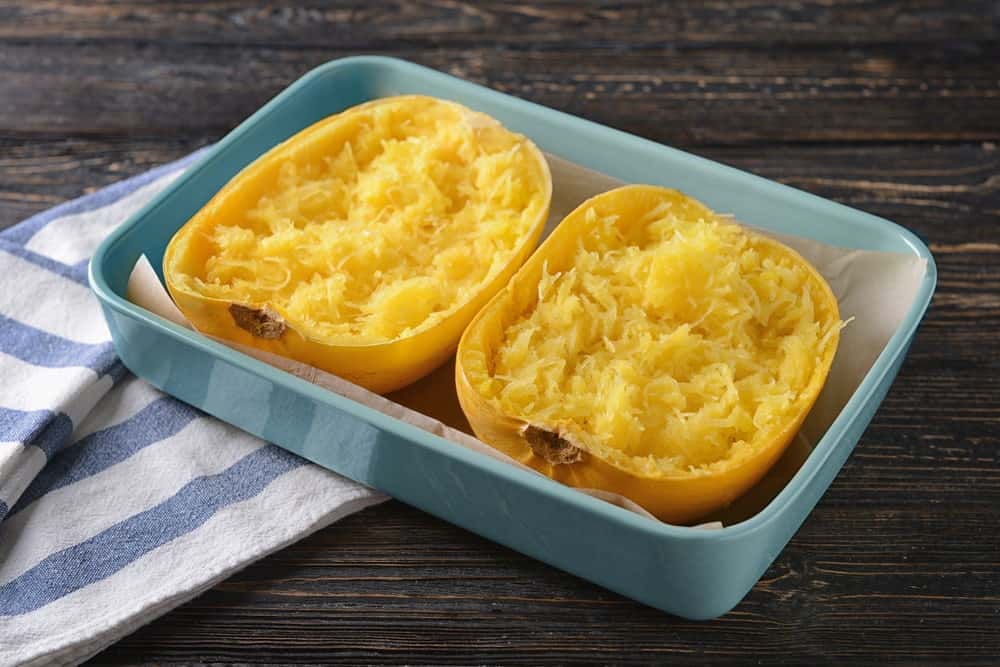 Spaghetti squash is named so due to the fact that its flesh is similar to spaghetti. It is a winter squash that is light yellow.
Plant Spaghetti squash when you know the last frost is over. Ideally, plant when the soil temperature is at least 65°F. As with other squash, it needs rich, fertile, well-drained soil that has been composted. It requires full sun.
Store in a cool, dry location, around 55°F, but no colder. It will last up to three months.
Calabaza Squash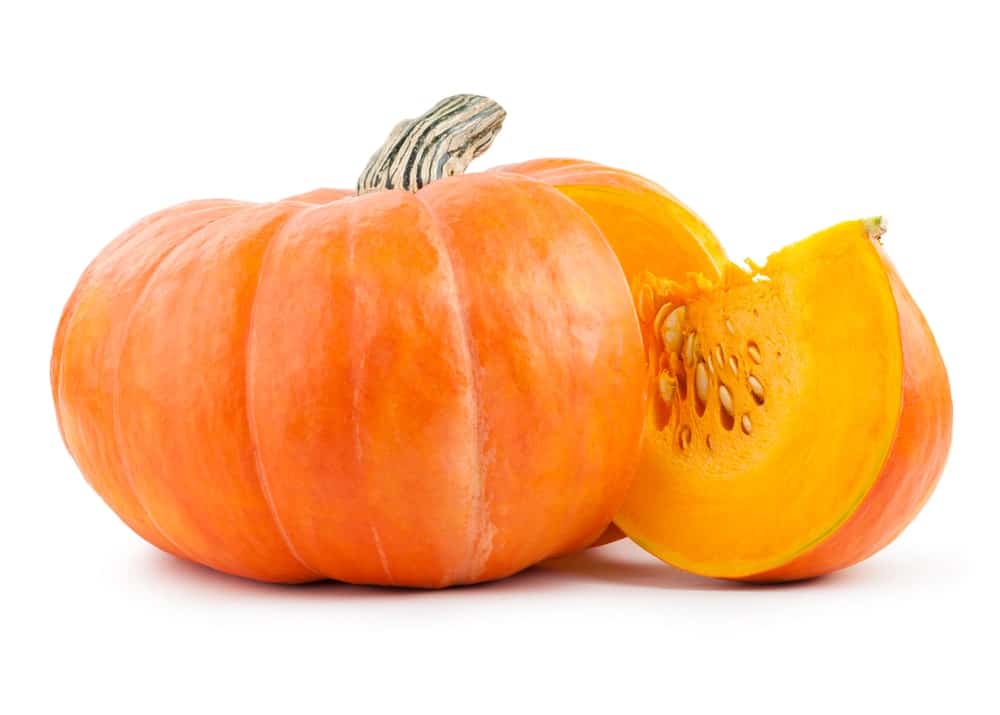 Calabaza squash is a winter squash that is anywhere from red to green to beige, and the flesh is bright orange. Its vines spread vigorously up to 50 ft.
Plant Calabaza squash after the last frost or in frost-free regions, any time throughout the summer will do. Sow into rich, fertile, well-drained soil that is moist but not over-wet. Plant in big, open areas. Give it a minimum of 6-8 hours of full sun daily.
Straightneck Squash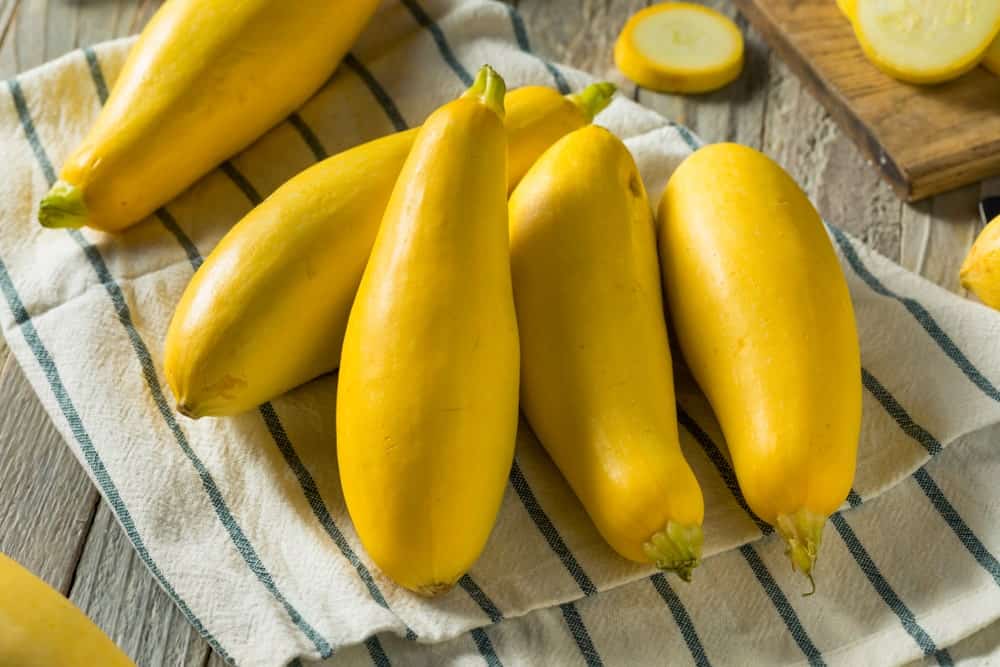 Straightneck squash is a summer squash that is yellow-skinned. The skin is tender and edible.  Its flesh is white, tasting mild and sweet. It will bear fruit repeatedly all season if you harvest and care for it.
Plant in fertile soil after the last frost. Pick an area where you did not plant any type of squash or related plants in the last two years. Sow one or two seeds about 3' apart. Cover in 1" of nutrient-rich soil.
Banana Squash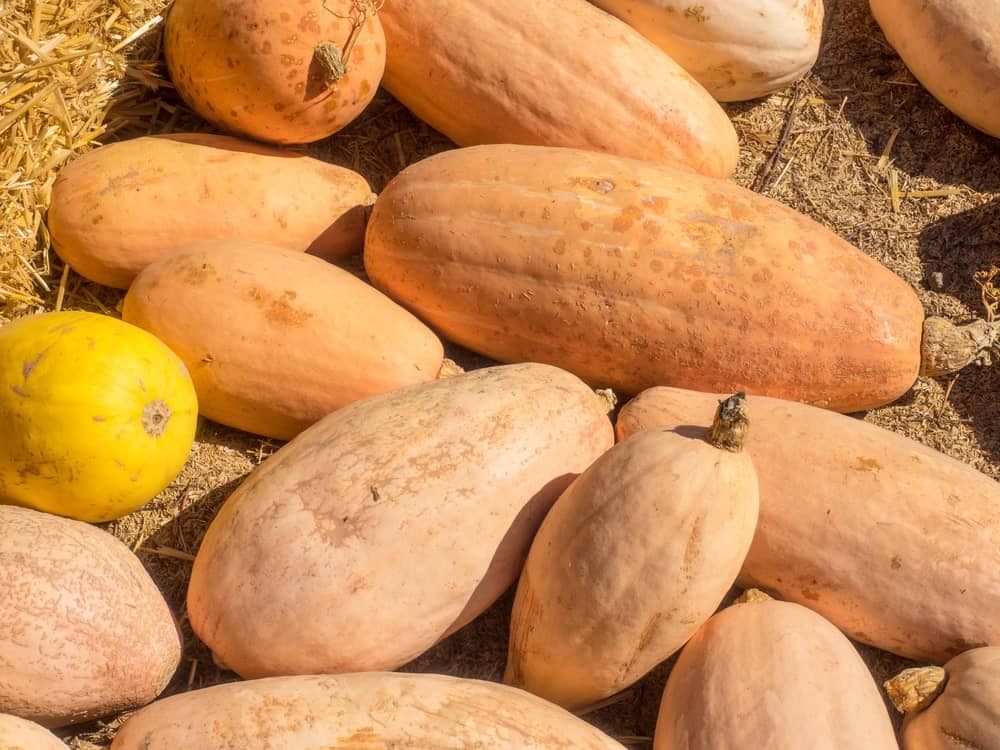 Banana squash can be harvested in autumn, even though it is summer squash. It has the potential to grow quite large, averaging 2 ½' in length and 8" in diameter. The rind is thick and can vary between blue, yellow, salmon pink, or variegated colors. The flesh is orange. It is dense, firm, and meaty. It has a hollow seed cavity and small seeds. Though it peaks in the fall and winter months, Banana squash can bear fruit year-round.
Plant seeds in almost 1″ deep soil and water them well. Wait two weeks until the plants bear a few sets of leaves, then transplant them 9-12″ apart. After setting the first flowers, use high-nitrogen fertilizer, and again in three to four weeks, and not again.
How To Bake Zucchini And Squash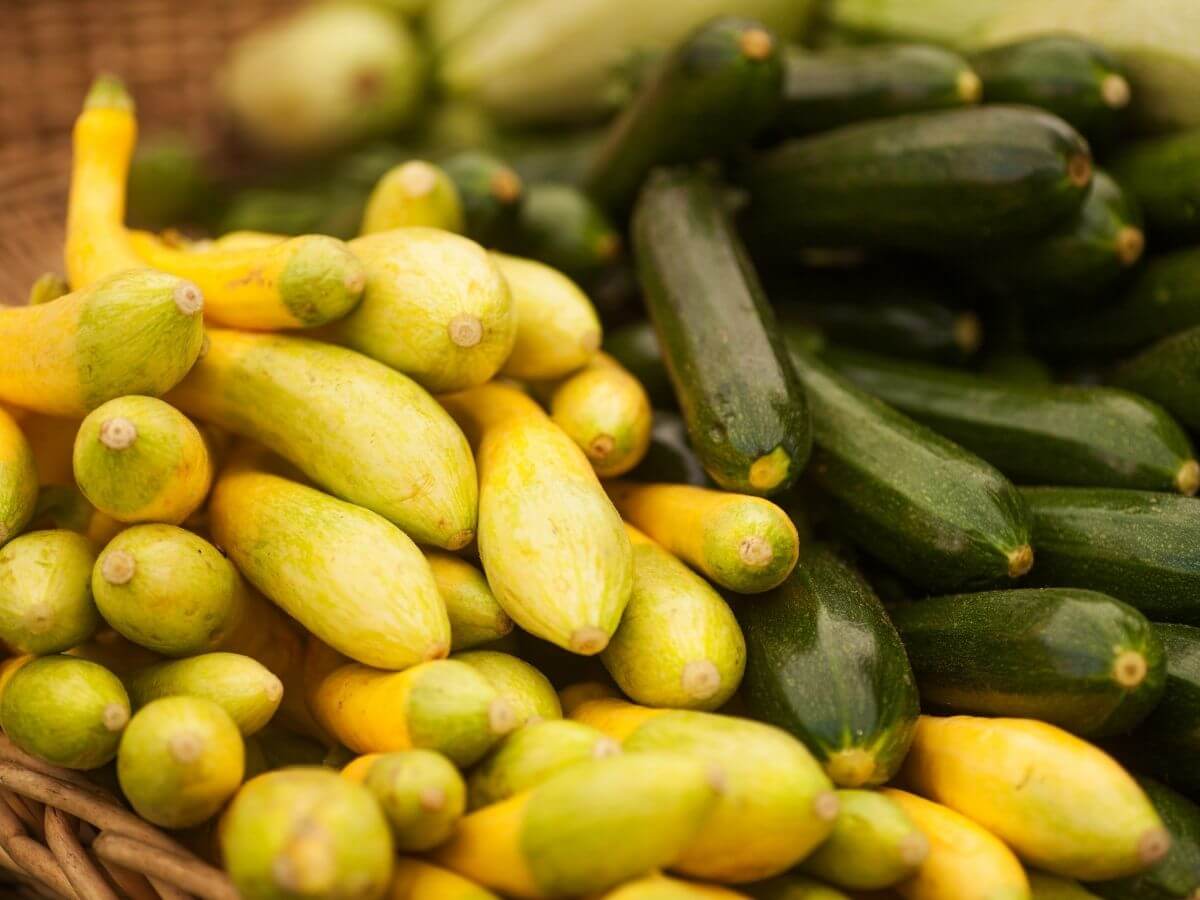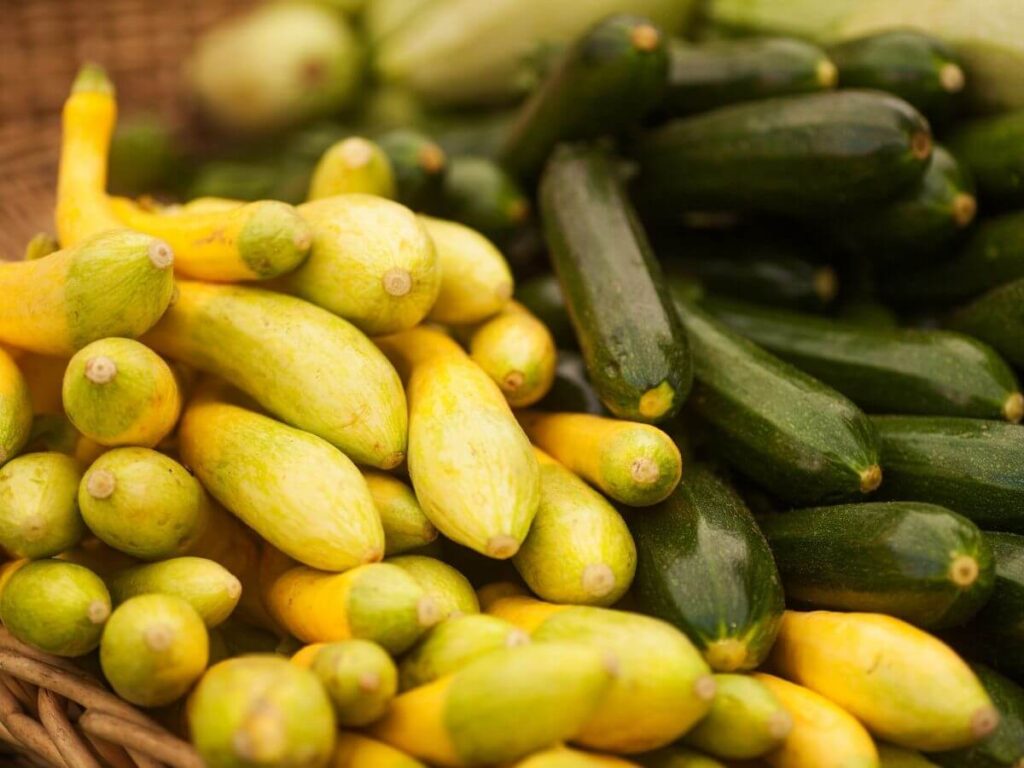 Roasting vegetables is one of the simplest methods to prepare a tasty and easy side dish for your family. There's something for everyone, whether it's parmesan beans, asparagus, or this zucchini and squash recipe.
Fresh summer squash is mixed with oil and Italian seasonings and cooked until soft in this simple recipe for roasted zucchini and squash. It's a great healthy side dish that takes only 20 minutes to prepare!
Ingredients
Zucchini and yellow squash–available in plenty during the summer months, both yellow and green summer squash are ideal for roasting since they absorb flavor well.
Olive oil—aids in the tenderization of the squash.
Italian seasoning
Salt and pepper
Garnish with grated parmesan cheese for a salty crunch and a burst of flavor.
Preparation
Begin by cutting the zucchini's ends and slicing it lengthwise into quarters. Because zucchini takes less time to chop, cutting it into halves and quarters makes this recipe quick and easy to prepare.
Other advantages of larger chunks: larger zucchini pieces are less likely to overcook (and become soggy). You can also tap a paper towel on the cut pieces of zucchini to remove the water after you have allowed the zucchini to sit salted for some time. This will prevent the zucchini from getting soggy, slimy, and brown after cooking.
Instructions
Preheat the oven to 475 degrees Fahrenheit.
Combine zucchini, squash, oil, salt, and pepper in a medium mixing bowl. On a large-rimmed baking sheet, spread in a single layer.
Roast for 20-25 minutes or until softened and charred in areas.
Allow it to cool for 5 minutes on the pan before transferring it to a serving bowl and tossing it with basil and parsley.
Ingredients To Add (Optional)
Freshly-grated Romano cheese
Homemade breadcrumbs
Herbs such as oregano, basil, parsley, and thyme
Spices such as red pepper flakes, paprika, chili powder, cumin
Thinly-sliced red onion
You Might Also Like: