Make an unforgettable fall side dish by using one of my all-time favorite squashes: buttercup! This post will teach you how to cook buttercup squash in the oven so it comes out perfectly every time.
Every year when fall hits, the farmer's market is full of different types of winter squash. You might see tables full of yellow squash, pumpkins, spaghetti squash, and acorn squash. And, of course we all know butternut squash too. But have you ever noticed buttercup squash?
Buttercup squash is one of the least well-known types of winter squash – but it's one of the tastiest varieties! Its unique flavor is full of warmth and comfort, especially during a blistery-cold winter day.
This unique winter squash is packed with health benefits and nutrients too! It's the perfect side dish for any winter recipe you make.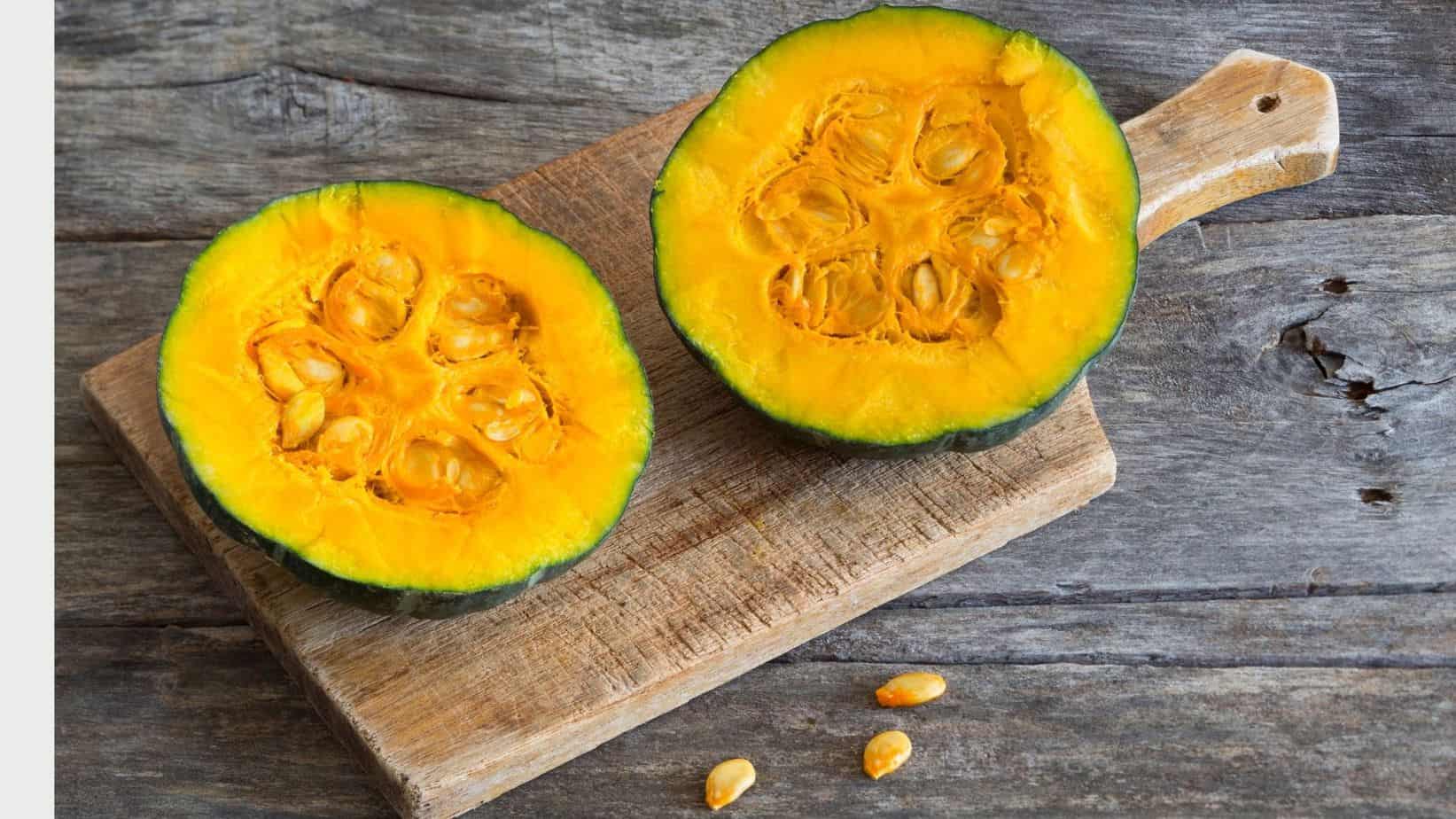 What is buttercup squash?
Before you start thinking I misspelled butternut squash, let me reassure you: this is buttercup squash, like the princess in the Princess Bride.
If you haven't ever tried this squash, you aren't alone. It's not very well known, but it is so delicious that I think you should try to find one and cook it.
Butternut squash is tan, but buttercup squash has dark green skin. It has a relatively flat shape, and you might see a few streaks of light green color on the exterior. It has a bright orange flesh when you cut it in half – the contrast of color is very eye-catching.
What does buttercup squash taste like?
It's tough to describe the flavor of buttercup squash – just know that it tastes nothing like any other squash you might have eaten before. It has a very sweet flavor that most closely resembles a kabocha squash.
Buttercup squash has a smooth texture – not stringy like spaghetti squash. After you cook it, you'll notice the predominantly sweet flavors – they even linger on your tongue a bit after you are done eating it.
Curious about all the squash options out there? Check out this post about the different types of squash.
Different ways to cook buttercup squash
There are several different methods for cooking it, but our favorite way is to cook buttercup squash in the oven. Here are a few other ways to cook this winter squash:
Steaming
Cutting the buttercup squash into cubes and placing them in a steamer basket is a perfect way to cook them. This way, you can easily get a smooth puree or mash out of them.
Steaming the squash is also a fantastic idea if you want something that is really easy to clean up.
Boiling
Cut the buttercup squash into cubes, and place in boiling water. Boil until they are tender enough to easily pork with a fork. Boiling buttercup squash is ideal when you want to make a puree. You can also sauté the boiled squash if you want to make it a little crispy on the outside.
Air frying
Do you like squash that is crispy on the outside and soft on the inside? If so, then the air fryer might be a good choice for you! It gives you the same result as a deep-fryer, but it's so much better for you because you use air to fry it instead of oil.
Air frying is super-simple and is really easy to clean up as well.
How to cook buttercup squash in the oven
Cooking buttercup squash in the oven is the best way to prepare this unique winter squash. It's super-easy and always gives you perfect results.
Here is everything you need to know about roasted buttercup squash in the oven.
Slice it
The first step is to cut the squash into slices. Start by removing the top and bottom of the buttercup squash. Then, cut it in half and remove the seeds. Next, cut it into slices that are ¼-inch thick.
Season it
After you slice the squash, season the slices. I have a recipe in a printable recipe card at the bottom of this post. In my recipe, I used paprika, cumin powder, salt, and black pepper.
So, place the slices of squash on a parchment-lined baking tray and then drizzle the slices with olive oil and sprinkle the spices on top.
Roast it
Now you're ready to roast your buttercup squash. To do this, put the baking tray full of squash in a preheated oven at 425-degree F for about 40 minutes.
About halfway into the cooking, remove the baking tray from the oven and flip the slices over, so they roast evenly on both sides. Drizzle them with more olive oil and seasonings and place the baking tray back in the oven for 20 more minutes. Once they are done, serve.
Buttercup squash variations
You can add all kinds of seasonings and spices to create different flavors. Here are a few spices and ingredients you can try out on your buttercup squash.
Cinnamon
Cinnamon has a sweet, woody, and warm flavor. Sprinkle it on buttercup squash to make a unique side dish.
Nutmeg
Nutmeg brings a powerful aroma to any dish. You can sprinkle it on the buttercup squash to elevate the flavor.
Pumpkin pie spice
Who says pumpkin pie spice is just for pumpkin? Try it over squash – I am sure you will love it.
Maple syrup
Believe it or not, maple syrup goes very well with buttercup squash. It, along with salt and black pepper, acts as a glaze and creates an interesting flavor.
Jerk seasoning
You can spice things up by adding jerk seasoning. Be careful, though – a little bit goes a long way!
How to store leftover buttercup squash
Once it is completely cool, place it in an air-tight container and store it in the refrigerator. It will stay good for up to 5 days. You can reheat it in the oven for about 3 to 5 minutes.
More kitchen resources
If you enjoyed learning how to cook buttercup squash in the oven, here are some more easy cooking resources that you might enjoy reading next.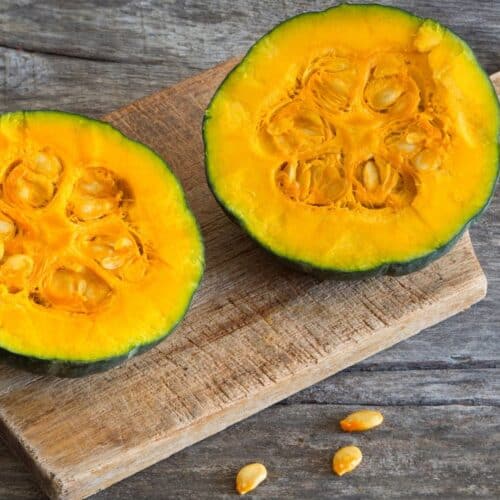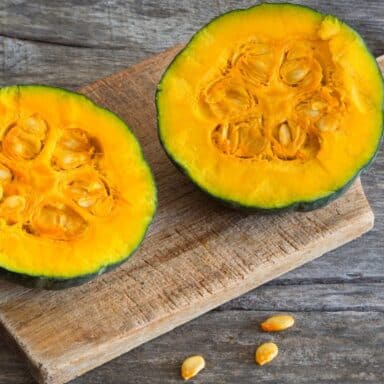 Roasted Buttercup Squash
Ingredients
1

buttercup squash

large

2

tbsp

olive oil

1

tsp

paprika

1

tsp

cumin

½

tsp

black pepper

Salt

to taste
Instructions
Start by cutting the buttercup squash. You can do that by trimming a small portion of the top and bottom of the vegetable. Next, cut it in half and remove the seeds. Once done, cut it into ¼ inch thick slices.

Place the slices on a parchment-lined baking sheet.

In a bowl, mix paprika, cumin powder, salt, and black pepper.

Drizzle olive oil on the butternut squash slices and rub the prepared mixture.

Place the baking sheet in a preheated oven at 425-degree F for about 40 minutes.

Halfway into the cook, remove the baking sheet from the oven, flip the slices and drizzle with olive oil and rub the remaining mixture.

Cook until the buttercup squash gets color and is cooked.

Serve.