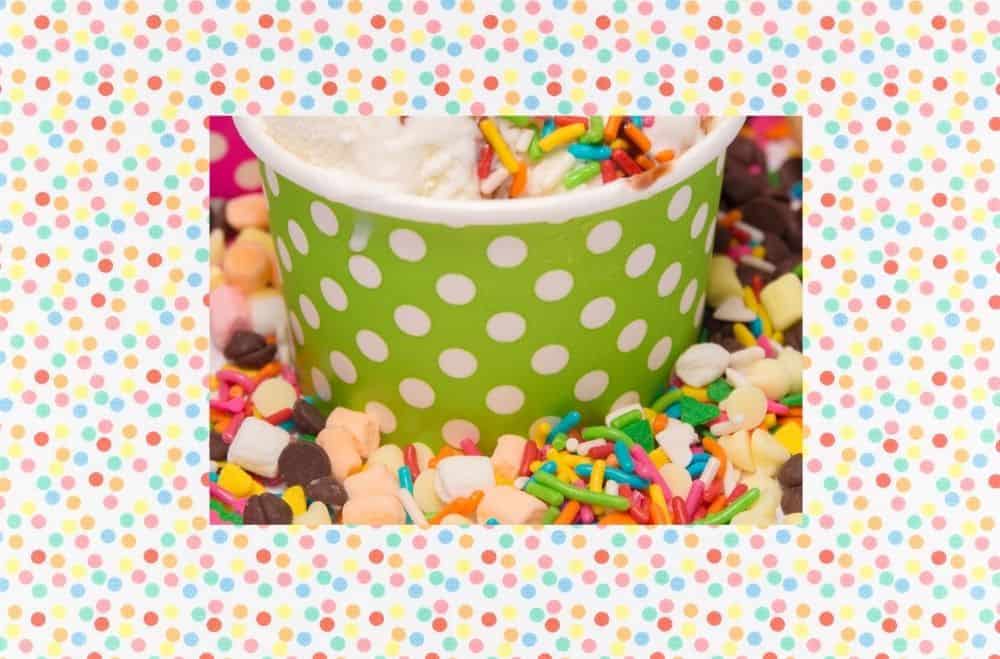 Dippin' Dots, those mini novelty ice cream balls found in every mall and theme park, provide a unique experience when it comes to enjoying an ice cream treat. Learn all about Dippin' Dots ice cream, along with some fun, little-known things about this ice cream of the future.
I'm sure you've seen those colorful carts of tiny-sized ice cream balls that melt in your mouth at amusement parks, malls, or outdoor fairs. The first time I saw them, I was mesmerized. How did those ice cream balls not stick together yet melt in your mouth to creamy perfection? Ever since they hit the market in 1989, Dippin' Dots ice cream has intrigued ice cream fans of all ages.
Let's dive into the history of this novelty ice cream and learn some little-known facts about this fun frozen treat.
What Are Dippin' Dots?
In a nutshell, Dippin' Dots are just ice cream in tiny ball form. It's still ice cream, but its freezing process creates an unusual shape that delights and enthralls people of all ages.
How Are Dippin' Dots Made?
Dippin' Dots start with a rich, delicious conventional ice cream base that's churned in temperatures around 30°F. Then, in a process called cryogenic encapsulation, the ice cream is dropped in liquid nitrogen at temperatures of -300°F, causing it to freeze immediately.
Due to its immediate freezing, there isn't any additional air incorporated, and ice crystals don't form. However, the base freezes into dense, tiny, creamy balls of delicious ice cream.
Dippin' Dots Flavors
After perfecting the process (read more about the history below!), a storefront was opened in Lexington, Kentucky. The store offered 6 original flavors: Chocolate, Vanilla, Strawberry, Neapolitan, Strawberry Cheesecake, and Peanut Butter.
As the company grew, its flavor offerings expanded. The company now sells more than 25 delicious flavors of high-quality frozen goodness. You can find Dippin' Dots in these flavors:
Vanilla
Banana Split
Birthday Cake
Strawberry
Bubble Gum
Lemon Lime Sherbert
Rainbow Ice
Rocky Road
Sour Blue Razz
Cool Mint Crunch
Cookies 'n Cream
Caramel Brownie Sundae
Chocolate
Chocolate Chip Cookie Dough
Cotton Candy
Rockin' Cherry Ice with Popping Candy
Frooty Cereal
Ultimate Brownie Batter
Mint Chocolate
Redberry Sherbet
Blueberry Sorbet
Strawberry Sorbet
Strawberry Cheesecake
Mango-Pineapple Sorbet
Cold Brew Latte
The most popular flavors are Chocolate Chip Cookie Dough, Cookies and Cream, Rainbow Ice, and Banana Split.
The History Of Dippin' Dots
Invented in the late 1980s when other novelty desserts were popular, this particular dessert has some interesting origins. You won't find Dippin' Dots on shelves with freeze-dried ice cream, in coolers of frozen yogurt, or with novelty desserts of any kind because they are completely unique.
It might surprise or maybe even shock you to learn that this frozen treat was created by a microbiologist. Curt Jones, an expert in cryogenics, was experimenting with ways to feed farm animals more efficiently. He was testing how to flash freeze cow feed at -350℉ using liquid nitrogen, which turned the food into little pellets. While working towards his goal of flash-freezing the bacteria in yogurt for animal feed, Jones came up with the idea of applying the same concept to ice cream. He tried it out, and when he sampled the frozen pellets, he liked how they melted in the mouth to create a delicious – and irresistible – dessert experience.
Unfortunately, the cow feed pellets never gained popularity. But fortunately for Jones, the ice cream pellets took off, and Dippin' Dots, Inc was founded. This American company's headquarters are still located right in the heart of the USA: in Paducah, Kentucky.
Specialty Locations And Expansion
Jones's original Lexington storefront only remained open for 9 months because it wasn't able to attract enough customers. The next year, the family came up with an idea to bring the specialty ice cream to the suburban Nashville theme park Opryland USA on vending bikes.
This genius idea made it possible for Dippin' Dots to start gaining traction. The memorable slogan unveiled in 1991 – "The Ice Cream Of The Future" – helped with its popularity, too. However, it wasn't until Dippin' Dots expanded into the Kennedy Space Center in 1992 that the brand really began to take hold.
The company began opening franchise locations in more amusement parks as well as shopping centers, ballparks, and water parks. And that is when the company's popularity exploded. They continued to grow and expand to locations all around the country. But, Dippin' Dots were limited to specialty locations due to the extremely low temperatures that are required to store the frozen ice cream balls. Most grocery stores simply aren't able to provide such low temperatures of -40℉.
The first international location opened up in Japan in 1995, and now this frozen delight is sold in countries all around the world. This includes Canada, Australia, China, South Korea, the Philippines, and Vietnam.
Bumps In The Road
Almost no company finds success without also experiencing setbacks – and Dippin' Dots, Inc. is certainly no exception. The height of the company's success came in 2006 when it was selling $47 million in a year.
Following that, the company sued its main competitor and faced bankruptcy filings, changes in ownership, and even layoffs amid venue closures due to the worldwide pandemic.
Where To Buy Dippin' Dots
This exciting ice cream may not be available in grocery stores, but you CAN find it in all your favorite fun places, such as:
Malls
Fairs
Festivals
Theme parks
Ballparks
Movie theaters
Arenas
Stadiums
You can often find pop-up Dippin' Dots locations at local events and in some convenience stores. Want to find a location near you? Try using this Dippin' Dots Locator!
You can even buy flavors online to be delivered to your home! While you may not be able to find this ice cream at grocery stores, home delivery is the next best thing.
Note: The one catch to buying this frozen treat for home delivery is that you can only purchase 30 serving bags. Oh, and they're delivered on dry ice and will melt quickly once you remove them from the dry ice because your freezer isn't cold enough. Hope you're hungry!
13+ Facts You Didn't Know About Dippin' Dots
Ok, now that you know about the history of this catchy frozen delight as well as the company, it's time to get into learning some fun, little-known facts. Ready? Let's go!
How Many Dots Are In Each Serving?
Every single serving 5oz cup of Dippin' Dots contains approximately 2,000 dots. It sounds like a LOT, but they sure disappear quickly once you start eating them!
How Long Does The Freezing Process Take?
When I say "flash freeze," I really mean it! Liquid nitrogen instantly freezes anything it comes in contact with, so freezing the ice cream happens really fast. (to the tune of under one second.)
How Many Dots Are Made Each Day?
Dippin' Dots makes approximately 25,000 single-serving cups of dots per day. Or, to put it another way: 50 million dots per day!
Where Does The Company Keep Their Dot Supply?
The company has a giant freezer in Kentucky that does maintain a temperature of -40℉. How huge is it? Well, it holds 12.5 billion dots. Now that's a lot of Dippin' Dots ice cream!
What Was The First Dippin' Dots Flavor?
Vanilla was the first dot flavor that Jones made, but the best-selling flavor has been and always will be Cookies 'n Cream.
Is There Actual Coffee In Their Coffee Flavor?
Why yes! Yes, there is actual coffee in there. In fact, it's made with pure espresso. That'll wake you up! The espresso is called Forty Below Joe (more about that…below).
Can I Take A Tour Of The Factory?
Not in person. However, you can watch a video that the Food Network filmed as they toured the factory.
Can I Make Dippin' Dots At Home?
Short Answer: Yes. All you need is ice cream and liquid nitrogen.
Longer Answer: You need to know how to use liquid nitrogen safely. If you know how to use liquid nitrogen without freezing your fingers off, give it a try! Everyone else – just stick to buying Dippin' Dots.
Dippin' Dots Aren't The Only Kids On The Block
It may be the original cryogenic ice cream, but it's not the only one out there. Because the process is easy to replicate, other companies are making cryogenic ice cream. Dippin' Dot's closest competitor is probably Mini Melts, which markets its product as more high-end than Dippin' Dots and other competitors.
Mini Melts was started by 2 brothers who had been Dippin' Dots distributors – Dippin' Dots sued Mini Melts for patent infringement. After 9 years of litigation, the judge ruled against Dippin' Dots, saying that the company didn't acquire the patent correctly.
What's Your Dot Personality?
With about 30 different flavors to choose from, it can be nearly impossible to pick just one flavor! Thankfully, Dippin' Dots offers a flavor personality quiz to help you determine which flavor suits your personality the best.
The quiz contains questions like, "Someone runs into you and spills their drink all over your new shirt – what do you do?" The questions are wacky and definitely targeted at a younger demographic, but it's fun to see your results. (I'm strawberry, what about you?)
Guinness World Record Holders
In 2014, for the 30th anniversary of National Ice Cream Month, a Dippin' Dots team tried to break the record for the highest number of ice cream cups made by a team of 5 people in 3 minutes. And they won after preparing 473 cups!
The Company Gives Back
In 2007 the company held a celebrity giant table tennis tournament to benefit St. Jude Children's Research Hospital. Then in 2104, after winning the Guinness World Record, the company donated 400 servings to the Monroe Carell Jr. Children's Hospital at Vanderbilt University.
Not Just Ice Cream Anymore
The company has been busy branching out into making new products such as frozen yogurt, sherbert, sorbet, and even Dot Sundaes. Give them enough time, and they're sure to come up with another amazing idea!
Does Jones Still Own Dippin' Dots?
Sadly, no. After the long litigation process when Dippin' Dots sued its biggest competitor, the company filed for Chapter 11 bankruptcy in 2011. A year later, Scott Fischer purchased the company and helped revive it.
In 2015, Jones left the company and founded 40 Below Joe. You could say he simply continued his vision because his new company basically creates the Dippin' Dots of the coffee world, transforming coffee and dairy-free creamers into frozen beads. You could call it the "coffee of the future!"
Did you learn something new about everyone's favorite novelty ice cream? Whether you last had some as a kid or just last week, you can't help but love those flavor-packed frozen beads. So go ahead and enjoy them because one thing's for sure: Dippin' Dots are here to stay!
You Might Also Like: