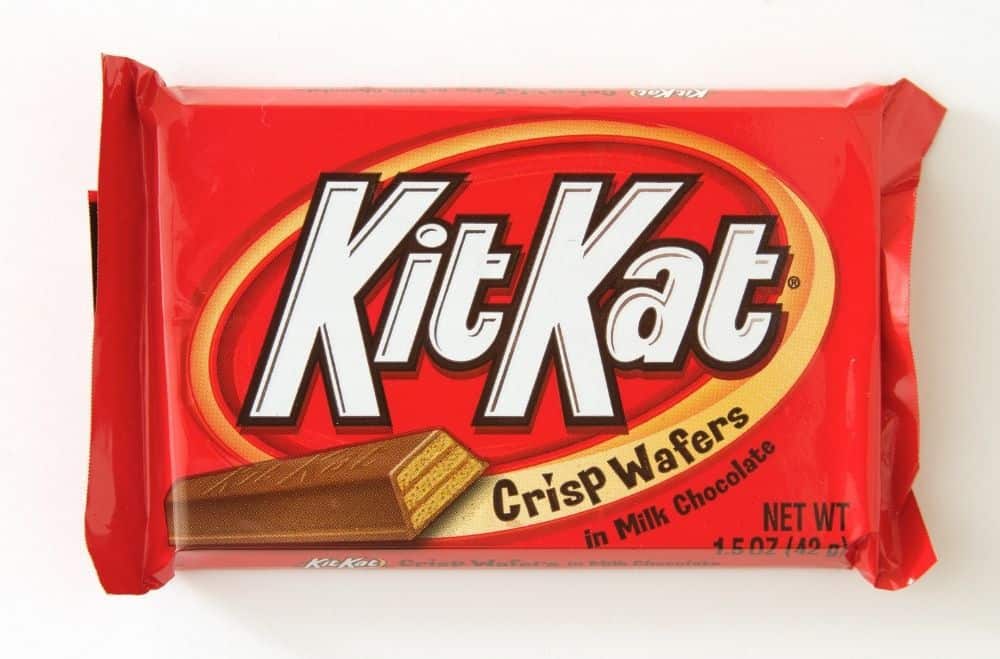 Kit Kats are popular chocolate candy bars in the US, with their simple crispy wafers and chocolate coating design. But their popularity in the US is completely eclipsed by the popularity of Kit Kats in Japan. 
Why are Japanese Kit Kats so popular? Let's find out (hint: it might have something to do with the belief that they bring good luck). Plus, you'll be amazed (and jealous!) at all the yummy Japanese Kit Kat flavors available too! So let's talk about Kit Kats. 
What is a Kit Kat?
A Kit Kat is a candy bar that's made with alternating layers of crispy wafers and rich, delicious chocolate. Each package comes with two or four long skinny "fingers" attached to each other by a thin layer of chocolate. The pieces can be snapped apart easily to separate from each other so you can eat them.
A Brief History of Kit Kats
Chocolate-covered wafer candy bars, originally called Rowntree's Chocolate Crisps, were first made by Rowntree's of York in the United Kingdom starting in 1935. In 1937, the name was changed to Kit Kat Chocolate Crisp, which later got shortened to simply Kit Kat after World War II.
The first Kit Kats were crisp, four-fingered chocolate candy bars that were packaged and sold as a simple, unpretentious, workingman's treat. Even the commercials for these candies featured factory workers, construction workers, and police officers taking a break from a mundane day to enjoy a sweet and uplifting treat. The slogan "Have a break…Have a Kit Kat" promoted this idea.
After selling successfully in the UK, Kit Kat ventured out in the 1940s and made its way to Canada, South Africa, Ireland, Australia, and New Zealand. In the 1970s, the brand expanded further into Europe, Japan, and the US. 
1988 brought a big change when the Swiss company Nestlé bought Rowntree's and took over producing Kit Kats ever since (except in the US, where the candy is produced under license by the Hershey Company). 
The Popularity of Kit Kats in Japan
Kit Kat first arrived in Japan in 1973 and quickly became one of its most popular chocolate brands. As the demand for Kit Kat grew, so did the demand for variety.
Nestlé began experimenting with and developing non-chocolate flavors to expand the variety of Japanese Kit Kats and increase sales. 
The first of these flavors, strawberry, hit the market in 2000 and saw huge success. The Japanese love strawberry-flavored desserts, so this was a logical first choice. This dessert was even tinted pink, thanks to the inclusion of dehydrated strawberry juice in the chocolate! The instant popularity of this flavor demanded the development of more Japanese Kit Kat flavors.
Since then, more than 350 flavors have been created, many only available in Japan or certain parts of the country. The limited availability of many flavors makes them more rare and prized. 
As the Japanese love unique and novel items, this clever marketing strategy has paid off in spades for Nestlé, helping Kit Kat to reach even a cult-like status in the country.
The Cult-like Status of Kit Kats in Japan
To give you some idea of just how big Kit Kats are in Japan, this popular candy bar is available in the US in most grocery stores and drugstores. 
However, in Japan, Kit Kat is so popular that people can buy them in drugstores, department stores, and even high-end Kit Kat-devoted boutique candy stores. In addition, the offerings are constantly changing in flavors and colors, with most of these being limited-edition flavors.
The limited offerings and belief that they're good luck have made Kit Kats one of the top-selling chocolate brands in Japan.
Kit Kats Are Lucky in Japan
Why are these candy bars so popular in the first place? Are they really that tasty? 
Of course, they're delicious! However, the Japanese consider Kit Kat bars to be good luck, and that's really the main driving force behind the brand's popularity. But why are they good luck?
As it turns out, the reason happens to be a "lucky" (pun intended!) coincidence of translating the name "Kit Kat" into Japanese.
"Kit Kat" translates into Japanese as "Kitto Katto" which sounds very similar to the phrase that people often use to mean something similar to the English equivalent of "good luck. "Kitto Katsu" is a common phrase that parents and teachers say to students before exams because it translates into several encouraging phrases, including "You will be sure to win" and "Never fail." 
With meanings like that, how could you not love a Kit Kat in Japan?
Genius Marketing Strategies for Kit Kats in Japan
That's exactly the Japanese Kit Kat brand's approach as it began promoting itself as a sort of good luck charm! In a stroke of marketing genius, Nestlé Japan took advantage of the unique marketing opportunity and ran with it. 
The company even went so far as to package Kit Kat bars with encouraging phrases like "believe in yourself," as well as special packaging that appeals to the Japanese culture of gift-giving.
The strategies have paid off. 
Parents now give Kit Kats to their students who are about to take their entrance exams. The practice has extended beyond the classroom to the point where people now give Kit Kats to friends and a handwritten note to express support and encouragement for other endeavors!
The packaging and limited-edition marketing also appeals to the country's tradition of omiyage, which involves bringing home special presents for friends and family when returning from a trip. People buy gift-packaged regionally-offered Kit Kats in boutiques, airports, and train stations to give to friends and loved ones when they get home.
Does the candy's popularity in Japan all make sense now?
28+ Fun and Interesting Japanese Kit Kat Flavors
Kit Kats may have started in the UK, but they now sell in more than 100 countries around the world. Beginning in 1996, Nestlé began creating flavor variants of Kit Kats with the introduction of Kit Kat Orange in the UK. Other flavors, such as Mint, Dark, and Caramel, soon followed.
Now there are many flavor variants of Kit Kat available all around the world, with (by far) the greatest variety of flavors existing only in Japan. 
In fact, each year, there are roughly 40 flavors available in different parts of the country: that includes around 10 core flavors as well as 20+ limited-edition flavors – many of those only available regionally. And the flavors can be…interesting.
Nowhere else in the world can you find Kit Kat flavors that range from fruity to beverages, vegetables, and even baked goodies! It's really no coincidence that the company sells many of the regional flavors during certain seasons throughout the year when the fruits and vegetables are in season.
The company doesn't come up with all of these flavors on its own. Nope, it goes to the experts, enlisting the help of famous chefs. One such chef, Takagi, created ultra-high-end bars made with higher-grade chocolates and ingredients. These versions are sold in boutique-like shops called Kit Kat Chocolatory stores.
It's time to check out the flavors! In addition to the obvious milk chocolate flavor, here are some of the most popular – and some very unique – flavors of Kit Kats.
Note: You can buy some of these online, but many of them aren't available for purchase outside of Japan or at most times during the year.
1. Apple Pie Kit Kat
Fall is apple pie season, and this Halloween edition capitalizes on it. This flavor differs from other apple Kit Kat varieties, making it taste like you're eating apple pie. Yum.
2. Lemon Crisp Kit Kat
Everything you love about your favorite citrus fruit in a sweet and sour flavor combo that makes this Kit Kat variety shine.
3. Melon Mascarpone
This flavor sounds like an odd combination, but I can picture a slightly sweet, fruity, cheesy flavor. 
4. Sakura Kit Kat
A pink Kit Kat reminiscent of the Sakura cherry blossoms in the spring. Sakura-flavored white chocolate covers layers of sakura powder-infused wafers and cream.
5. Mint Kit Kat
One of my favorite flavor combinations of all time. Mint Kit Kat is minty and chocolatey in all the right ways.
6. Dark Chocolate Kit Kat
Take out the milk but keep the chocolate in this Kit Kat variety in Japan. It's slightly less sweet and slightly more bitter but just as delicious.
7. Ginger Ale
Here's a unique flavor! When you want a kick of ginger, reach for some Ginger Ale-flavored Japanese Kit Kats.
8. Cookies and Cream
This is a flavor in the "Adult Sweetness" line of Kit Kats. It features chocolate wafers and white chocolate cream with creamy white chocolate that's mixed with crushed black biscuits.
9. Cafe Latte
It's your favorite drink in wafer candy form! Coffee-flavored white chocolate surrounds latte powder-infused wafers and cream.
10. Peach Parfait
Love peaches? This one's for you. Peach-flavored white chocolate covers peach powder-infused cream and classic wafers.
11. Strawberry
This variety is the most popular flavor in Japan, featuring pink-tinted bars with strawberry-flavored cream.
12. Sake
White chocolate covers sake powder-infused crispy vanilla wafers. It's everything you love about Japan's signature beverage and more.
13. Soy Sauce
Believe it or not, this was the top-selling flavor in 2010. This white chocolate variety has a mild, subtle flavor. Thankfully, you won't be bowled over by ultra-salty soy sauce chocolate!
14. Wasabi 
A limited-edition flavor is found around Shizuoka, where people have long cultivated wasabi plants with gnarly roots and heart-shaped leaves. The Wasabi Kit Kat uses wasabi-flavored white chocolate to cover the wafers and packs a "punch" that may make your eyes water!
15. Matcha Tiramisu
Matcha Tiramisu is a well-known dessert in Kyoto, Japan. The wafers of this variety contain cream cheese and mascarpone cheese powders, and the chocolate contains green tea for a tastebud-tingling candy.
16. Red Bean 
This popular flavor is inspired by coffee shop red bean toasted sandwiches in the Nagoya area. It contains red bean-flavored cream and milk chocolate.
17. Graham Cracker
Kit Kat has recently released a new "Whole Wheat Flour Biscuit" line of bars. The company wants to appeal to consumers who want to make healthy choices and enjoy their treats.
The Graham Cracker Kit Kat variety infuses whole wheat flour into the wafers and exterior chocolate to create a delicious graham cracker flavor.
18. Rum Raisin
Here's a flavor to reach for after a long day. Its classic wafers contain 0.056% alcohol. Deliciously rich rum-raisin white chocolate covers the entire bar.
19. Sour Orange
Sour Patch Kids, Sour Skittles, Sour Gummi Bears…Kit Kats in Japan didn't want to feel left out of the sour fruity fun anymore. Now there are Sour Orange Kit Kats to give you that tangy chocolate experience.
20. Banana Caramel
An interesting and wildly popular flavor that wraps banana-flavored chocolate around caramel and banana-infused wafers and cream.
21. Baked Potato
Yes, you read that correctly. Never would I have ever thought to make veggie-flavored candy bars. Leave it to the Japanese for that kind of creativity. In addition to Baked Potato, other veggie flavors include Grilled Corn, Mashed Edamame, and Beet.
22. Strawberry Cheesecake
Yokohama Strawberry Cheesecake Kit Kats artfully combines cheese-flavored white chocolate wrapped around classic wafers and cream that's infused with cheese and strawberry-flavored. If you enjoy cheesecake, this flavor has got everything you love.
23. Sweet and Sour Plum Kit Kat
A newer flavor that features plum cream surrounded by sweet and sour plum-infused white chocolate.
24. Shinshu Apple
This flavor is traditionally only available near Nagano, Japan. This variety features apple-flavored milk chocolate to highlight the popular Shinshu apple.
25. Cinnamon Cookie
This flavor screams "cinnamon lover!" Cinnamon and chocolate meld together beautifully in a Japanese Kit Kat variety that is slightly less sweet than other flavors.
26. Purple Sweet Potato 
Flavored for the deep purple Okinawan sweet potatoes found near Okinawa and Kyushu.
27. Hot Japanese Chili
Chili and chocolate are a terrific flavor combo. If you love heat, this is a must-have flavor. Tread carefully, though, because the heat ramps up as an after-taste. 
28. Moléson Chocolate Kit Kat
The Kit Kat Chocolatory produces this variety and considers it to be the "Cadillac" of Kit Kats. It's handmade with the highest quality ingredients and the first to include toppings (chopped almonds and cranberries) and their top-of-the-line smooth, sublime milk chocolate.
Interested in more interesting Japanese Kit Kat flavors? From butter to Kobe Pudding to Vegetable Juice and everything in between, you're sure to find some unusual flavors of Kit Kats in Japan that you'll love! Amazon has an amazing variety of Japanese Kit Kats. Enjoy!
FAQs
Are Kit Kats Gluten Free?
The good news is that most Kit Kats are gluten-free. Always check the label to be sure.
Do Kit Kats Have Peanut Butter?
Kit Kats come in a variety of flavors, but not all of them contain peanut butter. If you have a peanut allergy, be sure to check the label carefully before consuming any Kit Kat product.
Are Kit Kats Kosher?
Yes, Kit Kats are kosher. The chocolate used in Kit Kats is made from kosher ingredients, and the manufacturing process is overseen by kosher certification agencies.
Can You Eat Kit Kats with Braces?
Kit Kats are generally safe to eat with braces. However, brushing and flossing after eating is important to prevent any food particles from getting stuck in your braces.
What Flavor Is Witches Brew Kit Kat?
Witches Brew Kit Kat is a limited edition flavor that was released for Halloween. The flavor is a mix of marshmallow and cookie dough with a green-colored white chocolate coating.
Do Kit Kats Go Bad?
Like most food products, Kit Kats have a shelf life and will eventually go bad. However, unopened Kit Kats can last up to a year if stored properly in a cool, dry place. Once opened, Kit Kats should be consumed within a few days for optimal freshness. If the chocolate starts to develop a white film, it's a sign that it is past its prime.
More Candy Posts You'll Love
Check out these sweet candy-themed posts. Yum!