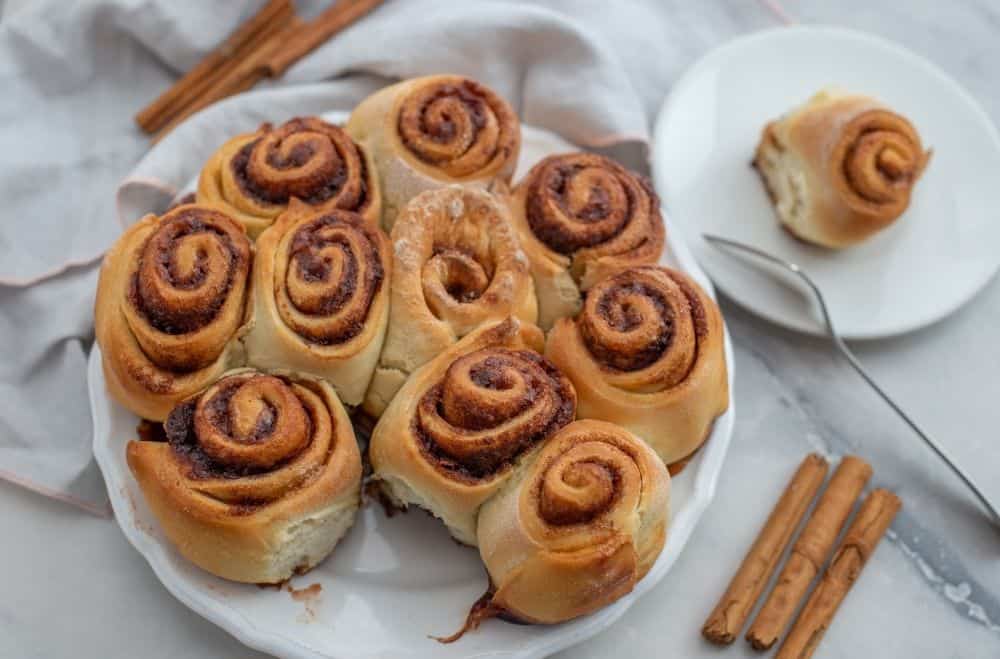 Bread machine cinnamon rolls fresh out of the oven are just what you need to bring cheer to a dark wintery day. A little extra cheer really matters, as many of us are spending more time at home. Despite popular misconceptions, making delicious cinnamon rolls and pastries at home need not be hard and time-consuming.
Say hello to Mr. , your new bestie.
The bread machine is a lovely labor saver that opens up a world of tasty home-baking opportunities. Stop smacking cans of dough on the counter and discover how to make easy bread machine cinnamon rolls and pastries right at home.
Soon you'll find that it's easy to make bakery-quality cinnamon rolls and pastries that put the yum back into the season without all the extra work.
Pro baker tips for the perfect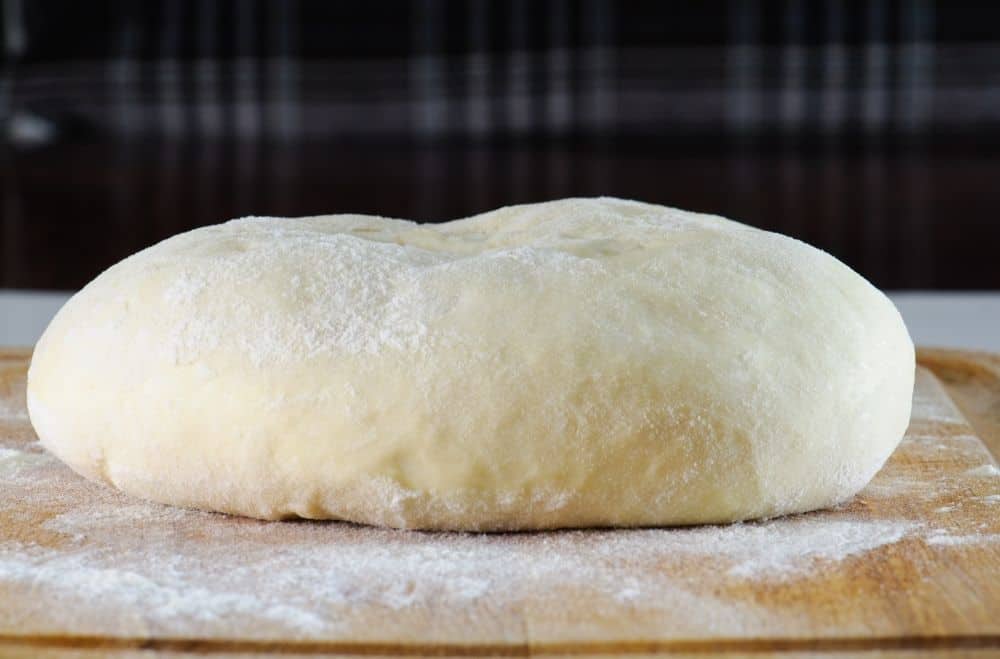 Follow these simple suggestions to make the perfect dough for bread, cinnamon rolls, and pastries. Basic bread dough is just flour, yeast, salt, and water. You make cinnamon rolls with enriched dough to achieve more flavor, rise, and soft texture. You get that by enriching the dough with butter, eggs, milk, and oil added to the dough mix.
Start with a quality bread flour
The flour you use is important. The best choice is quality bread flour. Bread flour gets milled from hard wheat with a lot of protein content. The higher protein level gives the flour more gluten to produce bread that rises higher with a softer texture. Add vital gluten to the mix if you are using a combination of flours like rye or whole wheat or for recipes calling for plain flour. The vital gluten replaces the gluten lost from not using bread flour.
Check the dough as it mixes. Your bread machine will ding to alert you when the dough finishes blending. It's important to check it then. Good cinnamon roll dough should feel slightly tacky and elastic. If it is too wet, add flour one tablespoon at a time until the dough is tacky and elastic. Too dry, add warm water the same way until it looks and feels right.
Use the dough cycle to make cinnamon roll dough. After the cycle completes, remove the dough and place it on a lightly oiled surface. Don't flour the work surface. The risen dough won't take any added flour. It sits on the surface and can make your dough tough. Cover your dough with a cotton cloth and let it rest for 10 to 20 minutes. This lets it relax, so it is easier to roll out and stretch.
How to Make Bread Machine Cinnamon Rolls! (and Apple Pecan Rolls)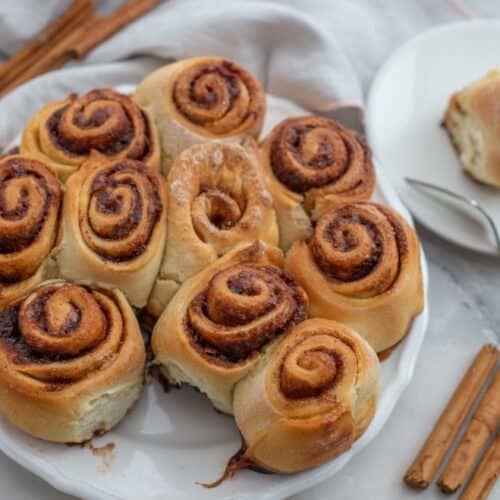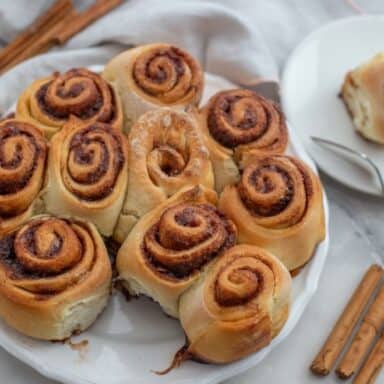 Bread Machine Cinnamon Rolls 
Ingredients
DOUGH INGREDIENTS

1

cup

milk

¼

cup

warm water

2

eggs

3

tbsps

melted butter

41/2

cups

bread flour

1

tsp

salt

21/2

tsp

bread machine yeast

FILLING INGREDIENTS

1

cup

brown sugar

3

tsp

cinnamon

3

tbsp

softened butter

CREAM CHEESE ICING INGREDIENTS

3

oz

softened cream cheese

3

tbsp

softened butter

1 1/2

cups

powdered sugar

½

tsp

vanilla extract

⅛

tsp

salt
Instructions
Heat milk and water to between 110F to 120F. It's easy to do this in the microwave. Heat for 30 seconds, check the liquid with a digital thermometer and heat another 20 to 30 seconds if needed. Note: don't put liquids hotter than 120 degrees in the machine. It will ruin the proof.

Load ingredients according to the instructions that came with your bread machine.

Set the machine to the dough cycle and let it run.

When the alarm sounds, check the dough for elasticity and add water or flour as needed.

Lightly oil your work surface.

When the bread machine finishes, remove the dough to your work surface and shape into a ball. Cover completely with a cotton cloth or plastic wrap and let it rest for 10 to 20 minutes.

While the dough rests, mix the softened butter, brown sugar and cinnamon together for spreading.

Roll the dough out into a rectangle shape about 12 by  24 inches. You want it to be about ¼ inch thick.

Spread the filling evenly onto the dough, leaving a ¼ inch border.

Roll up the dough using gentle pressure to keep the roll even. Your roll should be nice and tight. Pinch the seam together to seal it securely

Measure and mark the dough into 12 equal portions. Cut the portions apart with string or a pastry scraper blade.

Line a 9 x13 baking dish with parchment paper and place cinnamon rolls inside in rows of three.

Cover with a cotton towel or cloth (not terrycloth) and allow to proof until doubled in size (approximately 30 minutes)

After proofing, place cinnamon rolls on the center rack of a 375F preheated oven and bake 20 to 25 minutes until golden brown.

After baking, place the rolls on a wire rack to cool. While the cinnamon rolls cool, whip the icing ingredients together until smooth. Spread icing onto the cooled rolls with a silicone spatula and serve.
Easy Bourbon Apple Pecan Rolls 
Ingredients
Prepare cinnamon roll dough using the bread machine cinnamon roll recipe

FILLING INGREDIENTS

1

large can

20 oz. Apple Pie filling

¼

cup

brown sugar

¼

cup

softened butter

2

tsp

cinnamon

½

tsp

vanilla

1

tbsp

bourbon or bourbon extract

½

cup

chopped pecans

BOURBON CREAM CHEESE ICING INGREDIENTS

½

cup

softened butter

8

oz.

softened cream cheese

3 to 4

cups

10X sugar

2

tsp

vanilla extract

2

tsp

bourbon extract
Instructions
First, make your cinnamon roll dough following the " Bread Machine Cinnamon Rolls" Recipe.

While the dough rests, you can make the filling mixture. In your mixer, blend apple filling, softened butter, brown sugar, cinnamon, vanilla and bourbon until smooth and creamy. (Note: For a thicker spread, add ¼ cup more butter.)

Roll dough out into a 12 by 24 inch rectangle.

Spread apple mixture evenly across dough, leaving a ¼ inch border.

Sprinkle ½ of the pecans on top of apple mixture.

Roll dough into a tube shape and pinch the seam closed.

Measure and mark the dough roll into 12 equal pieces.

Cut with a string or pastry scraper.

Line a 9 by 13 pan with parchment paper and fill with rolls three across.

Cover and proof till doubled in size (30 to 60 minutes).

Bake on center rack in preheated 350F oven till golden brown (45 to 60 minutes).

Cool thoroughly and ice. Sprinkle with remaining pecans and serve.

ICING DIRECTIONS

Mix butter and cream cheese until well blended.

Add butter and 10X sugar, one cup at a time, and whip until creamy.

Add in bourbon extract slowly until it's well blended throughout.
FAQs
How to Freeze Cinnamon Rolls
Let your cinnamon rolls cool off completely, and put them inside a freezer-safe container.  Label and date the container so you can keep track of its freshness.
When ready to eat, allow ample time for each roll to thaw at moderate temperatures. Reheat them using the oven at 275 degrees Fahrenheit for 10 minutes or microwave until warm.
What to Serve with Cinnamon Rolls
Serve cinnamon rolls with berries or sliced fruit, as their juicy sweetness contrasts nicely with the rich pastry. And don't forget a hot cup of coffee or tea, which make for the perfect cozy drink alongside your delicious treat.
Want something more savory to go with your cinnamon roll? Pair it with some crisp bacon, sausage, or an omelet. The added boost of protein will balance out the sweetness and keep you satisfied for longer.
You Might Also Like: