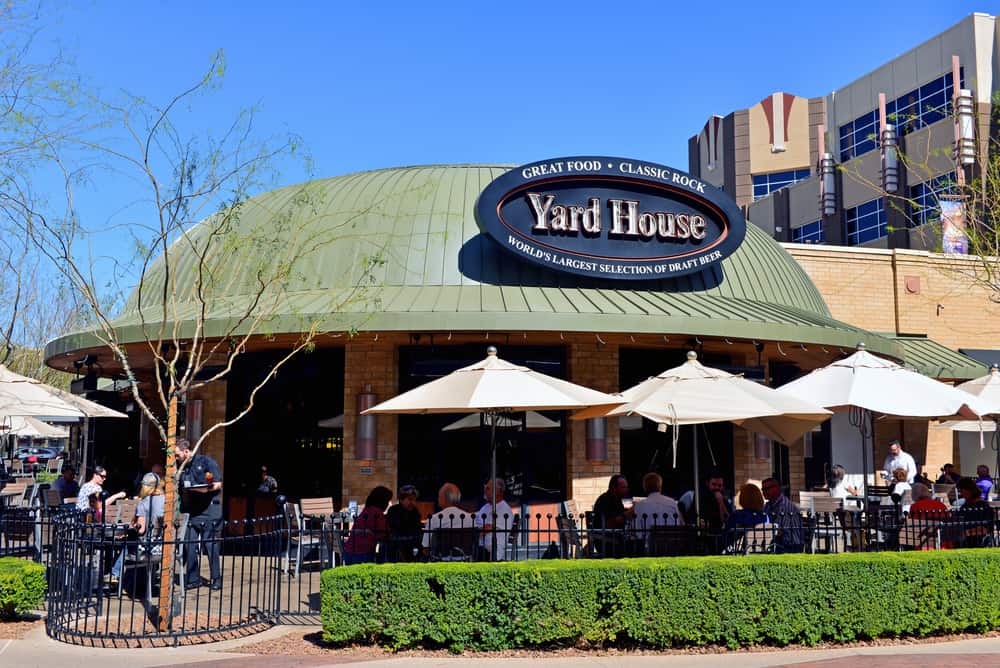 1. It was founded in 1966
Yard House Restaurant was originally founded in 1966 by an individual named Steele Platt, in addition to his roommates Tom Yelenick, William Wollrab, and Steve Reynolds. The very first location of the Yard House Restaurant resided in Long Beach, California. But the restaurant now operates out of Irvine, California currently by Darden Restaurants (1).
2. Yard House currently operates under Darden Restaurants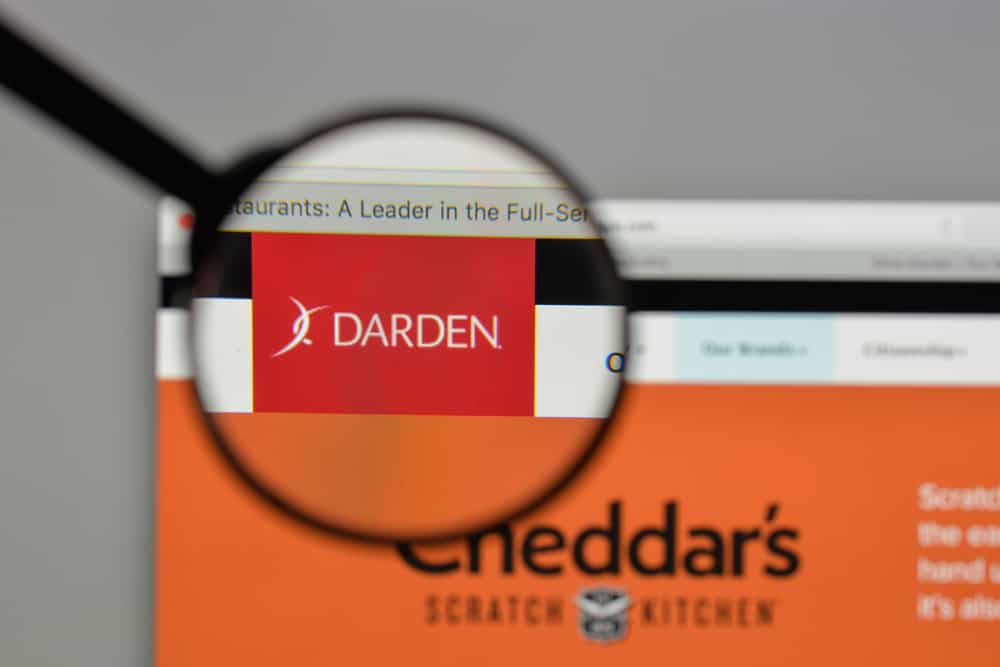 In 2012, a corporation known as Darden Restaurants purchased Yard House for $585 million. In addition to this, Darden Restaurants also features 8 other popular fine-dining restaurants, including Olive Garden, LongHorn Steakhouse, Cheddar's Scratch Kitchen, The Capital Grille, Seasons 52, Bahama Breeze, and Eddie V's. As of 2017, Darden Restaurants claimed to be employing more than 175,000 team members nationwide, in addition to operating more than 1,700 restaurants nationwide (2).
3. They don't offer catering
Unlike a great number of other fine-dining restaurants, Yard House does not provide catering services to customers. When interviewed about the situation, Yard House claims that instead of catering, they do offer what is known as a Party Platter Menu. This menu is specifically designed for situations where there may be a larger amount of people that need served, and interested customers have the option of either ordering from the Party Platter Menu as a dine-in order or as a to-go order. This menu is beneficial for a wide variety of events, such as game days with your family or friends, casual get-togethers, or even office gatherings (3).
4. Yard House offers vegetarian and vegan food upon request
Although Yard House does not provide catering services to individuals like many other fine-dining restaurants, they do offer a vegetarian and vegan menu for interested customers. At Yard House, they classify it as the gardein menu, and it includes entrees that are produced with vegetarian protein. Aside from having a completely separate menu made up for vegetarian items, Yard House also provides the option for many of the main menu items to be substituted with gardein substitutes in order to make a main menu dish into a vegetarian dish.
Furthermore, Yard House's vegetarian protein is made from several organic ingredients, including soy, wheat, pea proteins, vegetables, and other grains. Yard House claims that this vegetarian protein can be substituted for items that contain chicken or beef on their main menu (3).
5. They offer a gluten-free menu
In addition to providing a vegetarian menu for interested individuals, Yard House also offers affected individuals with a gluten-free menu as well. They classify this menu as the Gluten Sensitive Menu, and it's specifically designed for customers that have a gluten intolerance. Yard House does recommend that if you have an intolerance for gluten, then you should let the server at the table know to ensure that you are completely safe from coming into contact with any of the items on the menu that contain gluten. Additionally, the Gluten Sensitive Menu can be found online on the company's website (3).
6. They offer a rewards program
Yard House Restaurant provides a rewards program for interested individuals. Interested customers have the opportunity to earn and redeem points at any participating Yard House location. With the rewards program, you can earn an instant $5 bonus when you sign up in addition to receiving a free dessert on your birthday. The rewards program is free to join and you have the ability to sign up either at a participating restaurant or online on Yard House's website.
Overall, with the Yard House rewards program you have the ability to earn 1 point for every $1 that you spend on eligible items. Not only this, but you can also earn points for service while dining in, through delivery, and through to-go orders (3).
7. Yard House supports charities
Yard House Restaurant supports 3 separate charitable causes, including Round It Up America, Darden Harvest, and the Darden Foundation. Round It Up America is responsible for giving Americans the opportunity to donate their pocket change by rounding up their purchase at the restaurant to the nearest whole dollar. This cause then supports local non-profit organizations like food banks, homeless shelters, and crisis relief centers.
Darden Harvest is responsible for coordinating food donations to food banks by collecting their surplus food that hasn't been served to customers. They gather and prepare the surplus food, and then they freeze it and store it at the Yard House restaurant until it's then delivered to local food banks. The Darden Foundation is responsible for awarding more than $82 million in grants to multiple different organizations, such as American Red Cross, Feeding America, and the National Restaurant Association Educational Foundation (4).
8. They have the world's largest selection of draft beer
Yard House Restaurant provides its customers with a center island bar that's located in each one of its restaurant locations. At each of these center island bars, there are endless tap handles that range from classic lagers to ales. Not only this, but Yard House also provides its customers with a keg room at each location that is responsible for storing strictly alcohol. Yard House Restaurant features over 125 craft ales and lagers that they offer their customers (5).
9. Yard House received their name from a tall British glass
The restaurant first discovered what their name was going to be by the inspiration from a glass drinking container that was originally designed in Great Britain. These British containers were originally created for stagecoach drivers after they undertook a long journey on a horse-back carriage. The tall, glass container measured 3 feet tall and was called a "yard." It was founded in the 17th century in England (6).
10. Each location has a glass-enclosed keg room
Since beer is at the heart of the operation, each Yard House Restaurant location contains a glass-enclosed room that's specifically for beer kegs. Each keg room contains 5,000 gallons of beer in beer kegs at a time. Not only this, but the keg room is always kept at a temperature that remains between 34 and 36 degrees, which is to keep all of the beer in the kegs fresh and at a chilled temperature (5).
11. The Cincinnati Yard House location hosted Keg Day
The Yard House Restaurant that is located in Cincinnati, Ohio was responsible for hosting Keg Day on March 12, 2013. This event's fundamental purpose was focused on the opening of the first Ohio location of the restaurant in Cincinnati. At the Cincinnati location event on Keg Day, Yard House installed over 250 beer kegs in the restaurant, all of which contained anywhere from tap kegs, imported kegs, and specialty beer kegs. In addition to all of this, Yard House also brought over 700 spirit bottles as well as 56 cases of wine to the event (5).
12. The restaurant offers a fusion menu
Yard House Restaurant provides customers with a fusion menu that contains over 100 items, which includes salads, soups, sandwiches, street tacos, fresh seafood, pasta, rice dishes, steak, poultry, and fresh fish. In addition to this, Yard House offers gluten sensitive options as well as vegetarian dishes that are made with a blend of garden vegetables and protein that have the same look, taste, and texture as beef and poultry. Furthermore, Yard House also offers its customers small shareable plates from a snacks menu in addition to happy hour appetizers at half price (5).
13. Everything on their menu is made from scratch daily
The menu that Yard House Restaurant provides its customers contains over 100 items that the employees and chefs at each location make fresh each day. The team members that are employed at each location build and produce every item on the menu from organic and raw ingredients, sauces, or garnishes. In addition to this, Yard House team members and chefs don't use any ingredients that have been pre-prepared by either the restaurant themself or any other corporation. By doing so, this allows Yard House Restaurant to completely take ownership of the food that they create on their menu. And this also ensures every customer that each dish has been created with high quality care (7).
14. It's operated by a domestic restaurant group
Yard House Restaurant is controlled and operated by a domestic group that is located in mainland China. This domestic group is not owned by Yard House USA, Inc. or Darden Restaurants, Inc., and it opened in Beijing, China in 2016. In addition to this, the location of the domestic group is also surrounded by other popular international brands, such as Starbucks, Patagonia, Subway, and New York Times (6).
15. It represents a rock club atmosphere
Yard House Restaurant contains an environment that resembles a rock club, and it presents this theme through their music as well as their visual look. The music that is played at Yard House Restaurant locations was curated by the restaurant's founder Steele Platt. Each of the playlists created were carefully constructed and put together by Platt in an effort to accurately resemble a rock club. There are foreground AV systems and classic rock playlists that play at each restaurant for the customers to enjoy.
Not only this, but each Yard House Restaurant location also contains equipment racks that are stacked with concert quality amplifiers. Furthermore, each location also contains a full site of video switching and control gear in their equipment (8).
16. Each location contains an outdoor patio
Not only are there foreground AV systems at each Yard House location for the customers to enjoy, but there are also outdoor patios that each location provides its customers. In each outdoor patio at Yard House Restaurants, there are specialized video displays in addition to loud speakers that can withstand the glaring sun as well as inclement weather. If you wish to enjoy the outdoor patio portion of any Yard House restaurant, then all you have to do is let your server know and they'll prepare a table for you on the outdoor platform (8).
17. Yard House donates to the community
As mentioned previously, Yard House Restaurant contributes to a variety of charitable causes. More specifically, each restaurant location has its team members spend time preparing, packaging, freezing, and storing the excess food that hasn't been served to the guests of the restaurants. After the food has been prepared and stored, it's then picked up and delivered to a variety of shelters, food banks, as well as charitable organizations. Overall, since 2012, Yard House Restaurant has donated over 600,000 pounds of food to help communities in need (9).
18. Their menu includes exclusive beers
Yard House presents 6 exclusive beers to their customers that have been carefully crafted to complement their menu. For instance, the Honey Beer is a light blonde ale made with real honey. Next, the Pilsner is a Belgian beer that presents a floral aroma. Then, the White Ale is a beer made with floral and spices. The India Pale Ale is a beer that has hop aroma and presents bitterness, and the Belgian Golden is a beer that contains fruit notes and a rich taste. Lastly, the Belgian Amber Tripel is a beer that blends sweet malts with 3 other hops (10).
19. They're always hiring
Because Yard House Restaurant is a newly-developed restaurant, it is constantly in the process of opening new restaurant locations. And since new restaurant locations are constantly opened, there is a constant need for jobs to be filled. These jobs range from management positions, supervisor positions, chef positions, to team member positions. Yard House claims that they balance the needs of the business while also giving their employees the schedule that they wish for and deserve. In addition to this, Yard House also claims that they offer competitive wages (11).
20. Their chefs use multiple cultural foods and techniques
The chefs that are employed at Yard House Restaurant use ingredients that are not only fresh and organic, but ingredients that are relevant for the customers that attend the restaurant. The chefs at Yard House use food trends and create new tastes in their dishes that are based upon innovations as well as different cultural regions around the world. For instance, the chefs recently used the zatar spice that is native to the Middle East.
The chefs employed at Yard House are inspired by discovering new food that's around the world. They use the knowledge and techniques that they acquired from their travels for inspiration, and they are even inspired by knowledge from an entire region's influence on food (7).
21. They open new locations frequently
Since it's a fairly new restaurant, Yard House is constantly opening new locations in order to spread their business. For instance, some new locations that they have opened up recently include a restaurant in McAllen, Texas in the La Plaza Mall, in Sacramento, California, in Gaithersburg, Maryland in Rio Washington, and in Troy, Michigan in City Center Shoppes. Lastly, there is also a new Yard House Restaurant in Naples, Florida (12).
22. They offer to-go ordering
Although Yard House Restaurant does not provide its customers with delivery or catering service options, they do offer to-go service options to their guests. All that's required of you is to call the restaurant and place the to-go order over the phone with one of their team members. After that, there are certain parking spaces reserved in every Yard House Restaurant's parking lot that are reserved specifically for people that ordered to-go orders, and you can pick up your order there (3).