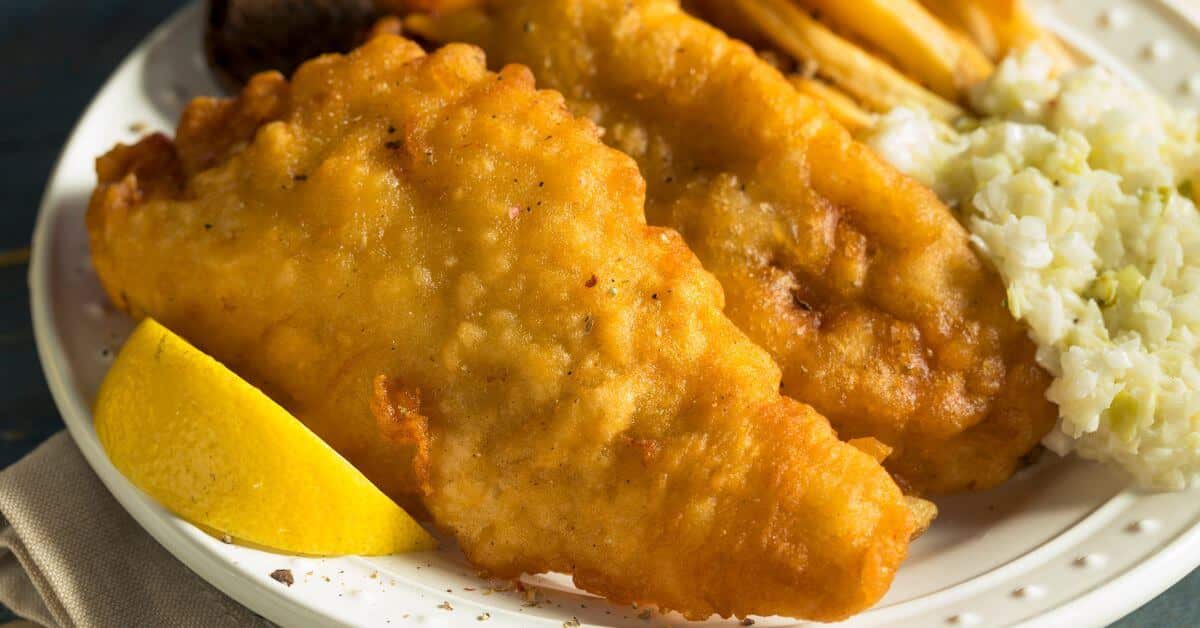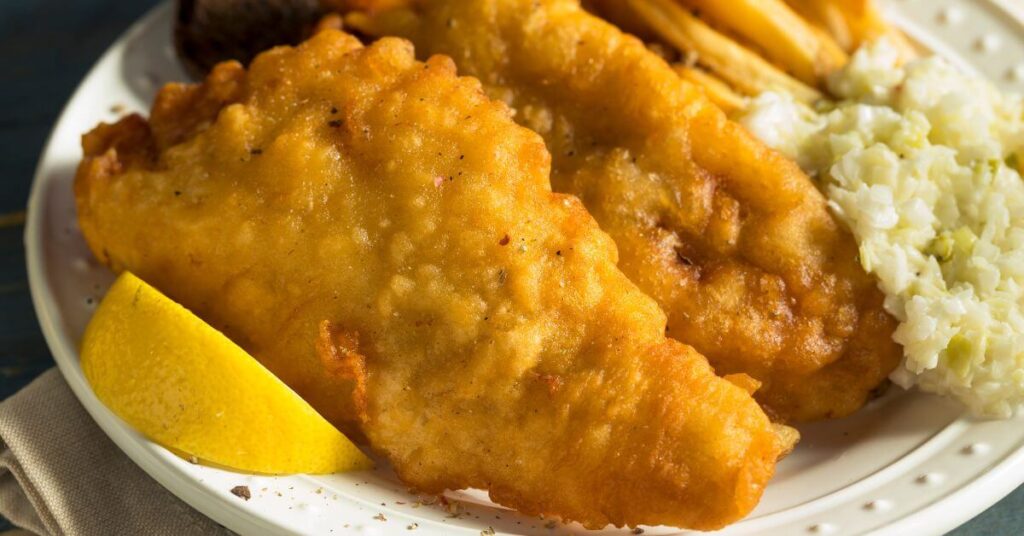 Fried fish is a classic and delicious dish that really hits the spot. But you don't need to wait to go to a restaurant to enjoy it. You can make it at home when you know how to fry fish with flour and egg!
Why Use Flour to Coat Your Fish Before Frying?
Fried fish should be crispy outside and delicate inside. Flour helps you get that golden-brown crispiness you desire. It also adds flavor and seals in the juices to keep your fried fish from becoming dried-out fish.
What About Frying Fish with Flour and Egg?
You could simply use flour, but why stop there? If you dip the fish filets into egg, then into the flour, it gives it even more of a coating. This protects it further from drying. It also sneaks in some more nutrition with the addition of egg.
Can I Add Breadcrumbs Too?
Yes, you absolutely can add breadcrumbs too! But if you choose to do it this way, you must follow a particular order to ensure the best outcome.
First, you'll dust your fish filets in flour. You want to shake off any excess and let the flour soak up any additional moisture on the surface, so the rest of the coatings stick. There is nothing worse than coating your fish for frying only to have that coating slide right off with none of it on your fish.
Next, you'll dip the flour-coated fish filets in a bowl of beaten eggs. The eggs bind the next step of coating, securing them firmly in place.
The third and final step for this type of fish fry is to dredge it into your breadcrumbs. You can also use nuts, cornmeal, or panko breadcrumbs. You can still get delicious crispy fried fish by just dipping them in egg and flour, but adding a final coating ensures an extra crispy and irresistible texture.
How to Make the Perfect Fried Fish with Flour and Egg
If you don't have breadcrumbs or any other type of coating to add on, eggs and flour can still help you get restaurant-quality fried fish.
– Start with the Right Type of Fish
To make perfect fried fish, you have to start with the right kind. First of all, quality is important. You can absolutely use something that was frozen, but make sure it's good.
Also, make sure you're using fish that is meant to be fried. Sorry, but this is not the place for salmon, tuna, trout, or any of the oilier varieties. You want to choose white, fleshy fish. Flounder, cod, haddock, seabass, pollock, or tilapia are generally easy to find and are the perfect types of fish to fry.
– Keep the Size Consistent
Not all fish filets will be the same size. Some parts will be thinner or thicker. Separate them by thickness. You will want to cook thinner pieces with thinner ones and thicker pieces with those other thicker ones. If you don't do this, you will have some pieces cooked while others are raw in the center.
– Pat Your Fish Dry
Your fish filets will be slightly wet on the outside. In order to get the best fried fish, take a moment to dab off the moisture with paper towels. You'll get way better results if you add this step!
– Add Seasonings
One thing that many people do when frying fish with flour and egg is season the flour. It's a nice thought, but it becomes unevenly distributed through the flour. That means that some pieces may be less flavorful than others.
Instead, give the fish a light dusting of salt and pepper. You'll be coating each piece with an even distribution of flavors. Plus, the salt draws out more moisture from the fish, making it easier for the flour to adhere to a better fish fry.
You can add some pepper, garlic powder, or whatever other seasonings you like in this step.
– Do the Dip
And now, the fun really begins as you'll get your fish ready to fry! If you are just learning how to fry fish with flour and egg, all you need to do is dip the fish in a bowl with a beaten egg and then coat it in flour.
However, you can take that a step further and add breadcrumbs or another coating if you'd like. For that method of frying fish, you will need to set up 3 bowls from left to right to make your life easier. In order of appearance, you should have flour, egg, and breadcrumbs, which will be the order you dip the fish filets.
Would you like to make it more pub-style? For that, you need to make a batter. You will combine flour, baking soda, salt, pepper, garlic powder, and beer or milk. It should be a little thicker than pancake batter but not too thick.
You'd then dip your fish in the flour, then in the batter.
Incidentally, if you want this to be gluten-free, just use gluten-free flour. For the batter, use milk rather than beer (or get a gluten-free beer).
– Designate Your Tasks for Each Hand
Coating your fish for frying can be a messy task. Try to avoid putting your hand with dry ingredients into the wet ones. Otherwise, you'll wind up with doughy hands.
– Choose Your Frying Pan
If you're frying fish on the stove, you need a pan that can handle the job. It needs to be deep enough to fit the oil for frying. Do keep in mind that as you add the fish filets to the oil, it will bring down the temperature. Something large enough to fit several pieces in it is important for keeping that temperature from decreasing too much.
A cast iron skillet works well, but any deep skillet or even a flat-bottomed wok could work for frying your fish on the stovetop.
– Pick the Right Oil
If you want to know how to fry fish with flour and egg, make sure you remember this crucial element…the oil. You can't get a crispy texture if you use butter or olive oil. For this style of fish dish, you must choose an oil that has a high smoking point.
Great options are vegetable oil, peanut oil, or canola oil. You'll also want to put enough of it in your deep skillet to fry the fish, about ½ an inch.
– Heat Things Up
To fry your fish with flour and egg, pour the oil into the skillet and then turn on the stove. You'll want it to get hot, so it's ready to fry your fish to that perfectly crispy texture you're craving.
– Grab Your Fish Spatula
Not just any spatula will work for this kitchen task of frying fish. When you select a spatula, choose the one with slats on it rather than a solid one. It is called a fish spatula, and it makes it infinitely easier to flip fish (and, as a side note, eggs, too!). This handy tool will ensure you get the fish along with its batter and flip it without destroying the coating.
– Know When to Flip
Once the oil is hot enough, you'll want to gently place your coated fish filets into the pan. Time it for 3 to 4 minutes; then, you'll flip. Cook an additional 3 to 4 minutes, and your fried fish will be ready to serve!
– Don't Let the Oil Make It Soggy
What is the secret to fried fish being so perfectly crispy in restaurants? They don't move their fried fish from the oil to a flat plate with paper towels. Sure, paper towels will blot up that extra oil. But they will also trap the steam from the hot fish underneath it.
That means you wind up with a soggy bottom. And even worse, it makes your fried fish more prone to having the coating fall off.
Instead, do what the chefs do…use a metal wire drying rack. An even better idea is to place that rack so it is elevated and then put a plate or paper towels well beneath it. Any excess oil will drip onto the paper towels or plate, making for easy cleanup, all the while giving you that gorgeously crispy texture on the outside of your fried fish.
The 3 Best Methods for How to Fry Fish with Flour and Egg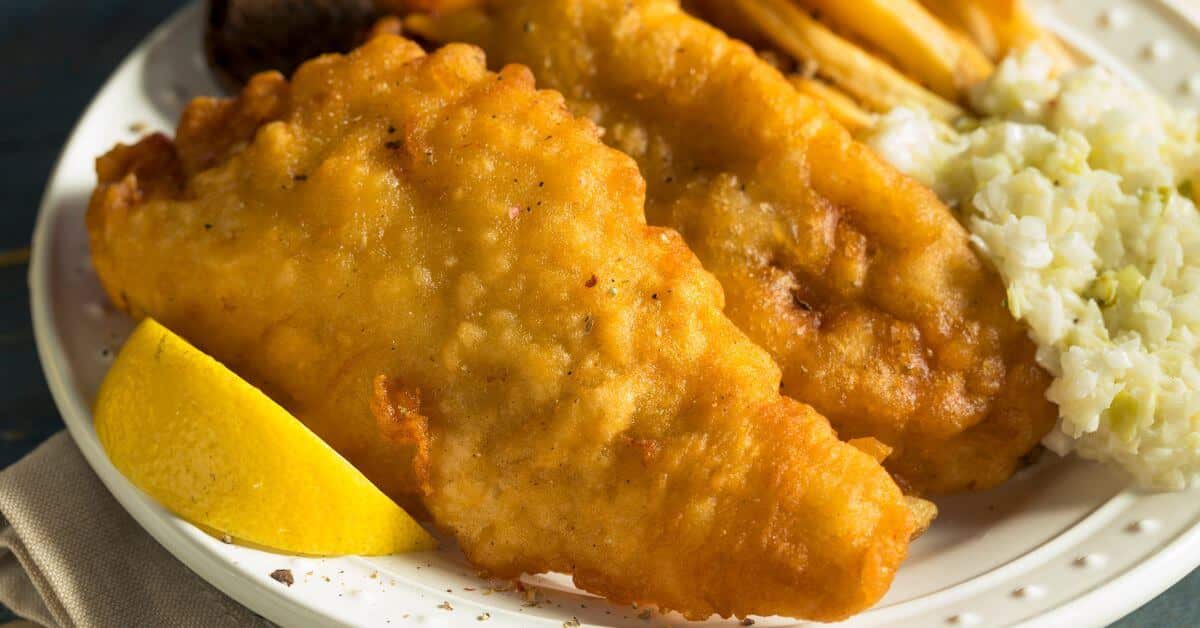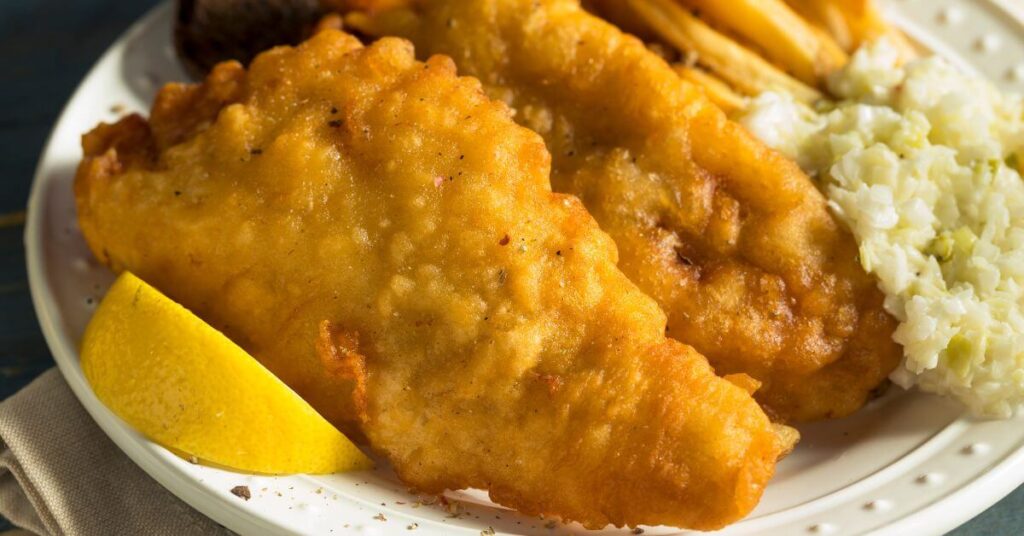 Fried fish is so easy to make that you can do it any night of the week. And you can do it in several different yet super simple ways. Depending on what you have on hand in the way of cooking utensils, you can choose your method.
– Pan-Fried Fish
Do you want fried fish but in a healthier way? Then pan-fried fish is for you. You only need a thin layer of that hot oil in a skillet. Using just flour and egg, or even just flour is completely fine for a pan-fry method. Once the oil is hot, fry the fish for 3 to 4 minutes per side.
– Deep-Fried Fish
If you want that fish as crispy as proper fish and chips in a restaurant, you'll want to either coat it with flour, egg, and breadcrumbs or go all out with the batter mentioned above. For the crispiest, the batter is recommended. While you can substitute the beer for milk, don't skip adding a little baking soda. It gives it a golden brown and helps add that crispy crunch on the outside.
You can use a deep fryer if you have one, but even if you don't, you can use a heavy saucepan. With about 2 to 3 inches of oil, you'll want the temperature to come to 375F before you start adding your fish. As with a pan-fry, it should take about 3 to 4 minutes per side until each piece is fully cooked.
– Air-Fried Fish
Want the best of both worlds with your fried fish? Let the air fryer take over the cooking. Make sure you lightly coat the interior with oil, or else the fish will stick to the bottom, and the coating will come off. You should preheat the air fryer to 390F and then cook the fish in it for 15 minutes total, flipping at around the 8-minute mark.
What to Serve with Your Crispy Fried Fish
When serving your fried fish, don't drop the ball on accompaniments! Lemon wedges, cocktail sauce, and tartar sauce are all perfect partners. You may also want to add fries, onion rings, and hush puppies for that classic southern fish fry.
Don't forget other veggies, too, like parmesan brussels sprouts, roasted cauliflower, coleslaw, or even crisp and fresh salad. Want to shake up the flavors a bit? Make a chimichurri sauce to serve with the fish instead, spicy mayo, or even a lemon butter sauce for a more elegant spin.
Any way you serve this fried fish, it's sure to be a hit in your house from now on!
You Might Also Like:
Top 10 Most Expensive Steaks in the World – Do You Know?
How to Make Meatballs Without Breadcrumbs
How to Make Grilled Cheese in the Oven