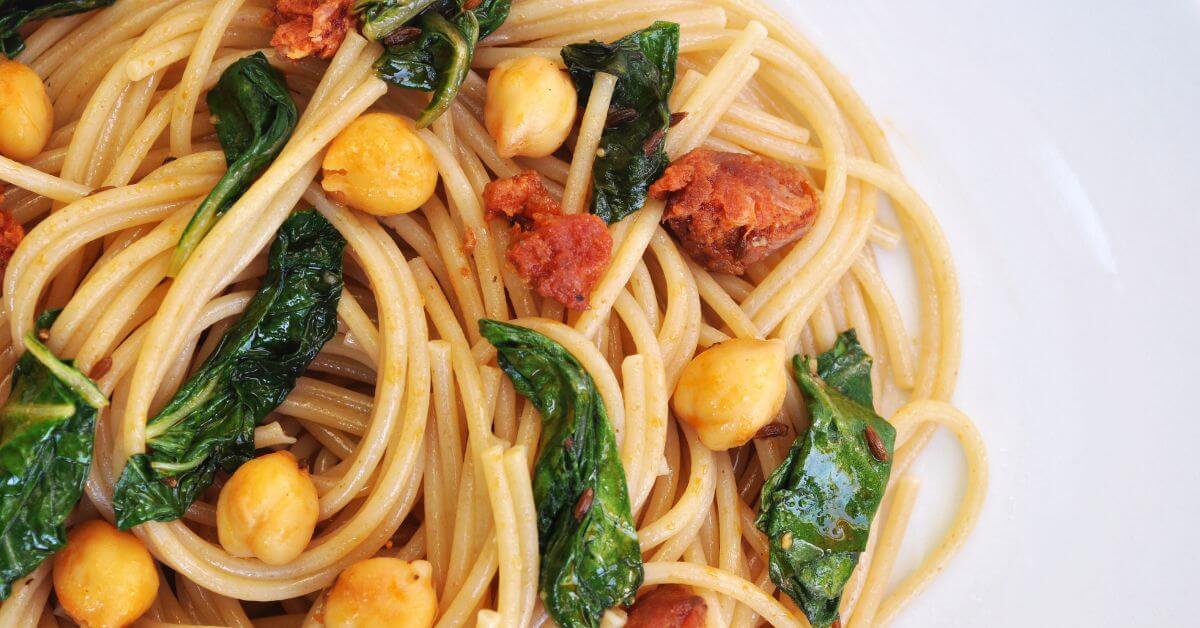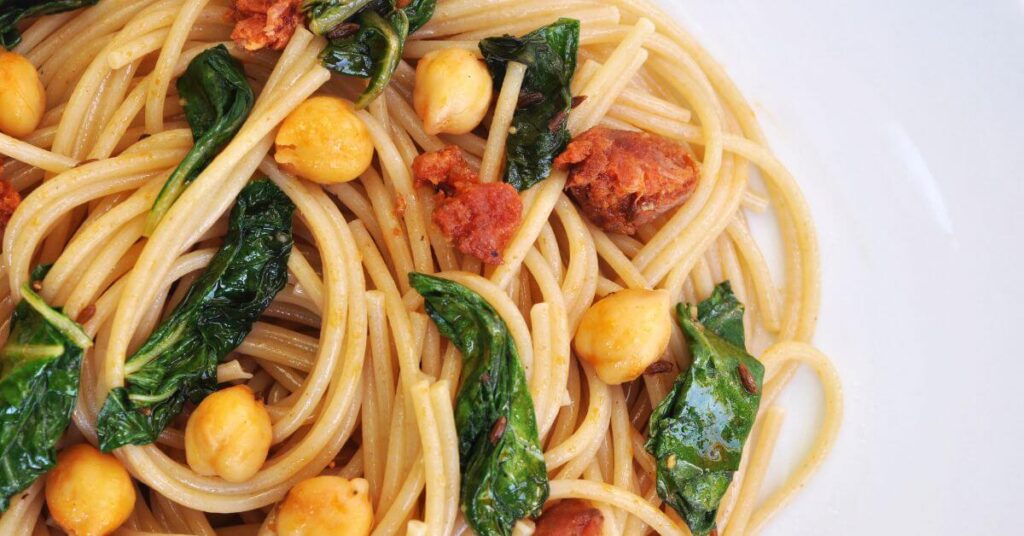 Anyone who has struggled with gluten knows that a life without pasta is just not possible! Luckily there are awesome options like naturally gluten-free chickpea pasta, and we will show you how to make it taste good…just like regular pasta.
Chickpea pasta is an amazing option for anyone wanting to cut out gluten or work some plant protein into their pasta dish. Today this awesome wheat pasta substitute is available everywhere, but how do you use it, and how do you make it taste good? Worry not! This guide is here to help you craft some truly delicious chickpea pasta!
What is Chickpea Pasta?
Chickpea pasta is an awesome pasta product made from wonderfully versatile chickpeas. The legumes are ground into flour that is mixed with xanthan gum and occasionally other non-wheat flour, then made into pasta. Chickpea pasta is gluten-free, but while many brands are vegan, the dairy content may vary brand by brand, so be sure to read your labels.
Brands of chickpea pasta make shapes like spaghetti, penne, fusilli, rotini, and more. This gluten-free pasta option can be found in major grocers worldwide and online. It is known for its nutty, earthy, hummus-like flavor.
How to Cook Chickpea Pasta
The wonder of chickpea pasta is that it can be handled very similarly to wheat pasta. It is quick and easy to cook plain chickpea pasta with these steps!
On the Stove
Fill a large saucepan with cool water, and salt the water liberally. Place the pot over medium-high heat and bring it to a boil.
Add the desired amount of chickpea pasta to the boiling water and allow it to return to a boil.
For al dente chickpea pasta, cook about 6-9 minutes, depending on the type of pasta.
Strain the pasta and enjoy!
In the Instant Pot
For a full 8-ounce box of chickpea pasta, combine 12 ounces of water, chickpea pasta, salt, and an optional pat of butter in the inner pot of the Instant Pot. Secure the lid.
Set the cycle to "Manual" for 5 minutes.
After the cook cycle, perform a quick release of the steam. Drain any excess water left in the pot, and enjoy!
How to Make Chickpea Pasta Taste Good
Chickpea pasta can be a lifesaver for anyone looking for a gluten-free pasta option because what's life without pasta!? Try these tasty ideas for the perfect bowl of chickpea pasta!
Top it with Tomatoes
It's a classic for a reason; tomato sauce is just perfect for pasta. A great tomato sauce hits all the notes, and pasta is the perfect vehicle. Making a great tomato sauce is easier than you think! The real trick is time, so next time you reach for a jar of store-bought sauce, consider grabbing a few canned tomato products instead and whipping up your own sauce.
A basic tomato sauce is a blend of onions, garlic, herbs, tomatoes, and red wine, all stewed down together. That leaves plenty of room to make it your own. Unleash the flavor and go nuts, literally, because your sauce will be delicious on nutty chickpea pasta!
Apply Alfredo
Dreamy alfredo makes every type of pasta better, but chickpea pasta it can really sing. The creamy dairy flavor of alfredo meshes so well with the rounded nutty flavor of chickpea pasta. It is a simple dish, but it truly shines. Try coating your chickpea noodles in this velvety sauce.
Lay on the Layers
Chickpea pasta is excellent for baked pasta dishes like a gorgeous lasagna. Try layering beautiful chickpea pasta with vegan ricotta, tomatoes, and fresh spinach for a simple yet delicious plant-based lasagna.
If you cannot find lasagna-shaped chickpea pasta, then try making baked pasta. Fill a casserole dish with layers of whatever shaped noodles you have, marinara, and mozzarella cheese, and bake. The flavors of the sauce, cheese, and chickpeas melt together into a truly sensational pasta dish!
Splash up a Stew
Some classic dishes need a little sprucing up like beef stew. Why not add a little texture and interest to your favorite stew by adding chickpea pasta? It can bring a fun flavor and a wonderful toothsomeness to a stew, plus noodle shapes like penne were made for holding delicious sauces and juices.
This trick even works with chili. Use chickpea pasta for your chili mac because its bean-y flavor works so perfectly with the other legumes already in chili. Dress your chickpea chili mac with crunchy chickpeas for an over-the-top presentation.
Cool Things Down
Chickpea pasta can be used to make an awesome gluten-free pasta salad! Allow your chickpea pasta to cool fully; then, you can toss it into a pasta salad that will impress the whole party! Mix in cubes of cheese, black olives, cherry tomato, and a delicious olive oil-based dressing. Everyone will love this pasta salad, and not only are there no worries about gluten but the flavor of the pasta adds interest that other pasta salads lack!
F.A.Q.
Is Chickpea Pasta Keto-Friendly?
No, chickpea pasta is not a keto-friendly food. Chickpea pasta has about 30-35 carbs per serving (exact carb counts vary by brand), so it would not be considered a low-carb food.
Final Thoughts
Once you know how to handle it, chickpea pasta is an amazing addition to your gastronomic repertoire. It is healthy for so many different diets. It has such a unique and nutty flavor that after learning these tricks, you may want to phase out wheat pasta entirely! Unleash your inner chef and enjoy yourself on your way to making chickpea pasta taste good!
You Might Also Like: